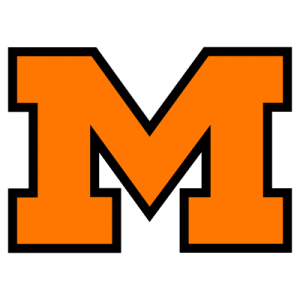 Passing aids 36-6 victory 105 second-quarter air yards best season effort
By CHUCK HESS, JR.
Independent Sports Editor
Quarterback Scotty Dingler rang the bell and his receivers caught fire to make the effort unanimous.
Getting their passing game going after several disappointed attempts this season, was important to the Massillon Tigers for it made rushing a lot easier and could arm their arsenal a lot more effectively for next Saturday's season finale against arch-rival Canton McKinley.
* * *
WASHINGTON HIGH'S charges downed their second oldest protagonist, the Alliance Aviators, 36-6 before 11,076 in the curtain closer Friday night at Tiger stadium.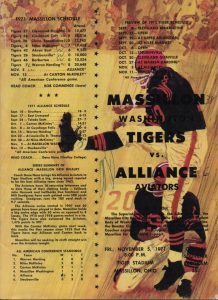 The Tigers upped their slate to 7-2 while dropping Alliance to 4-5. The WHSers evened their All-American conference record for four tilts to stay in fourth and saddled the Aviators with their fourth loss against no wins.
Dingler completed five passes in six tries in the second quarter, connecting with wingback Art Thompson for a touchdown, fullback Tom Hannon and split end Mike McGuire for 105 yards – the best effort of the season. The Tiger aerial show didn't connect on a couple of second half efforts, but its prior-to-the intermission performance must have been enough to give McKinley Coach John Brideweser's scouts cause for consideration.
Dingler hit McGuire on a 14-yard combination to offset a five-yard delay penalty. Scotty found Thompson for 15 to sidetrack a five-yard procedure call, hit Hannon in the flat and Tom ran 25 yards for a first down at the Alliance 30, but the Tigers ran out of gas at the four, four plays later; after a 14-yarder through the middle by Larry McLenndon.
However, the Orange and Black came back after the next punt and moved 45 yards in two plays to score with four seconds left. Dingler hit the Thompson target both times, one for 24 yards to the Alliance 31 and another into Art's nifty embrace in the center of the end zone.
Dingler's kick was off to the right.
* * *
"SCOTTY COULDN'T have laid the ball in there much better," Coach Bob Commings said. "I'm pleased with the poise with which we threw the ball. The protection was good. I thought the offensive line settled the issue, blocking well, particularly in the first half."
Former Tiger assistant Gene Nara, now the head man at Alliance, had another version: "We gave Dingler too much time to throw."
His TD pass may have been the key to the Aviators' loss.
"If we had been down only 14-6 at the end of the first half, it would have been easier to come back," Nara said.
Alliance continued to have the passing troubles it has experienced all year, failing to complete 11, with a lot of credit going to the Massillon secondary for alert coverage.
* * *
THE AVIAITORS had their chances in the second half, getting 44 plays to the Tigers' 19, but couldn't move the ball past the WHS 21.
"Bob went to a stack defense with a stunt and I think he used a safety blitz one time," Nara said. "We weren't picking it up."
The Tigers were in what Commings calls a goal-line go, putting Hank Nussbaumer, the strong safety, in the go position.
The Orange and Black opened the scoring with a 49-yard run off left tackle by tailback Willie Spencer on the game's fourth play from first down.
Dingler kicked the conversion with 10:05 on the clock.
Alliance's score came late in the first quarter after Rick got off only a 15-yard punt and the Aviators drove 42 yards in five plays with a 14-yard pass-run from quarterback Bill Anderson to halfback Joe Tucker setting up a first down on the Massillon 27.
* * *
TWO PLAYS later junior halfback Dan Contrucci charged through the middle from the 25, giving nice second and third efforts. However, with 1:20 showing, Anderson fumbled the pigskin as the Aviators tried for two and was stopped short.
The Tigers marched 80 yards in seven plays after the kickoff with Spencer scoring off right tackle and cutting back on second down from the Alliance 35 with 5:46 left in the second stanza. Dingler's 16-yard right end keeper and Spencer's 17-yarder over left guard helped.
Dingler kicked the conversion.
Alliance punted after its first third quarter series and Hannon flashed his groovy hips for 51 yards to put the ball on the Alliance four. Two plays later Dingler smashed through the center from the one on a third down with 9:06 on the lights.
He passed to McLenndon playing fullback in the absence of injured Don Perry, to put two more points on the total.
The final tally came when a fourth-down snap went over Contrucci's head and twins Dari and Terry Edwards and Todd Cocklin hauled Contrucci down on the Alliance six. McLenndon raced around left end on the ensuing play with 6:08 left in the goodbye frame.
* * *
JUNIOR TAILBACK Jim Jackson slashed off right tackle for the final two points.
The Tigers might have had another TD, but junior wingback Terry Edwards fumbled on the Alliance 23 after brother Dari had recovered an Aviator fumble on the 21. Ron Kuceyeski recovered for the Carnation City team.
ALLIANCE – 6
Ends – Jones, Randy Kuceyeski, Brockett, Danesi, Harper.
Tackles – Ron Kuceyeski, Addams, Kirksey, Grimes.
Guards – Huff, Messenheimer, King, Garnes.
Centers – Miller, Swanson.
Quarterbacks – Anderson, Miller.
Halfbacks – Snodgrass, Contrucci, Hewitt, May, Davis, Tucker.
Fullbacks – J. Hancock, Deack.
MASSILLON – 36
Ends – McGuire, Stephan, Matie, Bodiford, D. Edwards, Gutshall.
Tackles – Heath, Weirich, Peters, C. Perry, Hauschultz, Green, Geiser, T. Peters.
Guards – Christoff, Mayles, Guiffre, Bozzacco, Bash, Balizet, Heck, Graber, Ahlstrom, Danzy.
Centers – Studer, Cocklin, Allman, McCabe, Grizzard.
Quarterbacks – Dingler, Muhlback, Westover.
Halfbacks – Spencer, Thompson, T. Edwards, Nussbaumer, Weise, Jakcson, Wonsick, D. Peters, Groff.
Fullbacks – McLenndon, Hannon, Wood.
ALLIANCE 6 0 0 0 6
MASSILLON 7 13 8 8 36
SCORING SUMMARY
M – Spencer, 49 run (Dingler kick);
A – Contrucci, 25 run (run failed);
M – Spencer, 35 run (Dingler kick);
M – Thompson, 31 pass from Dingler (kick failed);
M – Dingler, 1 run (McLenndon, pass from Dingler);
M – McLenndon, 9 run (Jackson run).
GRID STICK
M A
First downs, rushing 11 4
First downs, passing 4 5
First downs, penalties 1 3
Total first downs 16 12
Yards gained rushing 234 105
Yards lost rushing 5 72
Net yards gained rushing 229 33
Net yards gained passing 105 52
Total yards gained 334 85
Passes completed 5-8 11-24
Passes intercepted by 0 0
Kickoff average (yards) 6-44.9 2-45.0
Rest is missing
OFFICIALS
Referee – Ted Humphrey.
Umpire – Ted Deutsch.
Head Linesman – Stan Evans.
Field Judge – Hugh Davis.
Back Judge – Beauford Hatfield.
ATTENDANCE – 11,076.