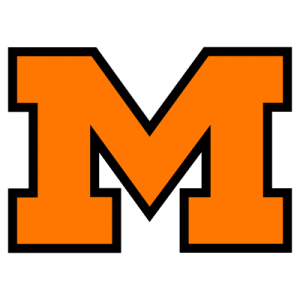 Commings asks Tigers to fight back
By CHUCK HESS, JR.
Independent Sports Editor
"This is not the time to cry over spilt milk."
Tiger Coach Bob Commings had the right idea when he said, "This isn't the quitting point. You've got to gut it out and come back."
* * *
HE MADE the rounds of all his players to make sure they knew there were a couple of tough All-American conference games left against Alliance and Canton McKinley and that Tigertowners will be solidly rooting for a rebound in the knowledge they still have an outstanding football team representing them.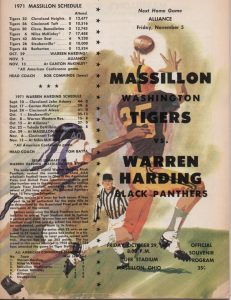 The word rebound could likewise be applied to the Warren Harding Black Panthers' effort before 20,648 – the season's largest crowd at Tiger stadium – Friday night. After dropping behind 7-0 in the first period, they came back for an 8-7 victory, probably the AAC title and state Class AAA championship and their first win here since 1944.
The Washington high team, defending champions in both, dropped 6-2 overall; 1-2 in the league and fourth place Harding is 8-0 and 4-0.
"They had the courage to come back and you must respect them for that," Commings said.
Harding Coach Tom Batta was thrilled with the "great job" done by his defense. "When 175 and 180-pounders give you that type of performance, it's some effort!"
He was also happy with the way his team moved the ball.
* * *
HE ADMITTED that the Tigers, who won the battle of statistics as they had in a 7-6 AAC loss to Niles, were tough to control, even forcing the Panthers out of their normal 5-4 defense at times and into a 6-1 because, "We couldn't stay with them man to man."
It was after the intermission when the Tigers took the upper hand, gaining 186 yards to Warren's 68.
"When you go out and dominate the second half, you usually win," Commings said sadly. "I thought we played good enough to win."
The Tigers were in Panther territory four times with the AAC's leading rusher and scorer tailback Willie Spencer – whom Batta said he did not have his charges key on – stopped on fourth down at the 27 and 32.
Fullback Tom Hannon fumbled with 2:28 left and halfback Joe Kirksey recovered at the 38 as the old bugaboo cropped up again. He had run well in the second half and Batta admitted "Tombo" had scared him.
On the last sustained drive, with three seconds left, quarterback Scott Dingler was short on a 50-yard field goal try – an impossibility for even the strongest high school booster – after the Tigers had gotten to the 34.
* * *
ON TWO of the fourth-quarter marches, Dingler, who threw well, came within a gnat's eyelash of hitting split end Mike McGuire. Halfback Doug Stubbs batted one pass away in the end zone and Stubbs and Kirksey knocked another deep one awry.
The Tigers also lost the ball on downs at the Warren 44 in the second quarter when Stubbs got a hand in front of fullback Don Perry, forced to leave in the second half with a painful arm bruise. Spencer got stopped at the 39 on fourth down in the first period.
It was then that the Orange and Black got its only score as Rick Weise punted to the 14. Warren was socked half the distance to the six for holding and junior quarterback Dan Ross retreated to the two, fumbled and senior end Todd Cocklin recovered and went in with 22 seconds left.
Dingler kicked the conversion.
Harding mounted its comeback on eight plays, going 61 yards after a 26-yard kickoff runback by the elusive Stubbs. Fullback Len Sernulka, who also played a whale of a game as a linebacker, carried three times for 14 yards while junior halfback Wilbur Boggs scored the touchdown on fourth down, one from the 30 on a pitch and run around right end, cutting back to the center nicely at the five.
* * *
WITH 9:25 left in the second stanza, Stubbs whirled by the left side on a fooler
end-around. "This time it worked," Batta said. "When Bob was at Struthers and I was at Akron Hoban, I gambled and ran a conversion, didn't get it and we lost the game."
Batta called Boggs' run a "great effort" and said the play was run to the outside because the Tigers were jamming up the middle.
"I guess I made the right call at the right time," he added.
Commings said the Tigers were in a goal-line defense which had been good to the Orange and Black all year.
"They were a good team, well prepared," Commings said, "the best we've played."
The only other Harding tries into Tiger territory saw the Panthers lose the ball on downs at the 45 in the third period and punt from the 44 and 47 in the fourth.
Individual statistics showered Spencer carried 21 times – losing nine yards – for a net 94, while Sernulka attempted 15 runs for 57 yards – not losing ground – and Boggs handled the ball 17 times for 87 yards – losing only one yard.
WARREN – 8
Ends – Hunter, Blazek, Stubbs, Lee, Douglas, Dixon.
Tackles – Hilas, Tislimos, Stan, Halea.
Guards – C. Cullins, Pegg, Varle, Capellas, Richards.
Centers – Fabrizio, Futey.
Quarterback – Ross.
Halfbacks – Botggs, Kirksey, Ange, Lowry, Menz, Manson, R. Cullins.
Fullbacks – Sernulka, Wyand, Elza.
MASSILLON – 7
Ends – McGuire, Steffan, Matie, D. Edwards.
Tackles – Weirich, Heath, Shuman.
Guards – Christoff, Heck, Mayles, Guiffre, Graber.
Centers – Studer, Cocklin.
Quarterbacks – Dingler, Muhlbach.
Halfbacks – Thompson, Spencer, McLenndon, Nussbaumer, Weise, Jackson, Wonsick, T. Edwards.
Fullbacks – Perry, Hannon.
WARREN 0 8 0 0 8
MASSILLON 7 0 0 0 7
SCORING SUMMARY
M – Cocklin, recovered Ross' fumble in end zone (Dingler kick).
W – Boggs, 30 run (Stubbs run).
THE GRIDSTICK
M W
Punt average, (yds.) 4-35.5 7-30.8
First downs, rushing 9 9
First downs, passing 3 1
First downs, penalties 2 0
Total first downs 14 10
Yards gained rushing 206 161
Yards lost rushing 9 19
Net yards gained, rushing 199 142
Net yards gained, passing 78 40
Total yards gained 277 152
Passes completed 5-14 1-4
Kickoff average, yards 2-41.0 2-55.5
Kickoff returns, yards 28 29
Punt average (yds.) 4-35.5 7-30.8
Punt returns (yds.) 0 26
Had punts blocked 0 0
Fumbles (lost) 2(1) 4(2)
Yards penalized 2-20 3-36
Touchdowns rushing 0 1
Miscellaneous 1 0
Total number of plays 57 56
OFFICIALS
Referee – Tony Pianowski.
Umpire – Joe Yanity.
Head Linesman – Ed Steinkerchner.
Field Judge – Frank Toth.
Back Judge – Dr. Ed Fiffick.
ATTENDANCE – 20,648.