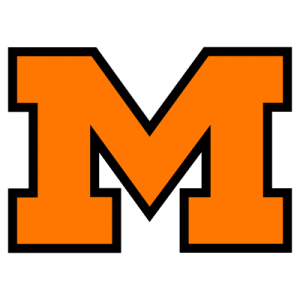 Commings cautious as Tigers roll 71-0
By CHUCK HESS, JR.
Independent Sports Editor
Bob Commings is concerned again.
For the second successive season, his Massillon Tigers rolled over a hapless Trotwood Madison team and now he's got a perennially tough Cleveland Benedictine outfit staring him in the face again.
* * *
IN 1969, the Washington high gridders just squeaked by Benedictine in their second game.
The Tigers trampled Trotwood 71-0 before 11,401 in Friday night's opener at Tiger stadium. It was the most points run up by the Orange and Black since an 82-0 victory over Uhrichsville in the 1918 lid-lifter. It was also the most points scored by Massillon since a 90-0 walloping of Barberton in 1959.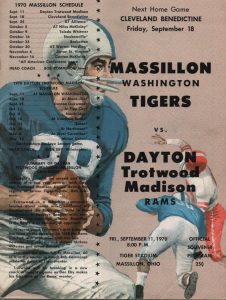 "Like last year it was a little too easy again," Commings said. "We'll get our test next week. I just hope we accomplished something. If anybody can afford to be complacent against the Bennies, they'll get their block knocked off."
Commings' game plan of throwing and running off tackle worked to perfection. The gang tackling and pursuit was good as was the downfield blocking.
"Our pursuit covered up for errors a couple of times," Commings commented. "A good team would take advantage of this."
* * *
TAILBACK MIKE Mauger scored three times, had two called back, kicked a conversion and amassed 107 yards in the first half. Quarterback Dennis Franklin scored one touchdown, passed for three others and tallied a conversion. Wingback Bernard Sullivan scored a pair of TD's. Tight end and Co-Captain Steve Luke scored one and added a conversion. Wingback Larry McLenndon converted twice. Attack end Bob Stephan and wingback Bill Wonsick each scored six points. Tailback Rick Weise ran a conversion.
So completely did the Tigers dominate the action, that they rolled up a net 533 yards, including 234 through the air, their greatest passing yardage in quite awhile.
The Orangemen didn't take long to light up the scoreboard. After a Trotwood punt following its first series, Mauger lugged the mail 51 yards around right end with the help of a key block by Sullivan with 9:47 left in the first quarter. The conversion snap went awry, forcing Mauger into an abortive run.
"Mailman Mike" had two more first quarter TD's called back, one a 57-yard punt return with the help of a good block by Tim Ridgley and the other a one-yard run. Clipping and motion penalties were the culprits.
The Tigers were to go on to draw 138 yards in penalties, causing Commings to warn again about the "colossal mistake."
* * *
MAUGER GOT into the act again with 9:02 left in the second quarter following a poor punt – one of several during the night which continuously gave the Tigers good field position. He was boxed in off right tackle and skirted end for 25 yards on first down, following with a conversion kick after Franklin had scored two points, only to have the Orange and Black flagged for an illegal shift.
Stephan, a junior, batted down an attempted first down pitchout off Trotwood's
wishbone-T following the kickoff. The ball bounced from the 17 to the 10 where Stephan picked it up and sped into the end zone with 8:36 left. McLenndon ran the conversion.
On the Tigers' next series, Franklin ran in from the nine on a second down, left side option with 3:05 remaining. He also rolled out to the left for the conversion.
Roger Groff picked off a fumble on the Trotwood 17 right after the kickoff. On the next play, Franklin found Sullivan on the one for the score at 2:06. He hit Luke for the conversion.
Massillon received the second half kickoff and Franklin combined with Luke again on a second down play for 66 yards with Luke running 35 at the 10:57 mark. Franklin failed to connect with Sullivan on the conversion.
* * *
"DENNIS THE Menace" hit Sullivan again for 25 yards and a TD at 10:14 on first down after Roger Groff had recovered a fumble. Junior Scott Dingler was off target to Sullivan on the conversion.
It was Mauger's turn again as he returned a punt 79 yards with four blockers in front of him with 8:32 left. McLenndon added the conversion.
Dingler cranked up with 11:25 left in the game and connected with end Kevin Clary for a 73-yard, pass-run with Clary running 35 yards. Dingler failed to hit Sullivan for the conversion.
Wonsick, a junior, finished the slaughter at 1:34 on a 42-yard right-side first down reverse. Weise, another junior, ran the conversion.
TROTWOOD – 0
Ends – Dewey, Windmiller, Schweigert, Speaks, Rohrer, Blankenship.
Tackles – Bayes, Harrison, Phillips, Byrd, Ferguson, Morgan.
Guards – Sadow, Boehme, Rufener, Garber, Niswonger, Domsitz.
Centers – Bell, Kelchner.
Quarterbacks – Jensen, Roush. Schlee, Landis.
Halfbacks – Truesdale, Owens, Cyr.
Fullbacks – Parkhill, Brewer.
MASSILLON – 71
Ends – S. Luke, Spencer, Yackee, Clary, Tisdale, McGuire, Smith, Stephan, Vogt, Turley.
Tackles – Ridgley, Strobel, Weirich, Houser, Janikis, Longworth, Cooper, Dodd, Peters, Miller.
Guards – Jasinski, Kulik, Nussbaumer, Christoff, Sima, Jellel, Heath, Marsh, Shumar, Smith, Maier, Groff, Graber, Heck.
Centers – Studer, Chovan, McCabe, Allman, Gaddis.
Quarterbacks – Franklin, Dingler, Pattinson.
Halfbacks – Mauger, Sullivan, Weise, B. Luke, Schultz, Thompson, Wonsick, Ely.
Fullbacks – Cardinal, Perry, Willoughby, Fletcher.
SCORING
Massillon
Mike Mauger, 51-yard run (kick failed);
Mauger 25 yard run (Mauger, kick);
Bob Stephan, pitchout bat and 10-yard fumble recovery, (Larry McLenndon, run);
Dennis Franklin, nine-yard run (Franklin, run);
Bernard Sullivan, 17-yard, pass-run from Franklin (Steve Luke, pass from Franklin);
Luke, 67-yard, pass-run from Franklin (pass failed);
Sullivan 25-yard pass from Franklin (pass failed);
Mauger, 79-yard punt runback (McLenndon, run);
Kevin Clary, 73-yard pass-run from QB Scott Dingler (pass failed);
Bill Wonsick, 42-yard run (Rick Weise, run).
OFFICIALS
Referee – Joe Romano.
Umpire – Tony Kramer.
Head Linesman – Irwin Shopbell.
Field Judge – Harvey Hodgson, Jr.
Back Judge – Robert Wallace.
Attendance: 11,401.
THE GRIDSTICK
M T
First downs rushing 12 4
First downs passing 6 0
First down penalties 0 2
Total first downs 18 6
Yards gained rushing 299 129
Yards lost rushing 0 25
Net yards gained rushing 299 104
Net yards gained passing 234 0
Total yards gained 533 104
Passes attempted 10-7 2-0
Kickoff average (yards) 11-45.0 1-26.0
Kickoff returns (yards) 0 95
Punt average (yards) 2-28.5 10-29.8
Punt returns (yards) 123 2
Fumbles lost 1-2 3-9
Yards penalized 13-138 3-21
Touchdowns – rushing 4 0
Touchdowns – passing 4 0
Miscellaneous 2 0
Total number of plays 43 65
Tigers must be consistent
vs. Bennie
Beware second half!
By CHUCK HESS, JR.
Independent Sports Editor
Cleveland Benedictine has not beaten a Washington high football team since 1962, but Augie Bossu's charges seem to be getting closer all the time – with second half rebounds.
Bob Commings, WHS skipper, remembers all to well the scare thrown into his team in 1969 when the Bennies almost pulled the contest out of the fire, but fell short 22-20.
* * *
THE TIGERS had a 22-7 halftime lead and all seemed well. The Bennies' Bob Kacvinsky had scored first from a half-yard away and Wayne Bacik kicked the extra point.
Darnell Streeter had run seven yards and Mike Autrey, two, with Autrey also scoring on a 40-yard screen pass from Gary Herring. Denny Franklin had tossed two conversion
passes – one to Larry Harper and the other to Streeter.
But, Kacvinsky got into the act once again, scoring in each of the last two periods on two and 27-yard runs. Bacik added another conversion kick.
The Bennies also had a long kickoff return TD called back due to a penalty.
In 1968, Bob Seamans' final season here the Orange and Black raced to a 26-7 halftime lead only to have the Bennies come steaming back again as the game ended 34-19. Marc Malinowski scored twice for the Tigers – on five and three-yard runs; Streeter romped two and 56 yards and Co-Captain Larry Shumar carried an interception back 15 yards.
* * *
MALINOWSKI hit Mark McDew and Tom Robinson for conversions.
Benedictine took a 6-0 halftime lead in 1966, but the Tigers scored 20 points in the last half. Will Foster ran for two one-yard scores. Tommy James went over from eight yards away. Kevin Henderson ran a conversion.
In Earle Bruce's final campaign (1965), the Tigers led 14-0 at halftime only to see the Bennies score 12 points in the final quarter in the withering Tiger stadium heat as the WHSers held on for a 29-12 win.
Walter Lemmon scored from one and two yards out; James from 24 yards away and Craig Maurer on a 35-yard scamper. Dave Sheegog passed for two conversions – one to Bill Williams, the other to James – and Bill Pearch booted a conversion.
The point is that lately the Tigers haven't played a full game of good football against the Bennies. Commings, therefore, has been reminding his charges this week that a consistent performance is necessary Friday night if the Orange men are to come out on top.
The series stands at 13 wins for Massillon, two for Benedictine with 393 points scored by the Tigers and 139 by the Bennies.