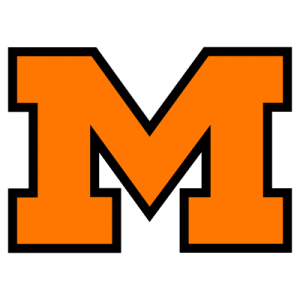 Orange and Black were behind 8-6 at the half
By CHUCK HESS, JR.
Independent Sports Editor
For three-quarters Friday night it appeared the Washington high gridders were bewitched. But in the goodbye canto, the Tigers gave Columbus Marion Franklin the devil and the Tiger stadium Halloween party turned out to be a treat after all.
The Tigers broke loose for 24 points in the final stanza for a 38-8 victory over the Red Devils from the state capital. A Dad's Night crowd of 8,407, smallest of the season, watched the home finale.
The Orange and Black did just what Coach Bob Commings feared they would do. They looked ahead to next Saturday's traditional season-ender with Canton McKinley and Franklin played its heart out in trying to capitalize on the WHSers' dull play but in the end was out manned. The visitors even led 8-6 at the half.
* * *
"WHEN YOU'RE flat and win 38-8 and nobody gets hurt, you're thankful," Commings said. "I'm pleased the kids came out and hit somebody in the second half."
"We couldn't go with their depth," Franklin Coach Dick Mileff said. "I was real proud of our boys. Massillon knew they had been in a game. We knew we had to guard against their momentum."
It was that momentum which ultimately turned the tide for when the Tigers were able to get the Devils' pitchfork out of their hides in the fourth quarter, there was no stopping the Commingsmen. Good defensive play enabled the Tigers to keep Franklin bottled up in its own territory throughout the final 12 minutes – with one exception – and enabled the Tigers to be constantly in good field position.
The Orange and Black should have had four scores in the final frame, but after a 43-yard pass-run from quarterback Gary Herring to split end Dan Byelene – the pass traveling 36 yards – a broken play on second down from the one and Roy Enyart's interception in the end zone thwarted the first attempt.
The Tigers forced a punt, which went out of bounds on the Franklin 38. Wingback Larry "Scooter" Harper picked up 15 yards on an inside double reverse. Fullback Mike Autrey went outside on a pitch for 14 more and then scored on first down from the nine on another pitch with 6:47 left.
Tailback Darnell "Bopper" Streeter's excellent block enabled Autrey to score the conversion on a pitch to the other side.
* * *
FRANKLIN got as far as the Massillon 49 during its next possession but tackle Bill Dorman and end Ed McConnaughead, Mike Mauger, Mauger and McConnaughead thre Devil runners back 26 yards on the next 3 plays and got the help of a procedure penalty. Massillon took over on the Franklin 20. Harper scampered 20 yards on a double reverse and the Tigers had another score with 1:38 left.
Quarterback Denny Franklin's pass to Mike Autrey scored two more points.
Dorman helped to set up the last touchdown by blocking a punt, middle guard Elijah McLin raced 11 yards with the recovery and on second down from the 20, Franklin hit Harper in the corner after missing him in the middle of the end zone with 20 seconds left.
McLin scored the conversion on a pitch and the ensuing kickoff ran out the clock.
The Tigers had started the scoring in the second period after Streeter intercepted a 20-yard pass on his 10 and returned 47 yards. In eight plays, including a 13-yard pitch run by Streeter with a personal foul penalty thrown in, Massillon was on the scoreboard.
Streeter went between guard and tackle from three yards out with 5:16 left. Herring hit Harper for the conversion but an ineligible player downfield caused a loss of the try down and nullified the two points.
* * *
A TIGER FUMBLE, recovered by Franklin on the Massillon 43 led to the Devils' only score after a seven-play drive, which included a personal foul penalty, Bill Taylor's 10-yard run on a 13-yard pass-run from quarterback Lloyd Ball and a 10-yard pass-run to fullback Bill Harris off a sprint.
Ball sneaked over from the one on the next play (first down) with 17 seconds left in the first half. Ball hit Taylor for an 8-6 lead.
Hall slipped on a fourth down run in the third quarter and the Tigers took over on their 19. Ten and 13-yard runs by Harper, an 18-yarder by Autrey and a 26-yarder by Streeter gave added impetus to a seven-play TD drive.
Streeter capped the drive off with 56 seconds left. Herring circled end for the two extra points.
The Tigers muffed two first quarter chances when fourth down passes from Franklin's 10 and 28 were incompleted.
Until the fourth stanza, the Orange and Black had trouble stopping Franklin's possession game with Harris picking up key yardage off tackle. He ended with 87 net yards in 25 carries while Streeter had 101 without a loss in 14 and Autrey 62 without a loss in nine.
Franklin had 71 plays to Massillon's 51, also attesting to its ability to control the ball.
Massillon's record rose to 7-1-1 as the result of the non-league game. Franklin dropped to 4-4-1.
FRANKLIN – 8
Ends – Mills, Farris, Enyart, Shackleford.
Tackles – Vanover, Davis, Wiggins, Conner, McDowell.
Guards – Charmon, Turner, Hughes.
Center – Harold Fields.
Quarterbacks – Ball, Ryan, Bullock, Ryan.
Halfbacks – Bossey, Johnson, Ross, Mason, Brookins, Taylor.
Fullbacks – Harris, Lattimore.
MASSILLON – 38
Ends – Byelene, McConnaughead, Lewis, Robinson, Maxhimer, Cline.
Tackles – Dorman, Ridgley, Midgley, Strobel, Celik, Reinerts.
Guards – Midgley, Hout, Benson, Ferguson, Jellel, Sims, Pifer, Eckroate.
Centers – S. Luke, Brand.
Quarterbacks – Franklin, Herring, Fromholtz.
Halfbacks – Mauger, Lombardi, Streeter, Ammond, Harper, W. Luke, Sullivan, Sheaters, Clarey.
Fullbacks – Autrey, McLin, Cardinal.
Franklin 0 8 0 0 – 8
Massillon 0 6 8 24 – 38
SCORING SUMMARY
M – TB Darnell Streeter, two-yard run.
F – QB Lloyd Ball, one-yard run, HB Bill Taylor PAT (pass from Ball).
M – Streeter, four-yard run, Herring PAT (run).
M – FB Mike Autrey, nine-yard run, Autrey PAT (run).
M – WB Larry Harper, 20-yard pass, Autrey PAT (pass from Franklin).
M – Harder, 22-yard pass from Franklin, McLin PAT (run).
INDIVIDUAL RUSHING
Massillon
Att. Net. Avg.
Streeter 14 101 7.2
Autrey 9 62 6.9
Franklin
Att. Net. Avg.
Harris 25 87 3.5
OFFICIALS
Referee – John Cseh.
Umpire – Henry Mastrianni.
Head Linesman – Robert Donal.
Field Judge – Robert Whetstone.
THE GRIDSTICK
M F
First downs – rushing 16 8
First downs – passing 3 4
First downs – penalties 0 2
Total first downs 19 14
Yards gained rushing 247 127
Yards lost rushing 6 38
Net yards gained rushing 241 89
Net yards gained passing 97 64
Total yards gained 338 153
Passes completed 6–16 7–18
Passes intercepted by 2 1
Yardage on passes intercepted 77 2
Kickoff average (yards) 6–50.4 2–21.5
Kickoff returns (yards) 0 45
Punt average (yards) 1–26.0 5–33.0
Punt returns (yards) 22 0
Had punts blocked 0 1
Fumbles 2 0
Lost fumbled ball 2 0
Yards penalized 7–65 3–28
Touchdowns rushing 4 1
Touchdowns passing 1 0
Total number of plays 51 71