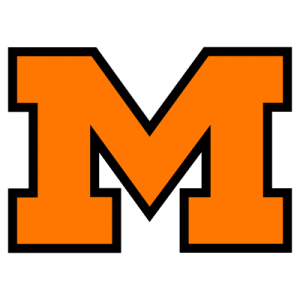 It was an unhappy night for Tigers
Flags fly as offense fails; defense clicks
By CHUCK HESS, JR.
Independent Sports Editor
You could have called it "The Battle of the Frustration Bowl" or "The Saga of the Red Flags" but anyway you sliced it, it added up to an unhappy night.
It was all defense before an estimated 13,000 standing room only crowd Friday night at Harding stadium in Steubenville as the Massillon Tigers and Steubenville big Red battled to a scoreless deadlock. The Tigers have scored only six points in the last eight quarters.
On fourth down from the 38, Herring tried to hit Lewis again, this time in the end zone, but halfback Tom Mitchell knocked the ball down.
* * *
DURING THE last minute of the game, a Tiger fumble of a Steubenville punt was recovered on the Massillon 33 by guard Ross Daniels but a five-yard motion penalty was assessed the Big Red by linesman Frank Wahl, forcing a re-punt and Massillon ran out the clock.
Late in the second quarter Steubenville was fourth down three on the Massillon 10. A procedure penalty put the Big Red back to the 15 from where halfback Jim Steiner's
25-yard field goal try was blocked by Bill Dorman.
There were two other scoring threats, both by Massillon. In the second quarter, Lewis picked up a Steuber fumble on the Massillon 48 at the 5:36 mark. A 24-yard pass-run from Quarterback Denny Franklin to wingback Larry Harper put the ball on the 19, but on fourth down three, end Henry Hill, trouble-some all night, tossed Franklin to the 19.
In the third quarter, Autrey and Franklin combined on a 20-yard pass-run with a 15-yard face-mask penalty thrown in. But on second down from the Steubenville 25, guard Ralph DiBacco and Mitchell pounced on another Tiger bobble.
Getting back to the Tigers' defense, Sheaters and halfback Scott Pattinson, also a sub, turned in some fine pass coverage work. End Ed McConnaughead had a couple of key tackles.
BUT COACH Bob Commings patted the entire defense on the back.
"I thought the kids were fabulous," he said. "They deserved to win. They hit like crazy! When you take Streeter (Darnell) out and you still do a good job, you can be sure you've done well. We had enough offense to win. We scored one TD. Steubenville played a very spirited game."
Streeter didn't play in the second half because his jaw, swollen from oral surgery, began to act up. Franklin, for the second consecutive week, got knocked woozy and left near the end of the game.
"It was a good hitting game, real good effort on our part," Abe Bryan, Steubenville coach who has never beaten Massillon, explained. "A break either way could have changed the game. Our second quarterback Jeff Spahn hurt us so we went back to our injured one, Gary Repella, in the fourth quarter."
He added, "With the caliber of the two teams, the number of penalties called was not good. I think we had more penalties tonight than all other games put together this year. But we made mistakes."
Massillon will now take a one-game rest from AAC warfare to return home next Friday against Hamilton Garfield.
Both teams now have 4-1-1 overall records. Massillon is 1-1-1 in the All-American conference, tied with Niles (1-1) for third, while Steubenville is 1-0-1 and second. Canton McKinley (3-0) leads.
THE TIE was the first in the Massillon-Steubenville series since a 7-7 score in 1945 on the same field. It was the third consecutive season in which a Tiger team has been scoreless in at least one game.
A Steubenville team hadn't held the Orange and Black scoreless since a 1931 68-0 debacle, also in the River City, but on a different field.
So hard-hitting were both defenses that Massillon netted only two yards rushing and Steubenville 46. But Massillon's 122 in the air enabled the Orange and Black to end with a scant 10 yard advantage in total yardage 122-110.
The Tigers were held to minus 27 yards on the ground in the first half while the Steubers picked up only 33. Neither offensive line could do much blocking for runners or much protecting of passers.
Two key penalties hurt both teams but the one which nullified a fourth quarter Massillon TD was the bitterest pill to swallow. Cornerback Jerry Sheaters, starting his first game, had just intercepted a Steubenville pass on the Massillon 33 with 2:41 left in the game to prevent what looked like a sure touchdown.
QUARTERBACK GARY Herring, tossed a screen pass to fullback Mike Autrey who made one of the finest runs of the season, featuring a neat cut-back, to get into pay dirt.
However, Washington high was called for illegal procedure. Referee Bill Holzwarth said after the game that field judge Robert Walker had detected a lineman in "No Man's Land" (between the line and the backfield). Since the Tigers did not have seven men on the line, it cost them dearly.
Later in the same series, Steubenville thought it had recovered a fumble at the Tiger 16 when Autrey dropped a screen toss. However, Holzwarth, who initially signaled a first down for Steubenville, changed his mind after consultation with his crew and ruled an incomplete pass.
At the 4:05 mark, linebacker Mark Benson intercepted a pass and ran it back five yards to the Big Red 30. Tailback Mike Mauger swept to the 20. Split end Don Lewis made a catch just in bounds of the 10 off Herring but the WHSers were assessed 15 yards holding.
MASSILLON – 0
Ends – Maxhimer, Robinson, Lewis, McConnaughead, Byelene.
Tackles – Benson, Celik, Bingle, Ridgley, Strobel.
Guards – Jasinski, Hout, Midgley, Ferguson, Miller, McLin.
Centers – S. Luke, Brand.
Quarterbacks – Franklin, Herring.
Halfbacks – Streeter, Mauger, Sheaters, Harper, Pattinson, Lombardi.
Fullbacks – Autrey, Cardinal.
STEUBENVILLE – 0
Ends – DeLenardis, R. Washington, Lesjak, Hicks, Hill, Chorba, Simon.
Tackles – Henry, Stasjulewicz, Stefanidis, Radakovich, W. King.
Guards – DiBacco, Daniels, Beraddelli.
Centers – Barren.
Quarterbacks – Spahn, Repella
Halfbacks – Brown, Mitchell, Livingston, Misselwicz, Steiner.
Fullback – Williams.
OFFICIALS
Referee – Bill Holzwarth.
Umpire – Ken Newlon.
Head linesman – Frank Wahl.
Field Judge – Robert Walker.
THE GRIDSTICK
M S
First downs – rushing 2 3
First downs – passing 5 3
First downs – penalties 0 0
Total first downs 7 6
Yards gained rushing 70 75
Yards lost rushing 68 29
Net yards gained rushing 2 46
Net yards gained passing 120 64
Total yards gained 122 110
Passes completed 9–23 6–6
Passes intercepted by 2 0
Yardage on passes intercepted 15 0
Kickoff average (yards) 1–45.0 1–43.0
Kickoff returns (yards) 10 17
Punt average (yards) 8–41.3 8–36.1
Punt returns (yards) 17 6
Lost fumbled ball 2–3 1–2
Yards penalized 7–55 4–30
Total number of plays 58 55