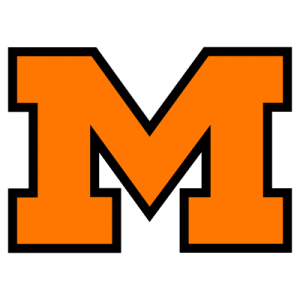 Tiger make last Mansfield tilt a good one
Amass 442 yards in 46-16 win
Mark McDew tallies four Massillon TDs
By CHUCK HESS, JR.
"Merrily We Roll Along" was the Massillon Tigers theme song Friday night at Tiger stadium
Sweeping up and down the gridiron like one of the dread German panzer divisions of World War II, gobbling up more real estate than the great glacier during the ice age, the Orange and Black downed Mansfield 46-16
* * *
WITH 11,574 fans watching the Tigers netted 442 rushing yards and 26 first downs on a tidal wave of power football, which brought them their second win in three games. It was Mansfield's first loss in a like number as the Washington high eleven gave the Richland county aggregation something to remember them by in the last scheduled game between the two long-time rivals.
Senior wingback Mark McDew had his finest game as a Tiger, grabbing off 208 net yards in 17 tries for a 12.3 average and, scoring four touchdowns and three conversions. The kid with the educated feet thereby grabbed off the team scoring lead.
Senior tailback Jim Smith reeled off 116 net yards in 22 tries for a 5.3 average putting him well ahead of his total last year at this time, and scored his first touchdown of the season plus a conversion. Another senior, quarterback Marc Malinowski, averaged 7.4 yards for 11 carries off a total of 81 yards and scored on TD, a conversion and passed for six extra points.
The Tigers tried hard to hit the 50-point scoring mark for the first time since 1965, but once again ran afoul of long penalties and fumbles. For the six and seventh times in three games, the offense put the opposition in position for touchdowns with bobbles.
As it was, for the second consecutive week the Tigertowners gave Coach Bob Seaman his highest scoring mark in his three seasons here.
* * *
"I THOUGHT the whole offense did a helluva job!" Seaman enthused. "McDew, Smitty, and Malinowski all ran well. I thought our blocking was good, especially guards Gary Harig, George Whitfield and Dave Couto cutting defenders down on the sweeps."
Did Seaman think – as did Mansfield mentor Gary Prahst – that McDew's 91-yard TD romp on the option play right after Mansfield's first score in a rather long first period and 87-yard second half kickoff runback were turning points?
"They sure were nice! Seaman explained.
He thought another key was Smith's fumble on the Tiger 18 in the first quarter, which set up Mansfield's first score. Mike Autrey's fumble on his own 48, also in the first period didn't help.
"Our offense gave them two touchdowns," he said. "I'm as unhappy as anybody about it."
Dave Hoy picked off the ball when Smith couldn't find the handle on Malinowski's attempted option which bounced along the ground as a result of the Tiger signal-caller's being hit just as he was ready to let fly. The Mansfield march was capped by quarterback Mark Smith's fake to tailback Merrill Wittmer and two-yard run through the center with 7:07 left. A bad pass from center snarled Hugh Mask's converions kick but Massillon was off-side and Smith ran the conversion.
* * *
MIKE SANDS recovered the second fumble. Tom Nixon, Mansfield tight end converted from a tackle, combined with Smith for a 21-yard pass-run play to the one. After a motion setback, Smith hit Nixon in the center of the end zone with 2:47 left in the welcome frame. Smith's attempted a pass for the conversion, broke out of a trap and ran the center for the two points.
Both of the Tigers' first period scores were by McDew. Malinowski faked to Smith and ran left end for the conversion after McDew's long romp with 6:47 left.
Taking over after the punt, the Tigers' marched 84 yards for their second score with 28 seconds left. McDew skirted left end from the eight with Smith going left over left guard for the 16-16 score.
After the Tigers had moved 71 yards following a second period punt, McDew got the call again and dashed between the left end and tackle from three yards out with 33 seconds left. He added the conversion on Malinowski's pass to the right flag.
Two plays after McDew's jazzy runback of the second half kickoff, Smith rammed over left guard with 11 minutes left. Malinowski passed to McDew in the left side of the end zone for a 32-16 Tiger lead.
* * *
ANOTHER 71-YARD drive culminated early in the goodbye canto with Malinowski going through the center from the one. Smith missed the run for the conversion.
The Orange and Blacks' final tally came after a bad Mansfield punt which landed two yards ahead of the line of scrimmage at the Tygers' 26. McDew ended the march going between the right end and tackle from the six with 3:04 remaining. Malinowski pitched to Smith who threw to McDew in the center of the end zone for the final brace of points.
Seaman thought the first quarter knee injury re-occurrence which felled Duane Hill, Mansfield's All-Ohio end candidate, hurt the Tygers. Prahst felt his defense – not his offense – was to blame.
Seaman thought that because Mansfield was so far behind in the second half and couldn't run the play action pass the WHS eleven was able to change its coverage effectively. He explained that Mark Smith was ducking back inside on pass attempts making it hard to catch the quarterback. Prasht said his team was exhausted after the game whereas Massillon was helped by its two-platooning.
"We're not anywhere as bad as the score indicated," he concluded. "Smith and McDew are fine runners. It's too bad they (Massillon coaches) didn't give someone else a chance to run earlier.
The game closed out Massillon's current home stand. The Tigers' will open All-American conference play next week at Alliance.
INDIVIDUAL RUSHING
Mansfield
Player Att. Net Ave.
Wittmer 16 44 2.3
Massillon
Player Att. Net. Ave.
McDew 17 208 12.3
Smith 22 116 5.3
Malinowski 11 31 7.4
Streeter 10 26 4.7
MANSFIELD – 16
Ends – Hill, Allen, Nixon, Sands, Barnett, Hoy.
Tackles – Parr, Moga, Battisti.
Guards – Wilcox, Salyers, Scott, Harding.
Center – Porter.
Quarterbacks – M. Smith, Petty.
Halfbacks – Reed, Wittmer, Sweet, Bishop, Brooks, Mask.
Fullbacks – Gloriomo, Warndorf.
MASSILLON – 46
Ends – Robinson, James, Engler, Cline, Conley.
Tackles – Laase, McGeorge, Harris, Dorman, Dell, Midgley.
Guards – Couto, Harig, Whitfield, Hout, Muinick, Arnott, Indorf.
Center – Cocklin.
Quarterbacks – Malinowski, Fromholtz.
Halfbacks – Smith, McDew, K. Autrey.
Fullbacks – M. Autrey, Streeter.
THE GRIDSTICK
Mass. Mans.
First downs –rushing 24 6
First downs – passing 0 9
First downs – penalties 2 0
Total first downs 26 15
Yards gained rushing 458 84
Yards lost rushing 16 41
Net yards gained rushing 442 43
Net yards gained passing 12 167
Total yards gained 454 210
Passes completed 1-5 15-34
Passes intercepted by 2 0
Yardage on passes intercepted 2 0
Times kicked off 7 3
Kickoff average (yards) 43.6 45.3
Kickoff returns (yards) 93 8
Punt average (yards) 0-0 7-31
Punt return (yards) 14 0
Fumbles 4 1
Lost fumbled ball 4 1
Penalties 10 9
Yards penalized 100 85
Touchdowns 6 2
Total number of plays 65 69