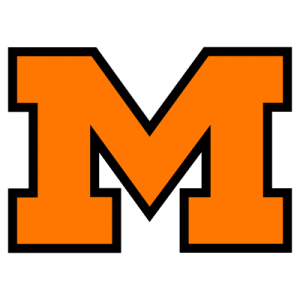 One of worst opening losses for Tigers
Mentor shocks Orangemen 19-0
By CHUCK HESS, JR.
Near misses on offense and poor defensive field position caused by offensive errors cost the Massillon Tigers dearly Friday night.
The Mentor Cardinals handed the Orange and Black a 19-0 setback before 13,290 fans at Tiger stadium, the Tigers' first opening game loss since Fremont Ross turned the trick 8-7 in 1962.
It was one of the worst opening game defeats in Washington gridiron history, the worst defeat for Coach Bob Seaman in his 3 years here and the worst shellacking handed a Tiger team since Alliance battered Massillon 46-0 in 1962. The last time the Orange was held scoreless was by Mansfield in 1966's third game, a goose egg deadlock.
* * *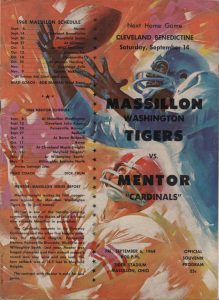 TO MAKE MATTERS WORSE FOR Seaman, it was one of his best friends who defeated him. Mentor Coach Dick Crum has been close to Seaman since the 2 were assistants at Sandusky.
"Close is only good in horseshoes," Seaman said. "Two or 3 times we had someone almost break away. We dropped passes with wide-open spaces ahead of us. There were only 12 yards difference in the total offense. We put the ball everywhere but in the end zone."
Spitting out words angrily, Seaman continued, "The turning point was our fumble on the 2-yard line in the third quarter. Another was the 15-yard penalty when the ball was centered over the punter's head in the first quarter."
The first reference was to a 63-yard third quarter drive by the Tigers, which fizzled when Tailback Jim Smith tried to go off left tackle on third down from the 3-yard line and lost the ball when met by a host of Mentor tacklers. Lee Hauserman and John Weizer recovered on the one.
The second reference was to the fourth down play from Mentor's 42 in the Redbird's first series of the game. Center Paul Alexa flipped the ball over punter Chuck Williams' head with the ball rolling to the 17 where Williams recovered but was hit immediately by Dave Couto, Jerry Harris and Tom Robinson. But the Tigers were called for a personal foul after the whistle, setting the ball back to the 32. Two plays later a clipping call pushed them back to the 44 after Smith had traveled to the 15.
* * *
HAD THE ORANGE and Black been able to score either time the course of the game might have been changed. But the jinx which has permitted Massillon an undefeated season only once in a year ending in 8 cropped up again.
The only other time the Tigers came close to scoring was on a punt runback by Mark McDew for 38 yards to the Mentor 19 in the third quarter, one of the times when a Massillon runner almost got loose but the drive ended on 2 incomplete passes, one just out of tight End Tom Robinson's hands in the right corner of the end zone.
It appeared Malinowski might get free on a 32-yard romp in the fourth quarter but was dropped on his 43. Smitty just missed getting loose on a long scoring jaunt earlier.
The Tigers offense sputtered badly, apparently suffering from a lack of blocking. Seaman preferred not to comment on this until seeing game films which he was to do at 10 a.m. today. Smith netted 95 yards in 29 carries but he and the other backs have to have some help.
"Malinowski having to go both ways took a little sharpness out of our offense," Seaman commented. Safetyman Bert Dampier strained an ankle in the first period and didn't return to the game.
* * *
OTHER OFFENSIVE difficulties put the defense behind the 8 ball. "We had darn poor field position on all 3 of their touchdowns," Seaman said. "I think the defensive team did a good job."
Malinowski who had trouble with his kicking early in the game when the ball slipped off the side of his foot, was able to get a punt only from the end zone to the Massillon 28 late in the second period. Mentor scored in 3 plays as Quarterback Rick Galbos and Wingback John Viber combined on a 14-yard play and Tailback Mike Blistarkey ran to the one.
It was Galbos and Bistarkey who did most of the night's damage to the Tigers, picking up 66 and 70 yards in 18 and 14 tries respectively.
Galbos sneaked through the center with 2:01 left in the second canto. Duane Derrick's kick was wide.
Early in the fourth quarter Center Kim Cocklin got off a bad snap which sent Malinowski deep into his own territory to kick on the run from the end zone ending the drive.
Summing it all up, Seaman said, "We didn't get a good break except the one early in the game and we didn't capitalize on that one. I thought we hit pretty well and I think Mentor has a good team."
Crum thought a big factor was, "We quick kicked 3 times. It got us off the hook and put Massillon in a hole. We felt we would have to play field position football because of the Tigers' strong line so we quick kicked."
He also cited penalties which set the Orange and Black back and felt the Tigers weren't ready mentally for Mentor because they had never heard of the Cardinals before.
Individual Rushing
MASSILLON
Player Att. Lost Net Ave.
Malinowski 5 0 56 11.2
Smith 29 7 95 3.3
McDew 4 0 16 4.0
MENTOR
Player Att. Lost Net Ave.
Galbos 18 11 66 3.7
Bistrakey 14 2 70 5.0
Derrick 2 0 20 10.0
MENTOR – 19
Ends – James, Burkhart, Wancho, Lunceford, Dyke.
Tackles – Hathy, Weizer, Schuldt, Horn, Ryczek.
Guards – Kovacs, Hauserman, Hemberger, Lawson, Yeary.
Centers – Alexa and Harrold.
Quarterback – Galbos.
Halfbacks – Brandenburg, Osborne, Viber, Bistarkey, Caputo,
Williams, Kastning, Markovich.
Fullbacks – Matsko, Derrick.
MASSILLON – 0
Ends – Dampier, Engler, Robinson, Harris, Shumar, Stoner, Conley.
Tackles – Laase, McGeorge, Midgley, Doll.
Guards – Whitfield, Hout, Harig, Couto.
Center – Cocklin.
Quarterbacks – Malinowski, Fromholtz.
Halfbacks – Smith, McDew, K. Autrey.
Fullbacks – M. Autrey, Streeter.
MENTOR 0 7 0 12 – 19
MASSILLON 0 0 0 0 – 0
Touchdowns: Mentor – Galbos (2-yard run); Burkhart (7-yard pass-run)
Bistarkey (2-yard run(,
Extra points: Derrick (kick).
OFFICIALS
Referee – Howard Wirtz.
Umpire – Harvey Hodgson, Jr.
Head Linesman – Bill Makepeace.
Field Judge – Bud Shopbell.
THE GRIDSTICK
Mass. Men.
First downs rushing 7 12
First downs passing 1 4
First downs penalties 1 0
Total first downs 9 16
Yards gained rushing 185 201
Yards lost rushing 16 39
Net yards gained rushing 187 102
Net yards gained passing 19 36
Total yards gained 186 196
Passes completed 3-11 8-11
Passes intercepted by 1 1
Yardage on passes intercepted 0 10
Times kicked off 1 4
Kickoff average (yards) 34.0 36.5
Kickoff returns (yards) 58 8
Punt average (yards) 5-17.4 5-43.2
Punt returns (yards) 47 0
Had punts blocked 0 0
Fumbles 2 2
Lost fumbled ball 2 1