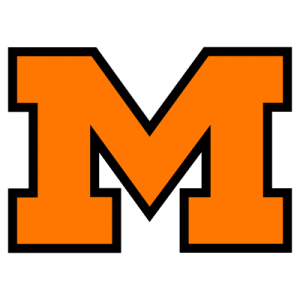 Smith, Young, Spark Tigers To 7th Win
Obies Score 22 Points in 2nd Half Automatic Sign Works Real Well
By KEN SHERER
Good rushing by Tailback Jim Smith and Quarterback Trevor Young sparked the Massillon Tigers to a 22-0 victory over Warren G. Harding Friday night before 11,051 paid customers at Tiger stadium.
The out manned Panthers gave the Tigers all they wanted in the scoreless first half, but Bengal Coach Bob Seaman gave Young the "automatic sign" and the Tigers ran wild in the second half.
Young was something else. He scored 2 touchdowns on runs of 21 and one yards and heaved a 21-yard pass to Wingback Mark McDew for the other Tiger score.
* * *
THE WIN RAISES the Obies' All-American Football conference record to 2-0 and 7-1 overall. It also sets the stage for Friday night's invasion of 8-0 Steubenville, ranked No. 1 this past week in the Associated Press poll. Warren is 3-5 overall and 0-3 in AAFC play. Steubenville also is 2-0 in the league. The Big Red defeated Weirton, W. Va., 32-19 Friday evening.
The game was mostly defense by both teams in the first half. Warren was stopped on the Massillon 5-yard line in the first period and again on the Tiger 21 in the second quarter. Poor field position put unwanted pressure on the Tigers' offense during most of the first half, although the Orange and Black did manage to sputter to the Warren 14 behind rollouts by Young and off tackle and pitch out plays by Smith.
Two plays after the Black Panthers received the second half kickoff, Warren's Greg Williams tried to pitchout to Fullback Robert Stewart. The ball missed its target and Tiger Greg Manson recovered at the Warren 25-yard line.
That's the play that broke our back," Warren Coach Bill Shunkwiler said after the game outside the Panther locker room.
Smith blasted through left tackle for 4-yards and on the next play, Young rolled left and followed the downfield blocking of Blaine Moore, Bill Snowball and Dave Gipp.
* * *
TREVOR, who stands 5-8 and weights 165-pounds, shook off Warren's Chuck O'Donnell at the 9 and went untouched the rest of the way. Young then rolled to his right for the PAT and an 8-0 lead at 10:53.
Linebacker Ron Ertle put the pressure on Warren's punter, Andrew Tenekedes, late in the third period. It resulted in a busted play as Bengal junior Richard Laase pounced on Tenekedes at the Warren 35.
Young rolled for 11 yards, Smith added 7 on 2 carries, Darrell Streeter sliced for 8 more and Smith again picked up 15 yards on 2 plays to move the ball to the Warren 5.
Streeter hit the right side on a quick opener to the 1 and Young sneaked through left guard for his second TD at 11:23 in the fourth period.
Young rolled and passed to Tight-End Ertle, who ran a pattern to the deep right corner of the end zone, for the 2-point conversion and a 16-0 lead.
* * *
WARREN then gained a first down before the Bengal defense again forced the Panthers to punt. The Obies took over on their own 15 and traveled 85 yards in 12 plays for their final TD.
On second and 19 at the Warren 29 and after a 5-yard penalty for taking too much time, Young dropped back and hit McDew over the middle at the 9-yard line. The junior wingback shook off 2 Warren defensive backs and cut to his right for the final TD at 2:52. Streeter's run for the extra points failed.
Smith totaled 136 yards rushing for the night, and Young 79. Gerald Wesley, the AAFC rushing leader, was held to 54-yards. Smith now has gained 732 for the season and Wesley 705.
MASSILLON – 22
Ends – Ertle, Robinson, Dampier, Richards.
Tackles – McGeorge, Ricker, Laase, Snowball.
Guards – Whitfield, Doll, D. Gipp, Couto.
Centers – B. Moore, Skelton.
Quarterbacks – Young, Malinowski, Shumar.
Halfbacks – Smith, McDew, Autrey, Fenton, Evans.
Fullbacks – R. Moore, Streeter, Simon, Gipp.
WARREN – 0
Ends – Natale, Carroll, Terpin.
Tackles – Peterson, Laratta, O'Donnell.
Guards – Jenyk, Mokodean.
Center – Antenucci.
Backs – Bohyer, Williams, Wesley, Stewart, Exler, Simmons.
Massillon 0 0 8 14 – 22
Warren 0 0 0 0 – 0
Touchdowns: Massillon – Young (runs of one and 21-yards);
McDew (29-yard pass play from Young).
Extra Points: Massillon – Young 2 (run); and
Ertle 2 (pass from Young).
INDIVIDUAL RUSHING
MASSILLON
Player Att. Net. Ave.
Young 10 79 7.9
Streeter 10 36 3.6
Smith 22 136 6.1
McDew 4 6 1.5
WARREN
Player Att. Net. Ave.
Willey 18 54 3.0
Stewart 6 21 3.5
Exler 5 12 2.4
Williams 6 18 3.0
OFFICIALS
Referee – Don Wedge.
Umpire – Russ Kemper.
Head Linesman – Larry Pianowski.
Field Judge – John Cseh.
Attendance – 11,501
THE GRIDSTICK
Mass. War.
First downs – rushing 15 5
First downs – passing 1 3
First downs – penalties 0 1
Total first downs 16 9
Yards gained rushing 295 131
Yards lost rushing 26 16
Net yards gained rushing 267 115
Net yards gained passing 36 62
Total yards gained 303 177
Passes completed 2-6 3-12
Times kicked off 4 1
Kickoff average (yards) 37.5 55.0
Kickoff returns (yards) 29 43
Punt average (yards) 4-25.0 4-34.0
Punt return (yards) 13 0
Had punts blocked 0 0
Fumbles 1 2
Lost fumbled ball 1 1
Penalties 3 4
Yards penalized 20 20
Touchdowns rushing 2 0
Touchdowns passing 1 0
Total number of plays 57 61