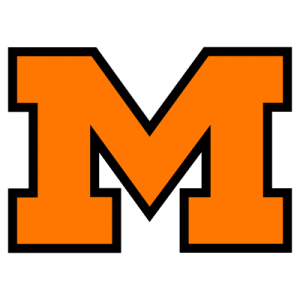 Arlington 'Bears' Down on Massillon 7-6
Injuries To Bengals Are Too Much Anyone For A Break In Tigers' Slate?
Schmidt Gains 108 Yards
By CHUCK HESS, JR.
The rigors of a 10-game "Murderers Row" football schedule caught up with Massillon's Tigers Friday night at Tiger stadium. Those who would seek to criticize Coach Bob Seaman for daring to suggest the Obies should have a "breather" now and then found out what happens when you don't have one.
Playing without two-thirds of their power blocking because of injuries last week to Reggie Moore, 200-pound fullback, and Tom Houser, 224-pound tight end and sometimes front man in the I, the Bengals were clawless. The absence of 220-pound senior Linebacker Hoyt Skelton didn't help matters either as Upper Arlington edged the Orange and Black 7-6 before the season's biggest crowd, 19,017, on Homecoming night.
* * *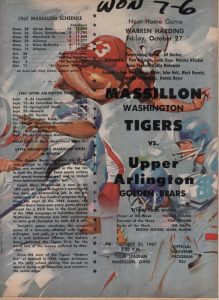 IN BEATING Massillon, the Bears ended a 6-game winning streak and extended their skein to 7. Tiger chances for a state title have dimmed but the lights haven't been turned out yet.
To make the situation even worse, Friday Tom Robinson, 174-pound junior who practiced all week as Houser's replacement, injured a knee in practice Thursday night. Mike Snyder, 192-pound senior, was switched from strong tackle at the last minute to fill in for Robbie and did the best he could under the circumstances.
Had the Obiemen had a "breather" Friday night instead of a continuation of their killer slate, those on the injury list would have had a week to recuperate.
Co-Captain Trevor Young, near tears after the game said, "We let the fans down." But the Tigers didn't let anybody down. They had about as much chance of winning as an
8-cylinder car has of moving with the wires off 5 of its spark plugs.
Except for the beginning of the game when the Bengals moved well outside, they couldn't get any kind of continuity of attack going. Without Moore, to work inside, junior tailback Jim Smith couldn't move at all on the outside, averaging his lowest rushing figure of the season, 2.9 yards.
* * *
THE BENGALS got out of their own territory only twice all night – in the first and second quarters. The last half was played mainly in the shadow of the Obies' goal post, as Massillon got only 2 first downs.
"Did the injuries hurt us?" Seaman asked and then just as quickly answered. "I guess they did! They stopped our offense purely and simply. We missed Houser. When he double teams down, he double teams down!"
"There are not many teams who can lose 3 first stringers, one a 2-wayer (Houser) and have subs fill in and do the job they did tonight. I'm not pleased, of course, but I'm proud of our boys."
Houser was in for only 4 plays while Moore did some kicking off. Skelton saw very limited action.
In an obvious reference to Arlington's schedule, Seaman said, "I wish I had to get ready for only one game a year instead of 10. We play too darn many tough ones."
* * *
WITH JUNIOR fullback Geoff Schmidt, showing the way as he did last year, with 108 net yards in 31 tries, for a 3.5 average, the Bears beat the Tigers at their own game – control football. The Bruins ran 83 plays to the Obies' 51. Without their power attack, the Orange and Black couldn't hang on for any length of time.
Marv Moorehead, who has seen his charges win here 2 years in a row, watched the Bears total 144 more yards and 11 more first downs than Massillon.
"Our defense won the game," Moorehead said. "It was great in the second half. The whole interior was a thing to behold."
Then Moorehead spat out names like a machine gun, mentioning linebacker and
Co-Captain Carl Compton, tackle Jim Merrell and ends Steve Sikora and Bruce Johnson as his big guns.
Actually, the game boiled down to 2 plays – one to Massillon's credit in the second stanza and another in Arlington's plus column in the goodbye canto. The former was Marc Malinowski's 75-yard interception return for a touchdown helped by Russ Fenton's key block with 6:41 left. A pass to Smith for the conversion was incomplete.
The latter came on fourth and 7 on the Obiemen's 29. Senior Co-Captain and halfback Gary Moore scampered 22 yards on a counter play, one of the few calls made by Moorehead all night. An offside penalty put the ball on the one and after Schmidt missed on a dive play, he drilled off tackle for the equalizer at 4:46 with Scott Hustson's kick the clincher.
It appeared the Bengals were going to be off to the races in the first quarter. Mark McDew, junior halfback, pilfered a pass on Massillon's 39 as Arlington went on the move after the opening kickoff.
Smith raced 20 yards on an option left on the first play. Two plays later Young charged through the center for 16 yards to the 14.
Young and Smith moved the ball to the 4-yard line but the Tigers were hit with a procedure penalty. Smith and Young again combined to get to the 2 but someone in the line missed a faking maneuver and Young was tossed to the 7 ending the invasion.
The Tigertowners' only other drive came at the beginning of the second quarter after a punt. They moved 40 yards to the Arlington 44 with McDew running 17, 10 and 8 yards.
However, with fourth down on the Bears' 43 and the ball short of a first down on what must have been one of the closest measurements in Bengal football history, Smith couldn't get the necessary yardage with the Obies' blocking short circuited.
Arlington made repeated drives into Bengal land and almost scored in the third period but ran into a clipping penalty on the Massillon 6. Holder Ted McNulty ran with the ball on a fake field goal attempt on fourth down but was felled 9 yards short of the mark.
The Tigers return to All-American conference warfare next week by ending the home season against Warren Harding.
ARLINGTON – 7
Ends – Ball, McKenzie, Johnson.
Tackles – Carter, Merrell, Harding, Sikora.
Guards – Scovanneri, Loewel, Miely.
Center – Condit.
Quarterbacks – Stanley, McNulty, Reiter.
Halfbacks – Moore, Gilbert, Dicke, Huston, Lloyd.
Fullbacks – Schmidt, Compton, Crim.
MASSILLON – 6
Ends – Houser, Dampier, Snyder, Richards.
Tackles – Snowball, Ricker, Laase, McGeorge.
Guards – D. Gipp, Ertle, Whitfield, Doll, Couto.
Centers – B. Moore, Skelton.
Quarterbacks – Young, Shumar, Malinowski.
Halfbacks – Smith, McDew, Autrey, Fenton, Evans, Streeter.
Fullbacks – Moore, Simon, M. Gipp.
Arlington 0 0 0 7 7
Massillon 0 6 0 0 6
Touchdowns:
Massillon – Malinowski (75-yard interception return).
Arlington – Schmidt (one-yard run).
Extra points: Huston (kick).
INDIVIDUAL RUSHING
Massillon
Player Att. Net. Ave.
Young 10 48 4.6
Smith 17 49 2.9
McDew 10 45 4.5
Arlington
Player Att. Net. Ave.
Moore 13 81 6.2
Schmidt 31 108 3.5
OFFICIALS
Referee – Howard Wirtz.
Umpire – Harvey Hodgson, Jr.
Head Linesman – Bill Makepeace.
Field Judge – Nick Ruggiero.
Back Judge – George Ellis.
ATTENDANCE: 19,017
THE GRIDSTICK
Mass. U.A.
First downs – rushing 8 14
First downs – passing 0 5
First downs – penalties 0 0
Total first downs 8 19
Yards gained rushing 179 240
Yards lost rushing 29 11
Net yards gained rushing 150 229
Net yards gained passing 0 65
Total yards gained 150 294
Passes completed 0-3 11-21
Passes intercepted by 2 1
Yardage on passes intercepted 75 14
Times kicked off 2 2
Kickoff average (yards) 47.0 56.5
Kickoff returns (yards) 23 21
Times punted 6-33.0 3-40.0
Punt return (yards) 5 5
Had punts blocked 0 0
Fumbles 0 1
Lost fumbled ball 0 1
Penalties 4 6
Yards penalized 16 40
Touchdowns rushing 0 1
Touchdowns passing 0 0
Touchdowns by interception 1 0
Total number of plays 51 83