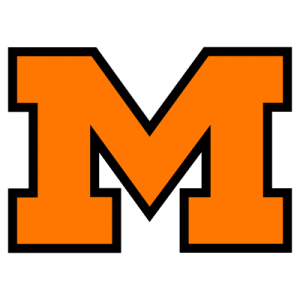 Tigers Gain Revenge, Incentive
Obies Rap Niles 14-6
By CHUCK HESS, JR.
If there ever was an example of good, hard basic football, it was played before 17,287 fans Friday night at Tiger stadium. Massillon and Niles McKinley spent 48 excruciating minutes banging away at each other on the ground with sheer brute force.
By the time the Tigers had won 14-6, the season's largest crowd walked away with praise for both teams and the feeling that a horde of Draculas had been working on them.
In beating the Red Dragons, the Bengals got over a big hurdle and perhaps gained a big push for the last half of the season, wherein the Tigers will have to go against "5 of the toughest football teams any high school in the country will have to face, including 4 undefeated teams and 3 in the top 10 in the state," as Coach Bob Seaman put it.
* * *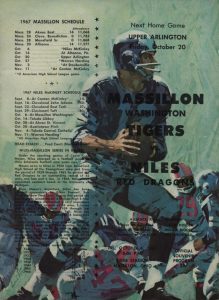 THE VICTORY gave the Bengals revenge for a 20-12 defeat last year at Niles and a 1-0 record in the tough All-American Football conference. The Orange and Black are tied with Steubenville, also 1-0, for second place one-half game behind Canton McKinley (2-0).
Warren and Niles are both 0-2 with Niles' overall record 3-2 under rookie Coach Fred Conti.
Massillon, undefeated in 5 games, has now won one more than in all of last season. The game ended a 5-game home stand for the Obiemen who will travel to Altoona, Pa., for a game against the Mountain Lions (4-0) who are idle this week.
Niles beat the Bengals in the statistical department but not on the scoreboard as the Bengals had it in the clutch, calling on that great Tiger tradition as they have so many times in the past.
"We beat a very good football team with a fine backfield tonight," Seaman said, "we won a helluva lot of games on statistics last year, but not on the scoreboard. This time we won where it counted."
* * *
CONTI, by no means dejected in defeat, said, "A couple of breaks killed us. I'm real proud of these boys. They're a young bunch but we fought them down to the wire."
He added, "We have only one regular returning back. When your team gives a performance like ours did in Tiger stadium, you've got to be proud. Massillon has a good team, but we did everything but beat them, gave them everything they wanted."
The key to the Tigers' success was a shift in thinking at halftime.
"We ran outside the first half but couldn't break away," Seaman explained. "We came back and played football in the second half, running at them. We brought Mark McDew back into the formation."
Marvelous Mark, junior right half or wingback, ran only once in the first half, picking up 5 yards, but carried 10 times in the second, netting 42 yards and a touchdown, while running to the right where his ability is at its best.
* * *
QUARTERBACK Trevor Young did some good work on the keeper to pick up key yardage. Tailback Jim Smith did his usual bull-like job from the tailback slot with the aid of some good holes.
On the other side, junior fullback Lou Tabor, senior halfback Roger Jones led the way behind some fine blocking.
The Tigers mounted the first offensive, a 26-yard first quarter affair which ended when senior halfback Joe Gayonski intercepted a Young-to-McDew sky shot from the Dragons' 34 on second down. Gayonski landed in the end zone for a touchback.
Niles got going in the second period, moving 71 yards to the Tigers 7 before fumbling with Russ Fenton, Bengal end, diving on the ball at the 20. Tabor combined 14 and 15-yard runs with 2 personal foul penalties to spearhead the drive.
The Bengals monopolized play for almost the entire first half of the third quarter, taking the kickoff and moving 71 yards with the help of a 23-yard jaunt by Smith, a 10-yard run by McDew and an 8-yarder by Reggie Moore but lost the ball on downs at the Niles 26.
* * *
TWO PLAYS LATER, tackle Tom Houser batted a pass into a fly ball. Moore intercepted and the Obiemen had a first down on the 26. After Young had scampered 13 yards for a first down on the 12, Smith cut back against the grain off left tackle for a touchdown with 5:02 left. Moore dove over right tackle for an 8-0 lead.
Then it was the Dragons' turn roaring back 74 yards with Jones, Tabor and Gayonski taking turns blasting away at the Tigers' line. Gayonski's 21-yard runback started the trouble while Jones added to the Bengals' misery with a 14-yard run for a first down at the Massillon 40.
Gayonski finished things by catching a 9-yard fourth down pass from quarterback Lou Lukz on the one and falling into the end zone with 9:50 showing on the clock in the fourth quarter. McDew intercepted a pass intended for John Ziegler to thwart the conversion try.
The Obiemen then drove 55 yards in short bursts with McDew and Young toting the pigskin and getting a personal foul penalty thrown in. Smith picked up a key first down on the 25 by vaulting over a steep pile in the middle of the line. McDew ran around end for 18 yards to the one and then off right tackle for the score with 5:17 left.
Young tried to run for 2 more points but failed to skirt the right end.
Houser uncorked a 60-yard punt into the end zone for a touchback with 1:49 seconds left to cap a good night of kicking by himself and Moore but Niles still wasn't through. With Ziegler switching to quarterback and doing some fancy running in bursts of 11 and
15 yards and Tabor adding 14, the Dragons had second and 13 from the Tigers' 41.
But Young, inserted at safety, picked off a pass at the Bengals' 10 and ran back 19 yards as the game was about to end.
NILES – 6
Ends – Ziegler, Joseph, Campbell, Kay, Reigle.
Tackles – Goodhart, Limongi, Klenoviv, Bohach.
Guards – R. Salerno, J. Salerno, Sypert.
Centers – Gaut, Pappada.
Quarterbacks – Lukz, Gales.
Halfbacks – Gayonski, Henry, Lucariello, Jones.
Fullbacks – Tabor, J. Sartiangelo.
MASSILLON – 14
Ends – Houser, Dampier, Richards, Robinson, Spencer.
Tackles – Snowball, Ricker, Laase.
Guards – Ertle, D. Gipp, Doll, Whitfield.
Centers – B. Moore, Skelton.
Quarterbacks – Young, Malinowski, Shumar.
Halfbacks – Smith, Fenton, McDew, Autrey.
Fullbacks – R. Moore, Simon.
INDIVIDUAL RUSHING
Massillon
Player Att. Net. Ave.
Smith 17 84 5.1
Young 10 45 4.5
McDew 11 42 3.9
Niles
Player Att. Net. Ave.
Tabor 18 67 3.7
Jones 15 69 4.6
Gayonski 8 36 4.5
Ziegler 8 30 3.8
Niles 0 0 0 6 6
Massillon 0 0 8 6 14
Touchdowns:
Massillon – Smith (12-yard run); McDew (one-yard run).
Niles – Gayonski (10-yard pass-run from Lukz).
Extra points: Massillon – Moore 2 (run).
THE GRIDSTICK
Massillon Niles
First downs – rushing 11 12
First downs – passing 0 1
First downs – penalties 1 1
Total first downs 12 14
Yards gained rushing 197 238
Yards lost rushing 14 26
Net yards gained rushing 183 212
Net yards gained passing -2 21
Total yards gained 181 233
Passes completed 1-3 2-7
Passes intercepted by 2 1
Yardage on passes intercepted 26 0
Kickoff average (yards) 3-56.0 2-40.0
Kickoff returns (yards) 5 35
Punt average (yards) 4-39.0 4-33.8
Punt return (yards) 20 0
Had punts blocked 0 0
Fumbles 2 2
Lost fumbled ball 0 1
Penalties yards 3-27 2-20
Touchdowns rushing 2 0
Touchdowns passing 0 1
Touchdowns by interception 0 0
Miscellaneous 0 0
Total number of plays 49 60
OFFICIALS
Referee – George Ellis.
Umpire – Harold Rolph.
Head Linesman – Jack McLain.
Field Judge – Chet Destefano.
Back Judge – Russ Kemper.