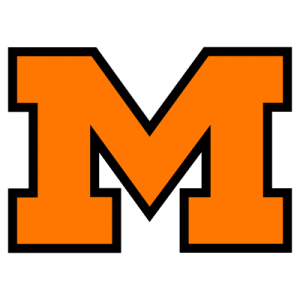 'Beat McKinley Week' Kicked Off
Eastlake Sunk 18-0 By Bengals; Undefeated Tigers Coast to 9th Win
By CHUCK HESS, JR.
"Beat McKinley!"
The squad room in the Washington high dressing quarters at Tiger stadium was lined with signs which welcomed the Tigers in that manner as they came off the gridiron following Friday night's game. Leaflets floated down from the roof at the end of the game with the same message.
And you know the Bengals were thinking ahead to next Saturday's game at Canton when they closed their home season with an 18-0 "Dad's Night" victory over Willoughby Eastlake North. It was expected there would be a letdown.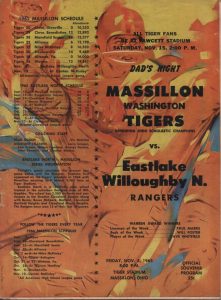 But even so when you pick up a total of 335 yards and limit the opposition to 133 and register 20 first downs to the foe's 6, you've done a pretty fair night's work. And when you score 5 touchdowns – even though losing 2 – while holding an opponent scoreless, there can't be many complaints.
A CROWD of 11,141 watched the Orange and Black roll to its ninth straight victory and its 27th over a 4-season span. The Obiemen's 22nd consecutive win at home gave the Bengals their third-longest win steak in their history.
For Coach Earle Bruce it was 42 victories without a loss, including the August all-star game. Bruce has been tied 3 times since his string started in 1960 at Sandusky.
The loss for Eastlake was its second in 9 games.
The Tiger victory came as the result of good possession football. The Tigertowners ate up a lot of real estate and a lot of time during the 3 drives in which they scored and the 2 in which they just missed the mark.
It was a game, which saw almost as many different backfields for the Earlemen as the locks on the dressing room lockers have combinations. In fact, Bruce said afterwards, "I was really confused. I was never sure of who was in the backfield and what play to run."
The cause of the confusion was the absence of "Sweet Walter" Lemon, senior left half, who had a bad ankle. Bruce switched junior right half Tommy James to Lemon's spot. Junior Will Foster moved from fullback to right half, Senior Tri-Captain Terry Manson was back at fullback after several weeks' absence due to an injured knee.
Before the game was over, Bruce had used senior Rick Healy, who for the first time Friday didn't have to punt, at left half – a position at which he started the year, before shifting to split end. He had also used junior John McFadden and sophomore Greg Evans in that spot and sophomore Bill Simon at fullback.
* * * * *
IT WAS EVANS who surprised. Playing his first varsity game, he scored 2 of the Bengals' touchdowns and picked up quite a few yards, prompting Eastlake Coach Vic McIntire to tab him as "slippery" and Bruce to laud him for a job well done.
Bruce also was happy with Foster's power running and McIntire said: "He really ran over us." Foster carried unofficially 22 times for 154 yards which averages out to 7 yards a try. He "missed" 3 touchdowns.
The Obiemen took over after Eastlake's first punt and scored on a 15-play, 65-yard drive, which almost was short-circuited before it got started but was helped along by a face mask penalty. Foster got 24 yards on the drive but James got the big romp of 23 fourth downs yards to the 2-yard line for a first down.
It took the Bengals the full 4 plays to score with Sheegog faking to Manson and circling left end for the score with 3:16 remaining after the 6-minute, 48-second drive.
Foster failed to run the conversion.
The Tigers held Eastlake at their 47 after some fine running by fullback Al Lunder and halfback Damon Infalvi. Sheegog ran the punt back 25 yards to his 35 but the Earlemen were guilty of clipping.
The WHS eleven then hammered out a 92-yard drive for their second score. A big play was a 44-yard charge up the middle by Foster on which he might have gone all the way but tripped over one of his blockers and fell at the Eastlake 39. He totaled 58 yards on this drive.
End Rick Paige caught a 14-yard pass on the Eastlake 23 to change a fourth down into first. Eight plays later Evans shot off right tackle from the 2 on first down to cross pay dirt with 6:10 remaining in the second stanza. A pass to Paige for the conversion misfired.
The drive took 11 plays and wiped 6 minutes off the clock after starting with 10 second left in the first period.
Infalvi ran the kickoff back 31 yards only to fumble on his 49. James hopped on the ball and the Tigers set sail for the golden shores again. But this push was to be ill-fated.
* * * * *
TWELVE PLAYS and 4:03 later Foster fumbled into the end zone from the one after picking up 20 yards on this drive. Eastlake junior safety Bill Kettunen recovered for a touchback.
Eastlake took over with 1:57 left in the half and drove to the Massillon 23 before being thrown back to the 29 on a broken pass play as time ran out. Two beautiful pass plays highlighted the quest. One was a pass-run combination from Kettunen to junior halfback Bob Terrill that went down the middle for 39 yards to the 50. The second was a 27-yarder to the left from the 50 with the same combination involved.
The Tigers took the second half kickoff and moved 71 yards in 16 plays with 8:22 going by the board and Foster picking up 26 yards. Evans started things off with a 27-yard runback to the Bengal 39.
Evans took a pitchout from Sheegog and rounded the left side on third down from the 6 for the score with 3:23 remaining in the third episode. Another pass to Paige on the conversion was incomplete.
Again Eastlake was forced to punt. Sheegog ran the Rangers' offering back 28-yards to Eastlake's 42. In 10 plays, Massillon almost scored again. Foster went over from the one but holding was detected setting the Orange and Black back to the 16 from where their effort was halted. Another 3:57 had ticked off with the game now 2 ½ minutes into the good-bye frame.
Eastlake was forced to punt again shortly thereafter. Massillon came back to the Ranger 39 but Foster fumbled. Terry Collins recovered and the Rangers went on their last safari of the evening on which Lunder got a big 16-yard trap run up the middle for a first down on the Massillon 34.
The Drive got as far as the 24 but was reversed to the 25 by Tiger defenders from where Massillon took over and ran out the clock.
* * * * *
AFTER THE GAME, Bruce felt his team didn't "look sharp all around." He admitted that "team morale was low" and didn't think the blocking was real good. "You don't get that many boys hurt when you're hitting." (The Bengals came out with a lot of bumps and bruises, which don't appear to be serious.)
Bruce lauded James for "sacrificing for the team" by switching away from his normal right half slot to the left side.
The Tigers' ringmaster praised Eastlake for being a "well-coached team" and doing a "real good job." He thought Lunder did some outstanding work from his fullback position.
McIntire was unhappy with the work of the striped shirts, saying he thought they overlooked some of the little things."
He said he didn't think Sheegog had hurt the Rangers as much as he had other teams but admitted he "fakes you out of your pants." McIntire was happy with the performance of Lunder although "I should have run him more but we didn't have the ball enough."
STATISTICS
Mass. Opp.
First downs—rushing 18 4
First downs—passing 2 2
First downs—penalties 0 0
Total first downs 20 6
Yards gained rushing 306 76
Yards lost rushing 4 19
Net yards gained rushing 302 57
Net yards gained passing 33 76
Total yards gained 335 133
Passes attempted 6 9
Passes completed 2 4
Passes intercepted by 1 0
Yardage on passes intercepted 15 0
Times kicked off 4 1
Kickoff average (yards) 43.6 49
Kickoff returns (yards) 18 65
Times punted 0 4
Punt average (yards) 0 36
Punt returns (yards) 24 0
Had punts blocked 0 0
Fumbles 4 1
Lost fumbled ball 2 1
Penalties 2 2
Yards penalized 25 30
Touchdowns rushing 3 0
Touchdowns passing 0 0
Touchdowns by interception 0 0
Total number of plays 71 37
EASTLAKE – 0
Ends – Kirschensteiner, Spots, Collins.
Tackles – Carter, Flavin, Gilmour, Schimmelman.
Guards – Wank, Brendt, Yee.
Center – McGlew.
Quarterbacks – Kettunen, Kuchenbecker.
Halfbacks – Terrill, Beuhner, Haworth, Fawcett, Infalvi, Murton.
Fullback – Lunder.
MASSILLON – 18
Ends – Paige, McGuire, Gallion, Griffin.
Tackles – Hartley, Neago, Sherrett, Petroff, Campbell, Skelton.
Guards – Richards, Rose, Whitifield, Kraft.
Centers – Marks, F. Williams, Ehmer.
Quarterbacks – Sheegog, Doolittle.
Halfbacks – James, Foster, Healy, McLendon, McFedden, Evans, Smith.
Fullbacks – Manson, Reed, Simon.
Score by Quarters:
Massillon…………… 6 6 6 0 –18
Touchdowns:
Massillon – Sheegog (one-yard run); Evans 2 (2 and 6-yard runs).
Attendance: 11,141.
OFFICIALS:
Referee – John Dairymple (Akron).
Umpire – Russ Kemper (Cincinnati).
Head Linesman – Bill Makepeace (Cincinnati).
Field Judge – Chuck Lorenze (New Philadelphia).