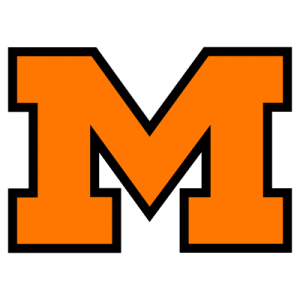 Tigers Romp To 38-12 Win Over Mansfield
Take Advantage Of Visitors' Miscues
By CHUCK HESS, JR.
They hung the Tiger in effigy but he didn't stay dead long!
Somebody draped a Tiger dummy in front of a sign in the Massillon dressing room at Tiger stadium where all would be sure to see it. The pre-game message warned the Bengals that Mansfield's Tygers were untied and unscored upon in 2 games.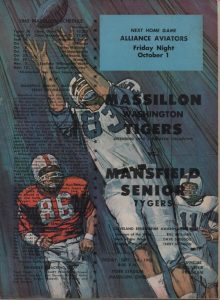 The defending state champs got the message all right and romped to a 38-12 victory over Mansfield before 12,377 fans, the season's second-largest turnout. The Obie-men thus got by the third roadblock along the "Tiger Turnpike to Victory."
The victory was Earle Bruce's 36th straight, counting last month's All-Star game. It was the 21st in a row for the Washington high eleven, 21st straight at home, eighth straight against Mansfield and brought the Bengal-Tyger series to 27-2-4.
It was one of those nights which drew a real team effort offensively and defensively. It would be unfair to cite any one boy as having been better than any other.
* * * * *
A PLEASING omen was signs of the Tiger passing game, heretofore rather tame, coming to life. Two touchdowns came via the aerial route from quarterback Dave Sheegog to split end Rick Paige.
The Tigertowners dominated the statistics with 11 first downs to Mansfield's 8, 187 net yards on the ground to 86, 72 to 57 in the air and a total of 259 to 143. The Massillon defense threw Mansfield for 40 minus yards in the rushing department, thanks to some fine gang tackling and pursuit, while the Tigers lost only 12. Mansfield gained 64 yards of its ground total while the Bengal reserves were in during the final quarter.
Most of the Tigers' running was to the outside. The middle of the Mansfield defense was hard to break, because of guys like Bob Westerfield, Eli Marsh and Arnold Swope, filling in for ailing middle guard Bon Ruckman, who played only offensive center.
It was a game of breaks with Massillon picking up 3 of 6 touchdowns after 2 bad fourth down snaps from center and a punt fumble. Mansfield capitalized on a fumble and intercepted pass.
Because of the several breaks the Tigers made for themselves, they weren't forced to make any sustained drives for TD's. Three of the 5 times they attempted it the Bengallanders got no further than the Mansfield 40-yard line.
* * * * *
THE TIGERS scored the first time they got their hands on the ball. With second down and one on their own 41, Tommy James broke through on a counter trap to the left and raced to the Mansfield 22, just missing going all the way.
On the next play Sheegog hit Paige cutting towards the end zone flag with "Ramblin Rick" grabbing the ball on the 10 and racing the rest of the way with 8:37 left in the first quarter. A misplay in the Bengal backfield prevented a conversion.
On the next series, Mansfield drove to the Massillon 43 and was forced to punt. Sheegog gathered to the pigskin on his 7, cut to his right and raced 93 yards for a score. He had some fine blocking along the way. The tally came at 4:45. Junior quarterback Craig Maurer passed to junior fullback Will Foster for 2 extra points.
Mansfield came back after the kickoff and a punt when Dan Coe fell on a fumble on the Bengal 28. A 15-yard face mask penalty followed. Then the Tigers appeared to have the Tygers stopped on the 18 on fourth down. But quarterback Harry Waldman bootlegged left and tossed to end Chris Alexander in the end zone with 1:06 left. A pass to end Dan Arnett on the conversion attempt was incomplete and the scoreboard read 14-6.
Massillon got a 21-yard runback by Sheegog on the ensuing kickoff and started a 65-yard TD jaunt with 50 seconds left in the welcome frame. A pass interference penalty kept the drive going.
Three plays into the third quarter with third down, 8 on the Mansfield 49, Sheegog hit Paige on the button hook left on the Tyger 30 with Rick sprinting the remainder of the distance for the Bengals' third TD with 11:02 remaining. A pass to Lemon for the intended conversion was incomplete.
* * * * *
ON FOURTH DOWN on Mansfield's 2nd following series, Junior Parr dropped back from the 12 to punt. A bad snap ended in Parr being crushed to the earth on the 3 by Terry Manson.
He busted off left guard on the next play for a score with 3:01 lit up on the scoreboard. Manson also tried the conversion but was brought down short of the mark with the score remaining 26-6.
On fourth down in the next series, the snap went past Parr into the end zone. Dave Whitfield, theTigers' right defensive end, smashed into Parr in the end zone after the Tyger punter had retrieved the pigskin. It bounced loose and the other end, "Wild Bill" Williams, pounced on it for the score. With 1:17 left Bill Pearch's conversion kick was wide left.
Mansfield got the only score in the third stanza. Tom Osgar, a defensive back, grabbed off a Maurer pass on the Massillon 45 and raced back to the 38.
Seven plays later, Mansfield had its second and last touchdown. Parr went over right tackle from the half-yard line at 3:13 on second down. He had run 15 yards to the 2 and another 1 1/2 on the 2 plays previous. Paul Marks intercepted Waldman's conversion pass.
* * * * *
MASSILLON'S LAST score came when Mansfield fumbled Rick Healy's punt on the first play of the last quarter. The ball bounced off a safetyman's hands at the 20 and rolled to the 7 where Loren (Stretch) McGuire wrapped his long frame around it. Foster ran to the one and then into the promised land off left tackle on the next play with 10:57 left. Pearch's conversion kick was blocked.
Nobody came close to scoring after that.
Bruce commented after the game. "I'm pleased at our performance because we beat a tough team. We got a lot of breaks, Mansfield isn't that bad. Our defense was good this week. We were hitting, not catching."
A youthful Gary Prahst said of his Mansfield eleven, "We gave them 4 touchdowns. We didn't play good. But I don't want to take anything away from Massillon. They're good. Sheegog is excellent."
Prahst felt this loss would not hurt the morale of his team which starts Buckeye conference play next week. He said he had thought his team would be able to move the ball against Massillon easily but couldn't. When asked about the poor punt centers, Prahst said his boys weren't nervous but had had that trouble before.
Prahst was exuberant over the play of Marsh, calling him "a real leader."
Alliance comes to town next Friday for the Orange and Black's fourth straight home game.
MANSFIELD – 12
Ends – Allen, Alexander, Arnett.
Tackles – Palm, Swope, Coe, Socea.
Guards – Adams, Windbigler, Reedy, King.
Center – Ruckman.
Quarterback – Waldman.
Halfbacks – Luckie, Osgar, Jefferson, Westerfield, Davis.
Fullbacks – Marsh, Swarn, Parr.
MASSILLON – 38
Ends – Paige, B. Williams, Mcguire, Crone, Riese, Healy.
Tackles – Petroff, Campbell, Hartley, Neago, Ehmer,
Croop, Rhine, Sherrett.
Guards – Whitfield, Richards, White, Kraft, Rose, Porrini,
Mazon, Beiter.
Centers – Marks, F. Williams, Gallion.
Quarterbacks – Sheegog, Maurer, Doolittle.
Halfbacks – Foster, Lemon, James, McFadden, Muhlbach.
Fullbacks – Manson, Hauenstein, Reed.
Mansfield……………….. 6 0 6 0 – 12
Massillon……………….. 14 18 0 6 – 38
Touchdowns: Massillon – Paige 2 (23 and 49-yard passes from Sheegog);
Sheegog (93-yard return); Manson (2-yard run);
B. Williams (recovered fumble in end zone);
Foster (one-yard run).
Mansfield – Alexander (17-yard pass from Waldman);
Parr (half-yard run).
Extra Points: Massillon – Foster 2 (pass from Maurer).
Statistics
Mass. Opp.
First downs—rushing 8 5
First downs—passing 2 3
First downs—penalties 1 0
Total first downs 11 8
Yards gained rushing 199 126
Yards lost rushing 12 40
Net yards gained rushing 187 86
Net yards gained passing 72 57
Total yards gained 259 143
Passes attempted 6 13
Passes completed 2 6
Passes intercepted by 1 1
Yardage on passes intercepted 13 20
Times kicked off 7 3
Kickoff average (yards) 50.1 47.0
Kickoff returns (yards) 43 149
Times punted 3 5
Punt average (yards) 42.0 38.1
Punt returns (yards) 116 0
Had punts blocked 0 0
Fumbles 3 2
Lost fumbled ball 1 2
Penalties 4 4
Yards penalized 60 39
Touchdowns rushing 2 1
Touchdowns passing 2 1
Touchdowns by interception 0 0
Miscellaneous 2 0
Total number of plays 46 57
OFFICIALS
Referee – Howard Wirtz (Cincinnati).
Umpire – Harvey Hodgson, Jr. (Massillon).
Head Linesman – Bill Makepeace (Cincinnati).
Field Judge – Jack McLain (Columbus).