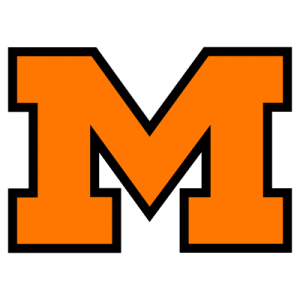 Tigers Defeat Fast Cincinnati Team 43-6
Bengals' Passes Open Up Queen City Foe For Carriers
By CHUCK HESS, JR.
The Washington high school football team was the majority party at Tiger stadium Friday night. And the Tigers used their superior numbers to legislate decisively against the Senators from Cincinnati's Robert A. Taft high school.
The Bengals captured their second victory of the season 3-6. They've lost one. Taft has a tie and a loss on its record.
Coach Leo Strang had the strength on his bench to win by a landslide in the second half. He was able to pour in the substitutes and wear down the stubborn Senators with a 30-point barrage in the last 24 minutes after a 13-0 margin at the intermission.
"I feel real good," Strang said after the game. "I was very pleased with our passing game and some of those catches were tremendous."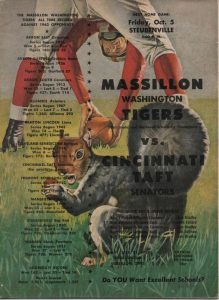 Strang thought that Taft was a plucky team and could go back home with heads high. "Being able to put in a lot of fresh boys in the last half helped to wear them down," Strang said. "At half time we found some things we could do that helped us in the second half."
* * *
THE TIGERS' skipper was high in his praise of Taft's speedy right halfback, senior Carl Ward, who made his team's only touchdown. He felt that Ward was a fine runner with good agility and was a good bet to make an All-Ohio berth.
"Ward is great. There are not many boys any better," Strang said.
It goes without saying that Will Hundemer, Taft's coach, was happy with Ward's performance. He picked up 145 net yards in 17 carries for an average of 8.4 yards per try. Overall the Senators got 163 net yards. He had three kick-off run backs for distances of 14, 35, and 24 yards. Ward also did some fine pass – receiving and punting.
In commenting on his team's performance, Hundemer said, "I feel we played a fair game. I didn't expect to get beat as badly as we did. But Massillon has a fine team. They're great technicians. We made some costly errors in there tonight."
Hundemer definitely was of the opinion that a Taft fumble on Massillon's five-yard line early in the second quarter was a key factor in the game. "Things might have been different otherwise," he said. Ironically Ward made the miscue.
* * *
THE GAME was one where you had to make the most of each opportunity to handle the ball. The Tigers scored six of nine times, missing twice in the first half and once in the second with Tailback Ron Davis and Fullback Jim Lawrence each scoring twice.
Only one Taft play separated the last two times the Orange and Black got the ball in the first half. The Bengals had two plays with a pass interception on the second, then re-intercepted on the Senators' first try.
Massillon got its first touchdown on a 52-yard drive following a punt in the first period. Nine plays and three first downs were needed for the tally. Ron Davis, a senior starting his first game on offense for the Bengals, rammed in from the one off tackle at 6:33. Wil Paisley kicked the conversion.
The big play in the drive was a 28-yard pass from Senior Quarterback Mike Koenig to junior short side End Bob McAllister.
After Ward had run Paisley's kick from the Taft 14 to the 49, the Senators took off on a 46-yard drive which ended abruptly with Ward's fumble on the five. The Senators utilized 15 plays with four first downs. Ward had a 12-yard pass reception in one key spot. Three times Taft held onto the ball on third-down situations, each with more than six yards to make.
Following Davis' recovery of the fumble, the Benglas made a long 95-yard trek for their second TD. They used 12 plays, getting four first downs. Davis made a big 57-yard run from his five to the Taft 38 via a sweep off a pitchout. Junior Wingback Grady Eckard, starting his first game offensively, contributed a beautiful 10-yard romp on the counter.
Davis went over from the one off guard at 4:23. Paisley's kick was off to the left.
* * *
TAFT HAD ONE more drive before the half ended. This time the Senators moved from their 20, after the Tigers' second tally, to the Orange and Black 37 only to lose the ball on downs. Ward contributed a fine 21-yard romp off tackle to the cause.
Massillon took six plays to hit pay dirt after the second half kick-off, moving from its 34 in six plays and two first downs. Koenig completed an 18-yard pass play to senior Wingback Bill Blunt off an offense left formation to get the ball to the Taft 47; three plays later Lawrence crashed off guard from the 41 to the 13. Davis went off tackle to the 10. And Koenig went in on the keeper on the next play at 9:51. Koenig threw to Eckard off offense left to make the score 21-0.
Taft drove from its 28 to the Massillon 45, and lost the ball on downs again. Ward caught a pass good for 17 yards and ran 10 yards on a sweep to help the situation. Both runs were on key third-down situations. The Senators got three first downs during their time with the ball.
The Tigers got nowhere on their next series. Neither did Taft.
The Orange and Black manufactured its next score on a drive which started at the end of the third quarter and carried to the 10:17 mark of the last stanza. Seven plays and three first downs went by the board before the TD came. Koenig's 13-yard run on the option, a 14-yard counter keeper and a 15-yard personal foul penalty helped out.
Lawrence, a sophomore starting his first game offensively, took a pitchout and went in from the seven. Junior signal-caller Ron Swartz threw to Blunt for the conversion.
* * *
TAFT TOOK three plays after the kickoff to get its only score. Ward ran back the boot from his 10 to his 34. Two plays later, on third-and-11, he skirted end on a counter after finding his tackle hole jammed up and outraced the Tiger defenders 67 yards for the six points at 9:13. Junior Quarterback Ed Lewis failed in an attempt to score two extra points.
The Strangmen were back at it following the kickoff, taking the ball 67 yards in 12 plays and five first downs, two of them on big third-down situations. By this time the reserves were seeing action. The Bengals used a nine-yard pass to junior long side End Will Perry, a nine-yard Statue of Liberty by Blunt and a 12-yard counter by Eckard to good advantage. Another personal foul penalty also helped out.
Lawrence scored on another pitch out 4:34. Junior Quarterback Tom Gatsios let fly to Lawrence for the conversion with Jim making a fine falling catch.
The Bengals got the ball after a punt late in the stanza. Five plays later it was bonanza for the sixth and last time. Blunt ran the punt back from his 45 to the Taft 23.
One of the big plays was a pass from Swartz to sophomore long side End Ken Gilmore, another boy in his first game. The play went from the 23 to the three and Ken made a sensational diving catch.
Swartz tossed to McAllister from the three two plays later at 1:03. Another Swartz-to-McAllister aerial for the conversion misfired.
The Tigers will leave the friendly confines of the stadium for their first road game next week. Site will be Hartshorn stadium in Alliance.
The Right Way
TAFT – 6
Ends – Hardaway and Clark.
Tackles – Durham, Smith, Hill and Vann.
Guards – Davis, Alford, Broadnax and Mosoe.
Centers – Ruff and Pullens.
Backs – Lewis, Ward, Willis, Ison, Carter, Copeland, Thomas and Edwards.
MASSILLON – 43
Ends – Perry, McAllister, Franklin and Gilmore.
Tackles – Clendening, Profant, Harmon, Fabianich, Miller, Morgan and Tarle.
Guards – Ehmer, McDew, Castile, Roderick, Swisher, Paflas, Geckler, Mathias and Rivera.
Centers – Bradley and Scassa.
Backs – Koenig, Davis, Lawrence, Eckard, Swartz, Gatsios, Blunt, Kanney, Sullivan, Thomas, Pope, Rink, Gamble and Getz.
Taft 0 0 6 0 6
Massillon 7 6 8 22 43
Touchdowns:
Massillon – Davis 2 (one-yard runs); Lawrence 2 (seven and three yard runs); Koenig (10-yard run); McAllister (three-yard pass from Swartz).
Taft – Ward (67-yard run).
Points after touchdown:
Massillon – Paisley 1 (kick); Blunt 2 (pass from Swartz); Eckard 2 (pass from Koenig); Lawrence 2 (pass from Gatsios).
Officials
Referee – Bud Shopbell (Canton).
Umpire – Harvey Hodgson, Jr. (Massillon).
Head Linesman – William Makepeace (Cincinnati).
Field Judge – Fritz Graf (Akron).
GAME STATISTICS
Mass. Opp.
First downs – rushing 14 7
First downs – passing 3 4
First downs – penalties 1 0
Total first downs 18 11
Yards gained rushing 277 177
Yards lost rushing 6 14
Net yards gained rushing 271 163
Yards gained passing 85 69
Total yards gained 356 222
Passes attempted 13 15
Passes completed 6 7
Passes intercepted by 1 1
Times kicked off 7 2
Kickoff average (yards) 48.8 36.5
Kickoff returns (yards) 12 132
Times punted 1 4
Punt average (yards) 34.0 31.3
Punt returns (yards) 52 0
Had punts blocked 0 0
Fumbles 3 4
Lost fumbled ball 0 1
Penalties 7 5
Yards penalized 12 40