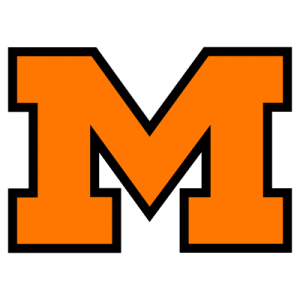 Tigers, Big Red Battle To 7-7 Tie In Muddy Clash
Steubenville Scores Late In Game After Massillon Fails On Several Chances
By FRED J. BECKER
The Washington high school Tigers recorded a net gain of 349 yards moving the ball more than three times the length of a football field – and scored only seven points!
The Big Red of Steubenville Wells high school compiled a net gain of only 53 yards, a little more than half the length of a football field – and still scored seven points!
Massillon's Tigers rang the cash register f or 18 first downs' Steubenville's Big Red moved the 10-yard chain but twice but the final score read: Massillon 7, Steubenville7.
6,000 Fans Witness Contest:
All this happened Friday night in the mud and rain and fog at Steubenville Wells stadium before 6,000 fans, the smallest gathering to see a Tiger- Big Red battle since the two old gridiron rivals renewed their annual shindigs back in 1937. It was far from a pleasant night for football, with intermittent showers and a slippery, muddy gridiron adding to the discomfort of both spectators and players. Only a handful of Massillon fans braved threatening weather yesterday afternoon to journey to the battle scene.
For the second time in as many weeks, Coach Augie Morningstar's Tigers played their hearts out and gained nothing better than a tie score. A week ago last night they chalked up a wide margin over the Canton Lincoln Lions in the ground gaining department but were able to gain nothing better than a scoreless draw with the east enders, a fumble in the closing minutes of play robbing them of a chance to win.
Tigers Score Early On Pass
Last night they roamed through the air and through the mud to put on display their greatest ground gaining exhibition of the season but still they were able to score but seven points, those coming early in the first quarter on a beautifully executed forward pass from Don McGuire to Jack Zeller. But once again they saw victory elude their grasp when late in the fourth period the Stubbers intercepted a pass tossed by Bert Webb, raced it back from Massillon's 34 to the 14 and then by dint of hard plugging rammed the ball over from the two yard line for the points that gave them a tie with the orange and black.
And today Coach Morningstar is wondering just what he can do to break the jinx that has beset his lads and which for two straight weeks has kept them away from notching victories their playing out on the field entitled them to but which they failed to achieve. There must be a reason why the Tigers today have a record for two victories against two ties, rather than a string of four straight.
Coach Morningstar has been hunting for that reason for some time and if he finds it the Tigers may still prove to be as formidable as their record of ground gained indicates.
For Steubenville's Big Red last night's 7-7 tie with the Tigers is one of those moral victory things. No one expected them to win or even come close to holding the Tigers to a tie. In three previous games the Stubbers had been kicked around rather soundly by Follansbeen and Weirton, W. Va., and East Liverpool. They had soaked up three straight defeats and had not been able to score a point.
Last night they scored their first points of the 1945 campaign and the seven they tallied were enough to give them a tie with the vaunted Massillon Tiger – and that more than satisfied the Big Red, their supporters and their coach. Prior to last night the Big Red had lost eight straight battles to the Tigers.
A few days ago Fortune A. Sullo, Big Red coach wrote us a letter taking us to task rather lightly for a story early in the week saying that Steubenville probably would prove another tough foe for Bengals because every team on a Massillon schedule had a habit of turning tough when they faced the Tigers.
Good On Field, Too
He said we were trying to make the game look good on paper. Well the game not only looked good on paper, but it looked awfully good from a Steubenville standpoint out there on the field. Even Coach Sullo probably raised his eyebrows a trifle last night when he saw the plucky battle his lads waged against the Tigers.
The only explanation for last night's tie score is that the Big Red proved themselves to be better opportunists than the Tigers. Steubenville had but one chance all night to score – and the Stubbers took full advantage of it. The Tigers, after scoring once, had at least three other chances to tally points but each time they failed to make the most of their opportunity – once losing a touchdown when right up against the Steubenville goal line.
The Tigers played their hearts out again and took quite a battering from a Steubenville team that held a sizeable weight advantage but gained nothing better than a tie score out of the melee, largely because they were not able to take advantage of the opportunities their own playing brought them or because the breaks went against them – for instance a costly fumble in the fourth quarter that halted a Tiger march on Steubenville's 30 after some spectacular dashes by Bert Webb had carried the ball from deep into Massillon territory to deep into Steubenville's sector.
With Merle Darrah, Webb and Bob Richards nursing injuries Coach Morningstar shoved a revamped lineup into the fray, moving Gene Krisher from right tackle to center, installing Jim Young at the tackle berth and putting McGuire and Dan Byelene into the halfback posts. This aggregation played a lot of good football with Alex Giloff going in as a replacement for Gene Zorger and Gene Yost relieving Virgil Edie, who took quite a pounding from the Big Red.
Despite the muddy field and wet night, the Tigers uncovered a rather effective running attack and a better than average aerial assault with McGuire and Byelene doing the pitching and Zeller, Capt. Fred Bonk and McGuire on the receiving end. The slippery ball was hard to handle and because of this several Tiger aerials that might have been converted into touchdowns went for naught when local receivers were unable to hold the pigskin.
Tigers Tough On Defense
Defensively the Tigers were as tough to dent as a stonewall, except for that brief period in the final quarter when an inspired Big Red outfit, seeing a chance to avert defeat and gain a tie score ,plunged and lunged its way over the Tiger goal line for the points that knotted the score at seven all.
Offensively the Tigers despite the fact that they gained 340 yards, at times displayed faulty timing and interference and an attack that sputtered and failed just when they needed it most.
McGuire, Byelene, Giloff and Zorger plunged and ran their way to a lot of yardage on the water soaked field. The Tigers displayed their customary hard and accurate tackling with every boy who got into the game performing well on defense.
One of Steubenville's biggest assets was Don Joyce, veteran end, whose brilliant and long-distance punting took Steubenville away from dangerous territory, many times. He also was a bear on defense. Offensively Pete Polovina, a fast stepping 160-pounder, who scored Steubenville's lone touchdown on a wide dash around end, and Preston Robinson, sturdy Negro line cracker, were the Stubbers outstanding stars.
The Tigers threw passes last night, completing seven for 122 yards, one of them good for a touchdown. Steubenville tried four completing three for 14 yards. Nine Tiger heaves failed and four were intercepted. Steubenville had one aerial fail to connect.
The Tigers had a gross gain from all types of play of 364 yards with a loss of 15 for a net of 349. Steubenville had a gross of 81, a loss of 28 for a net of 43. Last night's game proved once again that the pay off comes on points, not on yardage.
The Tigers won the toss and received and promptly chalked up their first and only touchdown of the battle. Starting from their 33 yard line after the kickoff the Tigers moved steadily toward the Steubenville goal despite a flock of penalties inflicted on both teams in midfield, the penalties keeping the ball moving back and forth much more rapidly than the gladiators were able to.
Finally Zorger rammed for a first down on Steubenville's 42. On the next play McGuire wrapped his fingers around the slippery leather and cut loose with a long pass. Jack Zeller out in the open grabbed the ball and romped 10 yards for the score. Virgil Cocklin, sophomore placekicker, was rushed in to try for the extra point and he made good, splitting the uprights with a perfect kick. It's a good thing he did. That point proved the difference between a tie and a defeat later on.
Pass Interception Hurts
Late in the initial period the Tigers began another march. Two first downs moved the ball to Steubenville's 33 but Polovina intercepted a McGuire pass to end the threat. But the Tigers came pounding right back. Getting the ball after Joyce had punted, the orange and black steamed back to Steubenville's 39 when Zorger punted for a first down. He then raced around left end for another to the Big Red's 28. But Byelene was tossed for a loss of nine and Massillon incurred a 15-yard penalty for holding to take the ball back to Steubenville's 49.
Once again the Tigers battered their way back after an exchange of punts. A Byelene-to-McGuire pass picked up 12 and then the Tigers brought out their fake kick play and Byelene took the ball from McGuire and ran around right end to the Big Red's 30.
Byelene tossed to McGuire for 17 yards to put the ball on the 13. McGuire and Byelene picked up six in two plunges but on fourth down with four to go, McGuire was stopped and the Big Red took the ball on its five-yard line.
A neat 14-yard dash by Giloff and a 15-yard gain around end by Byelene late in the second period once again put the Tigers inside Steubenville's 40-yard line but another chance to score went glimmering when Zeller failed to hold the slippery ball after taking a long pass from McGuire.
In the third quarter the Tigers launched an attack that moved the ball from their 19 to Steubenville's two without a break but once again Lady Luck was not with them and they failed to score.
Starting from their 19 after Joyce had punted, the Tigers ripped and passed their way right down the field. Zorger, Byelene and McGuire took care of the ball toting chores while McGuire tossed, one pass to Zeller for 14 yards and Byelene heaved one to Bonk for 18 yards. Then two beautiful dashes by McGuire, each good for 11 yards, put the ball on Steubenville's 10 and this time it looked as if the Tigers were going to hit pay dirt.
Stopped Again
Giloff and McGuire picked up five in two plunges. Then McGuire tried a short pass over the line to Bonk, which failed. Here the Tiger drive sputtered and finally fizzled out altogether when Giloff was stopped on the two yard line, inches away from a first down.
After Joyce had punted McGuire cut loose on another spectacular dash of 17 yards to put the ball on the 33 but Povolina averted a Tiger score by intercepting a Massillon pass and running it back to his 22. Stratton then clipped off 19 on a reverse to give Steubenville its first first down of the game.
Webb, Darrah and Richards were sent into the game in the fourth quarter and Webb raced the ball from his 32 to Steubenville's 22 in two nifty dashes off tackle. But once again the Tigers ran into tough luck when Richards fumbled and Steubenville covered on its 30.
The big break for the Big Red came a few minutes later when Eugene Wells intercepted a pass tossed by Webb on the Massillon 34 and ran it back to the Tiger 14. This was Steubenville's big chance and the Stubbers made the most of it.
Robinson plunged through the line for nine. Zeller tossed Povolina for eight on a beautiful tackle but Povolina then passed to Joyce for six and Robinson plunged again for a first down on the Tiger three. Robinson and Querlino Lelli made two in two lunges and then Povolina tucked the ball under his arm and running wide toward left end, sailed over the Tiger goal line.
Lelli's attempted placekick was blocked but the Tigers were ruled offside and the Big Red got another chance to make the point that meant a tie score. On their next attempt Povolina plunged over for the extra point and the game was all tied up at seven all.
The Tigers received and took to the air in a desperate last minute attempt to score again. But the threat was wiped out when Povolina intercepted a Massillon pass.
Another Tie
Massillon – 7 Pos. Steubenville – 7
Zeller LE Joyce
Green LT Miller
Waltz LG Quinn
Krisher C Lawrence
Brooks RG Wells
Young RT Carocci
Bonk RE Bickerstaff
Edie QB Povolina
Byelene LH Stratton
McGuire RH Robinson
Zorger FB Mosti
Score by quarters:
Massillon 7 0 0 0 7
Steubenville 0 0 0 7 7
Touchdowns:
Massillon – Zeller.
Steubenville – Povolina.
Points after touchdown:
Massillon – Cocklin (placekick).
Steubenville – Povolina (plunge).
Substitutions:
Massillon – Giloff, fb; Uilveto, lg; Tomasevich, rt; Yost, qb; Gutshall, fb; Webb, lh; Richards, rh; Darrah, c; Cocklin, rh.
Steubenville – Hess, re; Leill, qb; Crawley, c; Mosti, lh.
Referee – Gross.
Umpire – Goodwin.
Head Linesman – Schill.
Field Judge – Broda.
Statistics
Mass. Steub.
First downs 18 2
Yards gained by rushing 242 67
Passes attempted 20 4
Passes completed 7 3
Passes had intercepted 4 0
Yards gained by passing 122 14
Gross yardage 364 31
Yards lost 15 28
Net yardage 349 53
Number of kickoffs 2 2
Average distance of kickoffs 48 38
Average return of kickoffs 18 27
Number of punts 2 9
Average distance of punts 37 37
Average return of punts 5 7
Number of fumbles 4 0
Times ball lost on fumbles 2 0
Number of penalties 4 4
Yards lost by penalties 50 20