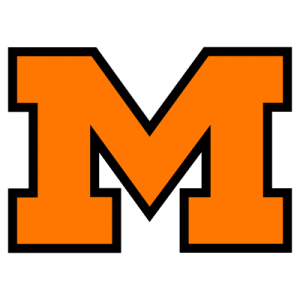 Tigers Rip Akron South For 21-0 Win On Soggy Field
Cavaliers Display Tough Defense As Bengals Open Before Crowd Of 15,000
By FRED J. BECKER
If you ask Augie Morningstar and his Washington high school Tigers they'll tell you that the weatherman is a contrary cuss and apparently "agin'em" but despite the weatherman's lack of cooperation Augie's 1945 edition of the famed Massillon Bengals ushered in their fall campaign Friday night on a sloppy, slippery battlefield at Tiger stadium by conquering Akron South's doughty and rugged Cavaliers 21 to 0. At least 15,000 fans braved rain laden skies to be on hand for the lid lifter. It did not rain during the game but it came down plenty Friday afternoon.
During their four week's training program, the Tigers had to put up with all kinds of torrid weather and a practice field baked hard by the sun's searing rays. Only once prior to last night did they go through a workout in the rain and on a wet field.
Drenching Downpour Soaks Field
But last night it was different. A drenching downpour struck Massillon early Friday afternoon and continued until early evening. It turned the Tiger stadium gridiron into a soggy, slippery mass of mud and grass. So the Massillon gladiators, in addition to fighting off opening night nerves, also were forced to handle a ball that was as slippery as an eel and run on anything but a solid footing. The tarpaulin had not been spread on the field Thursday night.
Although they lacked a consistent offense and were hampered offensively as badly as the Tigers by the wet field, South's fighting Cavaliers lived up to their reputation of being a tough defensive ball club. They made the Tigers fight for every inch of ground they gained during that muddy battle and Coach Franck (Doc) Wargo trotted out a big, husky line that gave Massillon's forward wall a ding-dong battle all night.
Cage Shines for South
Paced by the brilliant Louie Cage, Akron South's captain and all-city tackle in 1944, the invading Cavaliers were hard to push around. Cage played a stellar defensive game until he was injured in the third quarter. He's a lot of football player, is that big, rangy colored boy.
Massillon tallied points in every quarter, scoring touchdowns in the first, third and fourth periods and tallying two points in the second heat on an automatic safety. South never threatened but that didn't keep the visiting lads from being hard to handle when Massillon was in possession of the pigskin.
Still showing some rough spots, but getting better as the game progressed the Tigers presented a well knit ball club that will improve as it gains experience.
Several times during the first half it looked as if the Tigers were rolling but each time their drive bogged down, either through penalties or difficulties in handling the slippery ball. They showed marked improvement in the second half with their offense several times clicking for sustained marches down the field.
In the matter of statistics the Tigers held the edge in all department. They made eight first downs to one for South. The completed three of seven passes for 33 yards while South completed two of seven, winding up with a net loss of two yards. One of South's passes was good for nine yards. On the other they lost 11.
Tigers Hold Edge
In total yards gained from all types of play the Tigers had a gross of 208 with a loss of 31 for a net of 177 yards. South had a gross of 37 and lost 37, winding up a yard to the red on net gain.
The Tigers fumbled seven times and recovered five of them. South fumbled seven times and came up with the ball three times.
Massillon scoring was well divided between Bert Webb, Ray Zorger and Dick Richards with Virgil Cocklin, a sophomore, making one of four attempts to gather points on placement kicks after touchdowns.
It was fleet footed Bert Webb who started the Tigers off on their 1945 scoring by clicking off a 51-yard sizzler on a punt return for Massillon's first set of counters about midway through the first quarter. It was a beautiful run by Webb who was given some fine assistance along the way by his blocking teammate.
South gained possession of the ball on its 18 when Webb's attempt to pass to Richards failed. After Captain Fred Bonk had tossed Frank Delorenzo for a four yard loss Cage punted to Webb who speared the ball on Massillon's 49. Off like a flash Webb weaved his way through the South team, streaking straight down the middle of the field. So well did he pick his spots and so well did the blocking in front of him function that he scampered the last 25 yards without a South man being within yards of him. Cocklin came in and booted the extra point from placement.
It was pretty much of a see-saw battle the remainder of the quarter. Morningstar began to run Alex Giloff and Don McGuire into the game to relieve Webb, Richards and Zorger.
Two Points On Safety
The second quarter was well advanced when McGuire punted to Bob Atchinson who fumbled on his 29, Bill Piper covering for Massillon. McGuire, Richards and Giloff hacked away on off tackle plays to the seven yard line where the slippery oval got away from Giloff and Eli Joyce covered for South. Bernie Green, Bob Waltz and Bonk tossed Fred Jesser around with gusto and without gain in his two smashes into the line and Cage dropped behind his goal line to punt.
The pass was low and Cage had no chance to get away a kick as the Tigers came surging in. So he dropped on the ball back of his goal line, giving the Tigers two points on an automatic safety.
After a punting duel to start, the third quarter, the Tigers were favored by a break that paved the way for their second touchdown. Charles Brown, South fullback ,fumbled and Virgil Edie pounced on the leather on South's 15. Cage was hurt on this play and forced to leave the game but he was in and out from then on.
The Tigers then turned loose a determined drive for a touchdown. Richards hit for two. McGuire and Webb picked up five in two tries and Zorger made it a first down to South's eight. McGuire hit for three, Webb picked up three and then lugged the ball to the one and with fourth down coming up Zorger lunged through the middle and across the goal line for the second set of counters.
Cocklin's toe failed him this time and the score was 15-0 Massillon.
The finish of the third period and the start of the fourth saw the Tigers uncork their best and most sustained offensive punch of the game.
The Tigers had the ball on their 45 when the final period opened. With second down coming up Webb went five to the 50 for a first down. Edie squirmed through right tackle for five more. Webb then broke loose through right tackle and headed for the sidelines, picking up 13 before being nailed. Richards made five and Giloff rammed for a first down to South's 15. Webb made four more but with Cage back in the game South's defense stiffened and the Tigers were stopped on the eight.
Steve Kirkbaumer fumbled for South and recovered on his four and a South penalty took the ball back to the one from where Jesser punted to Richards who ran from South's 25 to the 18 before being tackled.
Richards Scores On Next Play
This set up the Tigers third and final touchdown. Webb's attempted pass to Richards was batted down by Kirkbaumer but Webb then picked up five at right end getting to the 13. On the next play Richards roared through a nice hole at left tackle and then reversing his field dashed the remaining yards for the third set of counters. It was a neat and well timed bit of offensive work. Once again Cocklin failed to negotiate the extra point.
With the clock running out, Coach Morningstar sent in his reserves and they drove deep into south territory with Don Byelene, Bill Gutchall and Milan Chovan spearheading the attack before they lost the ball on a pass interception by Kirkbaumer just as the game ended.
Wet But Happy
Massillon 21 Pos. Akron South 0
Zeller lc Joyce
Green lt Gage
Waltz lg Brown
Darrah c Zakich
Brooks rg Jordan
Krisher rt Oldfield
Bonk re Becker
Edie qb Gates
Webb lh b Jesser
Richards rh b Delorenze
Zorger fb Kirkbaumer
Score by quarters:
Massillon 7 2 6 6 21
Touchdowns: Massillon – Webb; Zorger; Richards.
Points after touchdowns: Massillon – Cocklin (placement)
Safety: Massillon
Substitutes:
Massillon – Cocklin, hb; McGurie, hb; Giloff, fb; Piper, rg; Richards, lg; Bishop, le; Johnson, re; Darrah, c; Yost, qb; Byelene, hb; Ceckler, lt; Piper, rg; Gutschall, fb; Chovan, hb; Uliveto, rg; Young, rt.
Akron South – Shepherd, hb; Atchinson, lg; Fondas, hb; Brown, fb; Hopkins, lt; Yensor, hb.
Referee – McGhee.
Umpire – Boone.
Head Linesman – Graf.
Field Judge – Peabody.
Statistics
Mass. South
Total first downs 8 1
Yards gained by rushing 173 23
Yards lost by rushing 31 37
Net yards gained by rushing 144 -12
Forward passes attempted 9 7
Forward passes completed 3 2
Yards gained by passes 33 11
Total net yardage, 177 -1
Passes had intercepted 1 0
Number of punts 3 6
Average distance of punts 33 31
Number of kickoffs 3 3
Average distance of kickoffs 30 46
Number of fumbles 7 7
Times ball lost on fumbles 2 4
Number of penalties against 8 3
Yards lost by penalties 50 12