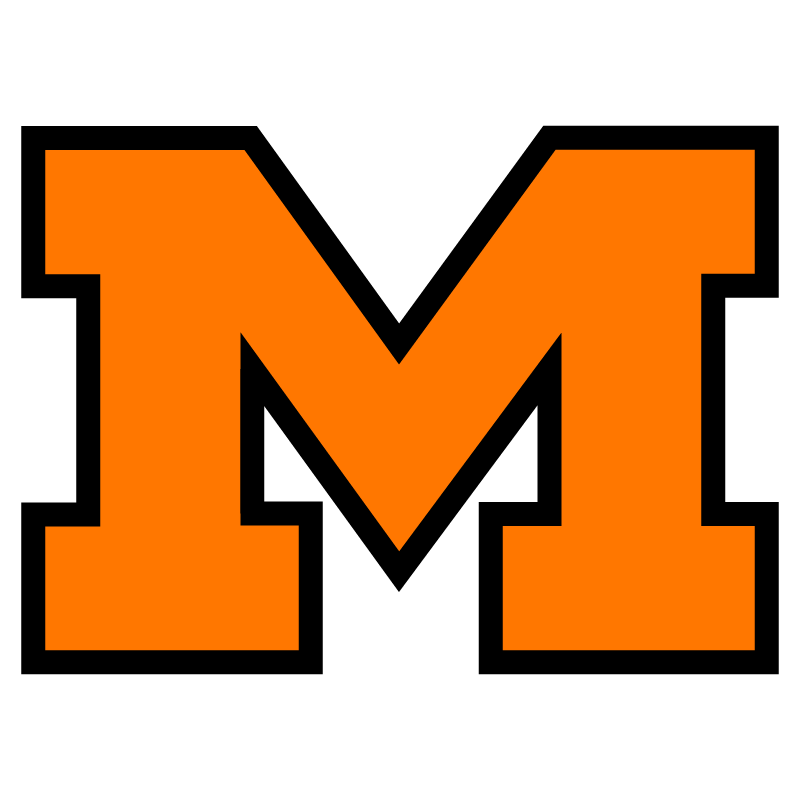 WASHINGTON HIGH HELD TO 6 TO 6 SCORE BY NEW PHILADELPHIA
FAST TUSCARAWAS COUNTY GRIDDERS SPRING SURPRISE
STACKING up against the gamest little fighting machine developed at New Philadelphia high school in years Washington high of Massillon last Saturday afternoon was held to a 6 to 6 score by the Tuscarawas county warriors in the annual rumpus between the schools, staged at Tuscora Park, New Philadelphia, before a crowd that jammed the field and about half of which was made up of orange and black rooters. And Massillon was rather fortunate in being able to limp off the gridiron with a tie score rather than a defeat chalked against it.
For New Philadelphia that tie score last Saturday was a moral victory. Of course moral victories don't mean a thing when the won and lost column is totaled up at the end of a campaign but just the same the fact that the little red and black aggregation of scrappy warriors down in New Philadelphia was able to hold the Massillon outfit to a 6 to 6 score puts quite a feather in the collective caps of the Tuscarawas county lads.
For Massillon the game resulted in nothing but a tie score in which defeat was staved off by a touchdown in the fourth quarter that resulted from a beautifully executed forward pass. But there is a little credit, if any, due Massillon because it succeeded in holding New Philadelphia to a tie score. For most of the combat Massillon played just ordinary football. At times it played absolutely poor football. At others it played the kind of a game it is capable of putting up and when it played that kind of football New Philadelphia was not so formidable.
But those flashes of good football were almost entirely missing until the fourth quarter when with defeat staring them in the face the local lads got down to business and began to make things interesting. The brand of football the orange and black showed Saturday will never defeat Canton McKinley and that game in now less than two weeks away. In fact it will be hardly good enough to defeat Warren high which is due to pay Massillon a visit next Saturday.
NOT ENOUGH FIGHT
What Massillon lacked most Saturday was that old fighting spirit. Captain Bill Price had it but he always has it. Art McConnell also had it and so did Courtney "Danger" Smith but they couldn't supply enough to put over a victory.
Massillon's judgment on plays often was quite bad. It had practically no interference for the man attempting to lug the ball through the New Philadelphia team for gains and it couldn't keep out the Tuscarawas county forwards who smashed through the line and swarmed over the ball carriers like bees.
Defensively Massillon was strong enough to stop most anything New Philadelphia tried except some of its forward passes. Offensively it showed nothing to enthuse over except one 36 yard dash by Bill Price on a smash through tackle and a 19 yard forward pass which resulted in the touchdown.
New Philadelphia had fighting spirit galore. Out weighed considerably by the local team the little Tuscarawas county lads made up that disadvantage by fighting so savagely that they smeared Massillon hard and repeatedly. True the New Philadelphia boys sometimes let their spirit get the best of them and on a few occasions they played a bit rough, but they were in there fighting to win a football game and their great exhibition of pluck staved off what most everybody thought would be a defeat.
DEAN IS SOME BOY
In a battle such as the one last Saturday there is generally a lad who rises to the heights of stardom by his brilliant playing. New Philadelphia had that boy in Dean Smith, slender black haired end who was an entire football team in himself. But for Dean Smith New Philadelphia probably would have been socked and socked hard but Dean was the boy in a pinch and how he delivered.
Weighing less than 150 pounds this slender wingman time after time dashed by the Massillon interference as if it was not there – and generally it wasn't – and rushed in to tackle the Massillon back before he could get out of his tracks. Smith might have been muzzled if he had been played right but a man is never out of play unless some force is sent against him and Massillon didn't have it.
But it was not alone on defense that Smith stared. It was his nerve and educated toe that gave New Philadelphia its tie score – its moral victory over Massillon. Twice this slender stripling drop kicked goals, one in the third quarter to score the first points of the game and again in the fourth quarter to knot the count at six all, after Massillon had registered its touchdown. His first kick was from the 36-yard line. His second was from the 23-yard stripe.
His first effort sailed over the bar with room to spare. His second was a close shave. It was one of those lazy, floating kind that kept the crowd in anxious suspense as the ball sailed slowly and serenely toward the Massillon goal posts to fall over the bar with a scant few inches to spare. But it was enough to bring three points to New Philadelphia.
But still that was not all Dean Smith did for New Philadelphia Saturday. He did all his team's punting and did a good job of it. Then he hurled passes when called upon and caught others when his signal to scamper down the field for a pass was barked out by the New Philadelphia quarterback. They think quite a lot of that boy in the Tuscarawas county capital and they have a right to. He's one mighty sweet football player. And Massillon gives him all the credit due him.
A SECOND GUESS
It looked as if Massillon played the wrong kind of a game against New Philadelphia. Instead of hammering the line and wearing down the Tuscarawas county forward wall, which was none too strong to stand a stiff battering and had a few capable reserves to rush into a breach, Massillon went in for the forward passing and end running game and was neatly turned back because Smith and Shafer, the other end, and the downstate team's secondary defense were mighty hard to handle.
The type of game Massillon tried to play was far more exacting on the Massillon backfield than it was on the New Philadelphia team. Had the Tuscarawas county line been subjected to a stiff hammering, it might have crumbled.
As it was Massillon was robbed of a touchdown in the last quarter through an illegal pass and that lost touchdown meant the difference between a victory and a tie score.
Outside of the fourth quarter when the New Philadelphia boys were on the run Massillon's best chance to score came within five minutes after the game had started.
LOSE A GOOD CHANCE
The local team received, failed to make its yardage and Price booted a long punt to Neff who was flopped on his three-yard line. Massillon drew a five-yard penalty for offside but Bill Price cut around right end for 14 yards. Briggs made it first down. New Philadelphia then took a five-yard penalty for offside and Briggs made it another first down on two smashes.
The ball was on New Philadelphia's 12-yard line. But then Dean Smith began to play. Three times he tackled Bill Price and Bill could gain but one yard. Then Hax tried a field goal from the 28-yard line and it was short. The downstaters then punted out of danger.
Massillon started with McConnell, Fulton and Gump out of the game because of injuries but before very long, McConnell was hustling into the fray. Fulton came in a short time later and Gump went on the battlefront in the fourth quarter.
After losing that chance to score Massillon did not have another good chance during the remainder of the half. Neither did New Philadelphia and the half ended with the battle standing a scoreless draw.
But New Philadelphia was fighting gamely and its great defensive play smashed most of Massillon's attempts to gain before they got a good start.
THE FIRST POINTS
Early in the third quarter after an exchange of punts New Philadelphia secured the ball on Massillon's 41-yard line. K. Mathias hit the line for five and Winspear made it a first down. Neff sneaked through for five and Massillon held.
Then Dean Smith dropped back to his 36-yard line and drop kicked the first of his two field goals, giving New Philadelphia the first points of the game.
A few moments later after Price had been flopped for a 15-yard loss when a triple pass fizzled, Massillon began its best offensive march of the day. Getting the ball on the 40-yard line through a punt Massillon began playing. McConnell sped off six yards through left tackle. Foster hit the same hole for five and a first down. Then Bill Price went through right tackle like a bullet and dashed down the field 36 yards before being downed. The ball was on New Philadelphia's 17-yard line. McConnell lugged it to the 12-yard line as the quarter ended.
On the first play in the second quarter Price tore through for four but Massillon was penalized for being offside. Then Price fumbled. Fox planted his frame on the 20-yard line. McConnell made one at the line and then came the big play of the day from a Massillon standpoint. Taking the ball from Benson, McConnell ran nearly across the field looking for a teammate in the open.
A REAL PLAY
Finally he saw Courtney Smith "Danger" they call him, way down the field. Art shot the ball, through the air. Smith leaped up grabbed it in his hands and shot across the goal line for Massillon's only touchdown as a swarm of New Philadelphia tacklers crashed into him. McConnell, however, was not able to produce the extra point, a point by the way which would have meant victory. His drop kick smashed into one of the uprights and the score stood 6 to 3.
But New Philadelphia was not defeated. It still had a few tricks up its sleeve. It opened up a deadly aerial game a few moments later after W. Mathias had intercepted a Massillon pass but then the downstaters had to punt. Massillon returned the kick and again Winspear opened up. He flipped on pass to Smith for 36 yards. Then he tossed to Shafer for 15 and the ball was on Massillon's 12-yard line.
DEAN AGAIN
But here Massillon stopped the advance and Dean Smith dropped back to his 23-yard line to hoof over the field goal that tied the score.
Shortly after McConnell passed to Price and Matthews for sufficient yardage to take the ball deep into New Philadelphia territory. Then he heaved a pass to Fulton . The Massillon end took the ball over his right shoulder but with a clear field ahead slipped. The ball went out of his hands and into the waiting arms of Courtney Smith who dashed across the goal line. It looked like a touchdown but here the officials stepped in and ruled that Fulton had made an illegal pass to Smith and the score did not count. It was a tough one to lose. The Massillon players and Coach Atkinson argued forcibly that the play was O.K. but the officials couldn't be convinced and their decision stood. The game ended shortly after with Massillon in possession of the ball in midfield.
The Smith Boys
Massillon – 6 Pos. New Philadelphia – 6
Matthews LE Dean Smith
Fox LT W. Smith
Spencer LG Hensel
Benson C Thomas
Dave Smith RG H. Mathias
R. Price RT Westhafer
Ressler RE Shafer
Hax QB Mizer
C. Smith LHB K. Mathias
Briggs RHB Neff
W. Price FB Winspear
Score by quarters:
Massillon 0 0 0 6 6
New Philadelphia 0 0 3 3 6
Substitutions:
Massillon – McConnell for Hax, Straughn for R. Price, Fulton for Ressler, Mauger for D. Smith, Foster for Briggs, Ott for Straughn, Gump for Matthews.
New Philadelphia – Given for Hensel, Hensel for Given, Maloney for Neff, Jones for Maloney.
Field goals – Dean Smith 2, (drop kicks).
Touchdown – C. Smith.
Referee – Roudebush, Denison.
Umpire – Bletzer, Mt. Union.
Head Linesman – Jackson, Zanesville.
Time of quarters – 12 minutes.
Game Statistics
First downs:
Massillon 10
New Philadelphia 5
Massillon completed nine passes out of 17 attempts; seven were incomplete; and one intercepted. Total gain 55 yards.
New Philadelphia completed five passes out of 12 attempts for a total of 90 yards. Seven were incomplete.
Massillon was penalized 30 yards.
New Philadelphia 15 yards.
Massillon punted 12 times, averaging 41y yards on each kick.
New Philadelphia punted 14 times, averaging 39y yards to the kick.
Massillon gained 136 yards from scrimmage and lost 51 yards. Captain Price alone made 78 of his team's 136 yards.
New Philadelphia gained but 32 yards from scrimmage and lost 13 yards from scrimmage.
Massillon carried the ball 41 times gaining three and one-third yards each time.
New Philadelphia toted it 17 times, gaining 1 4/5 yards on each attempt.
All told the orange and black, by passes and running, carried the ball from scrimmage a total of 191 yards.
While New Philadelphia, in the same manner, gained 122 yards.