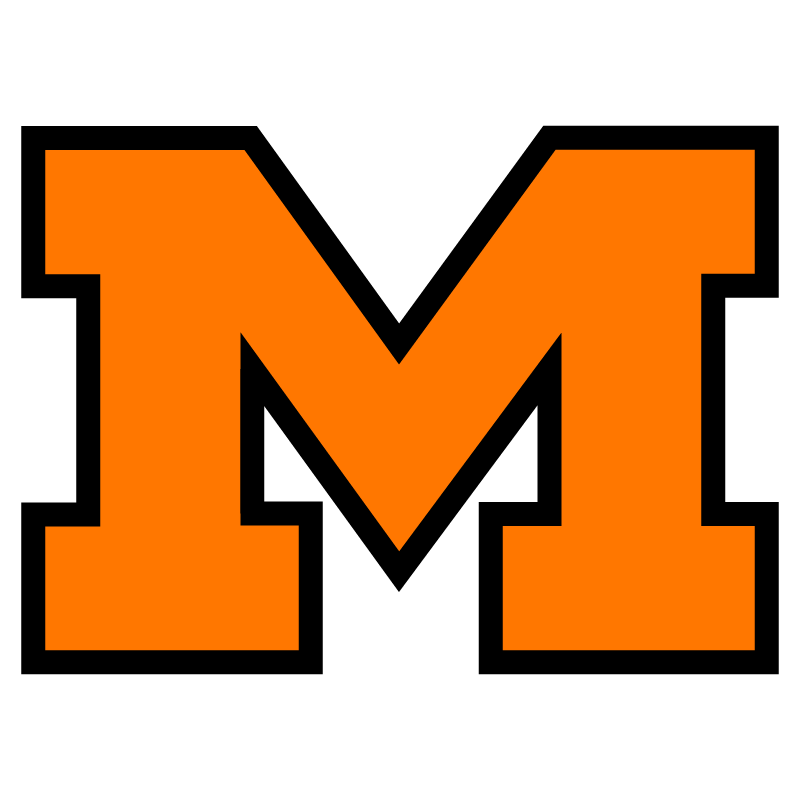 SAFETY DEFEATS MASSILLON IN MUDDY ELYRIA GRID BATTLE
ONLY POINTS OF TILT SCORED IN THIRD PERIOD
A NARROW margin of two points spelled victory for Elyria high school and defeat for Washington high of Massillon last Saturday when the football teams of these two institutions tangled in Elyria in the first scholastic gridiron battle between the schools. Through the medium of a blocked punt in the third quarter, recovered by Massillon a yard back of its goal line, Elyria scored two points on the orange and black through a safety and held its slim margin throughout the remainder of the game, winning in a steady downpour of rain that fell throughout the entire struggle, drenching players and spectators alike.
Battling back and forth on a gridiron ankle deep in mud and water neither team was able to show any high class football. The slippery condition of the field made footing uncertain and speed an important item in the Massillon offense, was almost entirely out of the question. The ball, covered with mud, was a dangerous article to handle and fumbles were numerous.
Massillon has no alibi to offer for its defeat. The victory in such a game as that of Saturday generally goes to the team that gets the "break" and in this case Elyria secured the break after having been robbed of a touchdown by a plucky orange and black eleven that fought fiercely within the shadow of its own goal post and hurled back the charges of the Elyria backfield.
The two teams appeared to be evenly matched when they stepped out on the soggy gridiron. Elyria possibly had a slight edge in weight, especially in its backfield, but from the outset it looked as if neither team would score unless Dame Fortune smiled upon it and favored it with the break. On a dry field, with footing solid, a different outcome might have resulted.
MUD HAMPERS MASSILLON
Massillon with an offense built around its speedy backfield was at a distinct disadvantage in the mud. It showed flashes of power in the first half and twice was within scoring distance but couldn't uncover the drive to shove over a touchdown. On a dry field Massillon, in all probability, would be good enough to win from Elyria.
But there were few dry fields in Ohio Saturday and so Massillon took its second trimming of the season, its' second reverse in six games.
Even with all the mud and water Massillon might have won had it found some way to throttle France and Mastin, Elyria's pair of brilliant ends. Over in Elyria the fans call these boys their "All American" ends and they were certainly worthy of some such title. Art McConnell, Massillon's punter, probably will never want to see them again for they gave Art a most miserable afternoon so far as getting his punts away were concerned.
Charging in like demons and sifting through the Massillon defense these two ends continually hurried McConnell's punting and on no less than five occasions blocked the kicks of the Massillon quarterback. It was Mastin who blocked the Massillon punt that gave Elyria its two points on a safety.
TWO GOOD PUNTERS
But despite this pair of Elyria wingmen McConnell gave a great exhibition of punting. Twice he drove the ball far down the field on kicks right in front of his own goal posts. Considering that his teammates were not able to throttle the Elyria ends, McConnell's punting Saturday was brilliant.
Elyria also had a splendid punter in Archshambau but the Elyria kicker was not faced with the same difficulty that McConnell was. His line was able to hold out the Massillon forward wall and he generally had plenty of time to get his kicks away. Massillon blocked but one of his punts.
Starring with McConnell Saturday was Captain Bill Price, the Brewster Welshman. Bill was up against it on offense because of the mud and was unable to get his pair of educated dogs in motion for any gains but what a game he played on defense. Smashing through the line, diving over it or racing out to the ends Price made tackle after tackle and he seldom missed. He roamed the field like a wild bull on defense and more than one Elyria lad is nursing bruises today, resulting from his impact with the well knit form of the Brewster lad. Elyria uncovered no great ground gaining prowess.
Had the battle been decided on first downs Massillon would have won for it made five first downs to two for Elyria. All of Massillon's ground gaining, however, was done in the first two quarters. Elyria made a first down in the first quarter and one in the third. During the balance of the afternoon it hammered vainly against a sturdy Massillon line and Captain Bill Price.
Because of the slippery condition of the ball forward passing was almost out of the question. Massillon tried a number of forwards but they all failed. Elyria tried the overhead game a few times but never completed a pass. It came near scoring a touchdown on a pass in the second quarter but the ball slipped out of the Elyria lad's hands on the goal line and went for an incomplete pass.
MASSILLON STARTS EARLY
Massillon struck terror into the hearts of Elyria rooters in the first period when after Elyria had received and punted, McConnell took the leather and ripped off 15 yards through left tackle. Then he played a big part in registering two more first downs with dashes of five and 10 yards, taking the ball to the Elyria 30-yard line but here Elyria began to collect its scattered senses and the orange and black march was halted.
But a moment later Massillon was again back in Elyria's territory when "Danger" Smith grabbed one of Archshambau's punts and raced it back 30 yard before being dumped into the mud on Elyria's 20-yard line. Three Massillon plunges failed to gain and McConnell dropped back to the 22-yard line for a shot at the Elyria goal posts with a drop kick. The kick, however, went wide.
Early in the second quarter Elyria got its first chance to enthuse. Massillon lost 20 yards when two bad passes caused the slippery ball to drop out of McConnell's hands and Elyria finally secured possession of the oval on Massillon's seven-yard line. But on the first play Cook fumbled and Bill Price recovered on his six-yard line.
Massillon couldn't gain the required 10 yards and then McConnell showed his gameness by dropping back to his goal line and booting the ball 55 yards down the field and out of danger.
Elyria punted right back and the ball went out on Massillon's 1-yard line. Bill Price made eight in two plunges and on third down McConnell dropped back to kick but the Elyria ends swooped in on him, blocked the kick and Moelk covered for Elyria on Massillon's
13-yard line. Elyria couldn't gain an inch on line plays and on fourth down attempted a forward. The ball went true to its mark but the Elyria receiver couldn't hold the slippery thing. It bounced out of his hands, eluded the grasp of a Massillon player and finally landed in the mud.
A GREAT PUNT
Massillon gained the ball on its eight-yard line. Two plays made but five yards, and then McConnell again cut loose a great punt, hoofing the ball 70 yards down the field to Elyria's
30-yard line. The orange and black was giving Elyria a real argument and the local team's best chance to score came a short time later when Archshambau punted out of bounds on his 25-yard line.
The Massillon offense began a driving attack and McConnell churned up mud and water in a five yard dash around end. Smith crashed through the line for six and a first down, taking the ball to the 14-yard line. McConnell made two at right tackle but was stopped in his next two attempts. The quarter was nearly over and McConnell dropped back to the 24-yard line for another try at a field goal but Elyria blocked the kick as time was up.
THE BIG QUARTER
Now comes the period when the game was won for Elyria and lost for Massillon. Early in the quarter France blocked one of McConnell's punts on Massillon's 28-yard line. But on the next play Benson smashed through to cover an Elyria fumble.
After an exchange of punts Massillon had the ball on its 30-yard line. McConnell was thrown for a loss of six. He dropped back to punt but the ball slipped out of his hands and he lost 10 more. Then France charged in and blocked his punt and Moelk covered for Elyria on Massillon's six-yard line.
Now the Elyria fans began to beg for a touchdown. Six yards to make in four downs. Mortimer, Elyria quarterback, elected Robinson, the big plunging halfback, to carry the ball. Four times Robinson smashed into the Massillon line. He gained two yards each on his first three plunges. Then came fourth down, the ball on Massillon's two-yard line and goal to gain. Again Robinson was called upon but just as he smashed into the line the ball slipped out of his grasp. He recovered it but was down on Massillon's 4-yard line and Massillon took possession of the ball. The day had been saved for the orange and black but not for long.
McConnell dropped back behind his goal line to punt. As he planted his foot against the ball the Elyria ends charged in on him and Mastin blocked the kick. The ball dropped behind the Massillon goal line as the entire Elyria team made a frantic dive after it but Fritz Gump, Massillon's left end, slip under the charging mass and fell on the ball, a yard back of Massillon's goal line. It was a safety and two points for Elyria.
From then on the game was a punting duel. Massillon tried desperately to gain but could hardly get out of its tracks. The Elyria gridders sensing victory with their two points, played hard.
One big chance remained for Massillon. That was to recover a fumble punt by Elyria. That chance came but Massillon couldn't take advantage of it. About the middle of the quarter, McConnell punted to Mortimer who grabbed the ball back of his 30-yard line. But the oval slipped through his hands and went bounding away in the mud. A Massillon player dove on it but the ball slid from under him and Elyria finally covered. Had Massillon been able to cover that fumble it still might have won.
Rather Damp
Massillon – 0 Pos. Elyria – 2
Gump LE France
Fox LT Moelk
Spence LG Schuster
Benson C Raney
R. Price RG Archshambau
Fulton RT Clifford
McConnell QB Mastin
C. Smith LHB Robinson
Briggs RHB Hess
W. Price FB Cook
Score by quarters:
Massillon 0 0 0 0 0
Elyria 0 0 2 0 2
Substitutions:
Massillon – Mathews for Gump, Gump for Mathews, Mathews for Gump, Ressler for Fulton, Foster for Briggs. Ott for Fox.
Elyria – Yuka for Mortimer, Mortimer for Yuka, Yuka for Mortimer, Benger for Yuka, Moelk for Clifford, Clifford for Raney.
Safety – Elyria.
Referee – Jones, Oberlin.
Umpire – Minnick, Oberlin.
Head Linesman – Morris, Oberlin.
Time of quarters – 12 minutes.