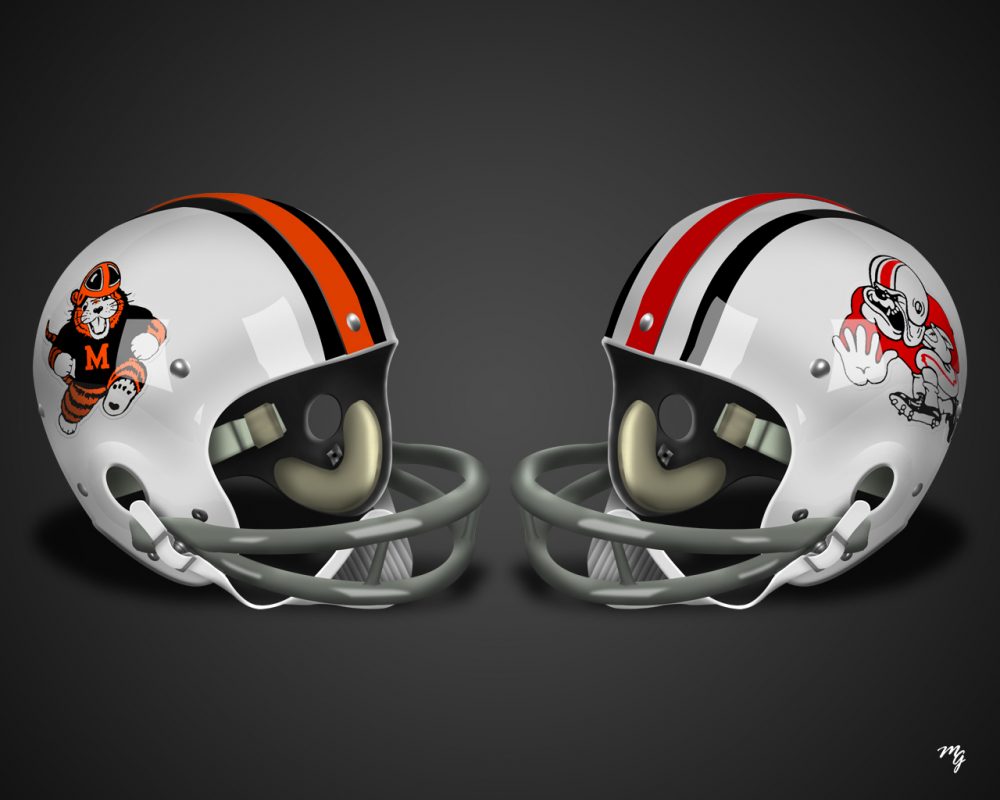 TOUCHDOWN IN FOURTH QUARTER GIVES CANTON 6 – 3 TRIUMPH
FIRST VICTORY IN FIVE SEASONS FOR M'KINLEY ELEVEN
Driven backward by a bewildering aerial assault and a relentless, hard-driving attack off tackle a weary but grimly fighting Washington high school football team last Saturday afternoon went down to defeat before its perennial rival, Canton McKinley, 6 to 3 in a thrilling and spectacular battle at Lakeside Stadium, Canton, before the largest crowd that probably has ever witnessed a scholastic athletic event in Stark county. A touchdown in the fourth quarter that came through the medium of a well carried out offensive brought victory to the red and black of Canton, giving it a three point margin over Massillon which in the third period had amassed three points through a field goal from placement by Elwood Kammer from the 25-yard line.
Needless to say Canton went wild with joy when the game came to a close and its team was out in front. It was the first time in five years that a McKinley high team has been able to win from Massillon and the first time in three years that Canton has been able to score points on an orange and black scholastic outfit. Prior to Saturday Massillon had reigned supreme over its old enemy since 1920 when the red and black turned in a 14 to 0 triumph.
There was nothing fluky about Canton's victory. It was merited and well earned, although for three periods the east enders were decisively out played by a fast stepping and hard hitting Massillon team that should have scored at least two touchdowns in the first half but didn't because the fickle goodess of luck decreed otherwise. Massillon made 14 first downs to seven for Canton, out playing its ancient foe two to one, yet it was forced to bow its head in defeat.
Two things stand out prominently in setting forth the reasons for Massillon's defeat. One was a break of the game that came in the third quarter and proved the turning point of the battle. From then on Canton held the upper hand and it made the most of its opportunity and the result was a hard earned victory for its colors.
NO RESERVE STRENGTH
The other was the advantage Canton had on Massillon was in reserve strength; that more than anything else caused the downfall of Coach Stewart's team.
With six men cut off the team by a ruling making them ineligible a week before the Canton game, three of them regulars in the backfield, Coach Stewart was forced to send his strongest lineup into the fray at the start and keep it there until the last hope of victory vanished in the final minutes of play. The Massillon backfield, especially Kammer and Laughlin who bore the burden of the local team's offense, had spent themselves during the first three quarters in their fierce dashes through the Canton team and when the time came for a last desperate effort to overcome the east enders' lead Massillon no longer had the punch. Its team was willing and its spirit undimmed but its physical prowess had been spent in that earlier determined but futile attempt to wrest the victory from its old foe.
Not so with Canton. It sent into the struggle at the start of the third period Taubensee and Kinney, a pair of fresh halfbacks who were ready to cut loose with all their power when Canton's opportunity came and their driving attack along with Holmes' cleverly executed aerial bombardment, turned what looked like a certain defeat for Canton into a brilliant victory by an eleventh hour attack. Taubensee was the hero of Canton's triumph, being the lad to smash through the Massillon line in the fourth period for the touchdown.
If Massillon had had Captain Define, Smith and Halpin ready to jump into the fray to relieve Kammer and Laughlin and Brown when they showed signs of fatigue the outcome might have been different. But they were on the sidelines, ineligible and so Massillon's chances of victory went glimmering.
KAMMER IS STAR
But a hero in defeat was Kammer, the fast charging and line smashing Massillon backfield ace. To his great ground gaining prowess and ability to outrun his Canton rivals was due Massillon's greatest chance for victory. Kammer ripped, slashed and dashed his way through the Canton team for three quarters in one of the greatest exhibitions of playing ever seen in a Massillon-Canton tussle but Kammer's great efforts were not to be rewarded. He also was a bear on defense but he could not go on forever and the fourth quarter found him leg weary and his energy almost gone. Sharing offensive honors with the brilliant Kammer was Whitey Laughlin, the stocky plunger, who also tore the Canton line to shreds on numerous occasions and once in the fourth quarter saved Massillon's goal line by throwing Taubensee for a loss of three yards when Canton had but three yards to go for a touchdown on fourth down. But he also, along with Brown and McConnell, began to feel the strain in the fourth quarter.
THE BIG BREAK
The big break of the game came in the third quarter when McConnell, standing back to punt, missed a high pass from Bill Price. It was fourth down. The ball was on Massillon's 40-yard line. Price shot the ball back to McConnell but it was over the Massillon punter's head. McConnell reached for it but the ball went through his hands. He covered it on his 30-yard line but the oval went to Canton.
It was then that McKinley began the drive that was to carry it to victory. Quarterback Holmes also began to show his field generalship. He called Taubensee and Kinney into service on short off tackle bucks and they soon had driven through for a first down carrying the ball to Massillon's 29-yard line. Then the orange and black defense stiffened. Up to that point Canton had not attempted a forward pass. Holmes then dropped back as if to try for a field goal. Instead he shot a bullet pass to Bolender who pulled it out of the air for a 16-yard gain, being tackled on Massillon's 11-yard line as the quarter ended.
With a touchdown in sight Kinney rammed the line three times and toted the ball to Massillon's three-yard line with fourth down and two yards to gain for a first down and three to make a touchdown. Taubensee started for Massillon's left tackle but he never reached the line of scrimmage. Like a battering ram Laughlin smashed through and nailed Taubensee for a loss of three yards and Massillon had staved off the touchdown, getting the ball on its six-yard line.
THE TOUCHDOWN
Massillon could not gain and McConnell punted to Holmes who was tackled on Massillon's 40. Canton, scenting victory, was not to be denied and was soon off on another march toward the orange and black goal. Holmes opened up with his deadly aerial attack and shot a pass to Bolender for 18 yards. Three line plays then gained only a few yards. Again came fourth down with the ball on Massillon's 18 and again Holmes dropped back to kick formation but once more he depended upon the aerial game and this time hurled a pass to Clarke, who grabbed the ball and carried it to the six-yard line before being pulled to earth by Kammer. Then Taubensee earned his chance to become Canton's hero. On the first play he smashed through right tackle for three and on the next he went through the same spot and over Massillon's goal line for the first touchdown a Canton team has scored on Massillon in four years. Bolender failed to kick from placement for the extra point.
The fourth quarter was still young but Massillon's offense was gone. Brown opened up with forward passes but to no avail. Canton was watching Massillon's aerial attack very closely, following Storrie and McConnell, the receivers of Brown's heaves, like hawks. The game ended with Canton in possession of the ball inside Massillon's 20-yard line.
CHANCE TO SCORE
Canton did not once get inside Massillon territory in the first half until near the end of the second quarter when Brown fumbled a punt and Canton covered on the Massillon 26-yard line. But Massillon almost continually was playing on Canton ground. In the first quarter the orange and black advanced deeply into Canton territory on an exchange of punts.
McConnell, by a pretty kick, had driven the ball out of bounds on Canton's six-yard line. Holmes then punted from behind his goal line but he kicked against a strong wind and Massillon got the ball on Canton's 26-yard line. Massillon marched down to Canton's six-yard line and a touchdown seemed likely when Kammer was sent on a long end run and was tossed for a five-yard loss. A line plunge might have accomplished more. In addition to this Massillon incurred a 15-yard penalty for holding and was pushed back to the 29-yard line. The ball was brought up to Canton's 16-yard line when Clark interfered with Storrie as he was about to catch a pass. Laughlin made five at the line but a triple pass fizzled and lost nine. This was made up however when Brown passed to McConnell for 11. But fourth down was coming and Brown tried another forward and this was intercepted by Clark who carried it back 30 yards before being stopped.
With Kammer skirting the ends and smashing the line for steady gains Massillon marched right up the field in the second quarter only to lose another splendid chance to score by a 15-yard penalty for holding. Canton found Kammer almost unstoppable and was being swept back everytime the Massillon star took the ball. Getting the pigskin on Massillon's 30-yard line Kammer almost single handed, carried the ball for steady gains on end runs and line drives until it was resting on Canton's 15-yard line. He was given good interference and assisted by Laughlin and McConnell. But then, with Canton weakening fast, a Massillon man was guilty of holding and a 15-yard penalty blasted the chance to score. Canton then took the ball on downs but Plaskett fumbled and W. Harris covered on the 31-yard line. Massillon made another first down but time was nearly up and McConnell tried for a goal from placement from the 32-yard line but it was low.
SCORE ON PLACE KICK
The third quarter still found Kammer plowing through the Canton team for substantial gains. Laughlin also was dong some splendid ball toting and an unbroken march of 45 yards soon had the ball on Canton's 20-yard line. But Canton's line held and then Kammer dropped back to the 25 for a place kick. A Canton lineman was offside just as the ball was passed. Kammer put his toe against the leather and the ball sailed over the cross bar for the first points of the game.
Massillon then had its choice of taking the five-yard penalty for Canton's offside play, which would have given it a first down, or the three points resulting from the place kick. The orange and black took the points; whether that was a wise move will always remain a debatable question. To have taken the penalty would have brought a first down inside Canton's 15-yard line and a touchdown might have resulted, for Canton was hard beset to stop Kammer's fast charges and Laughlin's line plunges. But right then those three points looked like good enough to win and the local team can't be blamed for taking a sure lead in preference to a doubtful touchdown. Had it taken the gain resulting from the penalty it might have scored and the game ended in a tie or a Massillon victory had the point after touchdown been registered. But why discuss a matter that's now history. A few moments later came the break that started Canton on its way to victory.
Tough Luck
Massillon – 3 Pos. Canton – 6
Gump LE Bolender
W. Harris LT Woodring
Kelly LG Spence
Price C Ballard
Crone RG Duff
Dommer RT Dunn
Thomas RE Dye
Brown QB Holmes
Kammer LHB Clark
McConnell RHB Plaskett
Laughlin FB Hodnick
Score by quarters:
Massillon 0 0 3 0 3
Canton 0 0 0 6 6
Substitutions:
Massillon – Storrie for Gump, Gump for Storrie, Storrie for Gump, N. Harris for Price, Agler for Thommas, Tipton for Crone, Hax for Brown.
Canton – Sheets for Dye, Taubensee for Clark, Kinney for Plaskett, Rittersbaugh for Spence, Dye for Sheets, Clark for Kinney, Plaskett for Clark, Kauffman for Plaskett.
Touchdown – Taubensee.
Field goal (from placement) – Kammer.
Referee – Dr. Lambert, Ohio State.
Umpire – Swain, Dickinson.
Head Linesman – Barrett, W. & J.
Time of quarters – 12' minutes.