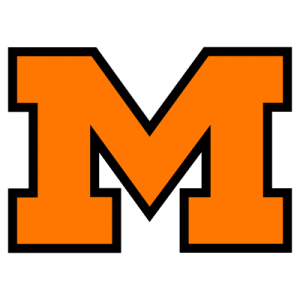 MASSILLON DEFEATS SHAW IN GREAT GAME
BRILLIANT STRUGGLE WON BY HIGH ELEVEN NEAR END OF TUSSLE
A lad so ill that his iron nerve alone kept him on the field of battle striving to maintain the reputation his team had made, and a tall, rangy youth with a penchant for tackling and drop kicks were the heroes of Washington high school's spectacular 7 to 6 football victory over Shaw high of Cleveland last Saturday afternoon on the Pearl street gridiron before 6,000 rabid and enthusiastic fans. It was victory snatched from the very jaws of defeat in the last minute of play by as brilliant a display of gameness and dogged determination as has ever been witnessed on any gridiron.
The lad whose illness had robbed him of the strength he generally displayed in football clashes, was "Dutch" Hill, Massillon's great fullback, whose driving attack in the last 60 seconds of play made possible the touchdown that furnished the points to tie the invaders from Cleveland. The other youth was "Bill" Edwards, from East Greenville, whose drop kick after touchdown gave Massillon the point that decided the issue in favor of the orange and black just 27 seconds before the most thrilling football game ever staged on a local field passed into history.
There were many heroes in this great struggle but Hill and Edwards were the outstanding figures for it was due to their individual prowess and ability that the youthful Tigers came through and won after even their staunchest supporters had given up hope. Harry Potts, dark haired and slender, who tackled with the viciousness of a demon, let loose and who grabbed forward passes out of the air with his fingertips, was another hero. Captain "Tink" Ulrich, who spurred his followers to perform feats that will long be remembered in scholastic football circles, was another hero. And there were many others, not only on the Massillon team but on the Shaw aggregation as well.
Fighting against a team that was well versed in all the tricks of the game, a team that could forward pass, run the ends, crash through the line, and had a defense that resembled ribbons of steel, Massillon's great eleven, with six consecutive victories behind it and touted as the strongest high school aggregation in the state at last was forced to admit that it had nearly met its match in the versatile Shaw high team, coached by Jack Snavely, former local high school coach.
Up until two minutes before the game ended it looked as if Snavely was to realize his ambition and that his team was going to stop the victory march of Coach David B. Stewart's lads. Snavely's team had scored a touchdown in the second quarter on a long forward pass from an open formation but it failed to kick goal.
Leading by six points the visitors put all their remaining efforts into keeping Massillon's team from scoring. Three times in the third quarter the orange and black carried the ball deep into Shaw's territory, on one occasion taking it to the four yard line, but each time Shaw either held or Massillon fumbled and the chance to score was gone.
But even though they were fighting an up-hill battle against a team that was not going to be defeated if it could help it, the local gridders never stopped trying. The touchdown Shaw scored in the second quarter only spurred them on to greater efforts. It made them fight all the harder to win, but until the last two minutes of play it looked as if the efforts put forth by the orange and black would not be able to keep its slate clean of defeat.
But a football game is never lost or won until the final whistle blows. Even though Shaw was stalling and consuming all the time it possibly could to keep Massillon from opening an eleventh hour attack, the youthful Tigers bided their time. Finally Shaw punted to Ulrich, who was downed on his 36-yard line, 64 yards away from Shaw's goal. Less than two minutes of play remained. It seemed almost an impossible task for Massillon to score in that short a time.
But then the greatest rally and attack ever displayed by any local high school team was launched and before it was finished the orange and black was destined to win this greatest of all battles. Hill who was knocked out at the end of the second quarter, had returned to the game a few minutes before. He was ill, had been all through the game, but he called upon his last few ounces of strength and Massillon started up the field.
On the first play after the punt, Hill shot a long forward to Potts who snatched the ball out of the air while running with his face toward the Shaw goal. It was a brilliant catch and was good for a gain of 15 yards.
On the next play Hill shot another pass over the line but Potts missed it by inches. Not despairing Hill again tried another forward on the next play and this time Potts dashed into the midst of the struggling warriors and grabbed the ball. He was 20 yards nearer Shaw's goal when he finally was brought to earth.
Then Captain Ulrich called Hill to smash the Shaw line and pleaded with his linemen to open up holes in the visitor's defense so that the stocky fullback could plunge through. The line responded nobly and Hill shot through for a gain of three yards. Again Ulrich called upon him and once more Hill responded by ripping off a 10-yard gain.
The ball was on Shaw's six-yard line. A minute of play remained. Thousands of anxious fans were shouting for Massillon to score. Again Hill plunged into the Shaw line and again he gained. This time he made three yards. Once more Ulrich called for Hill. And once more he plowed into the struggling mass and gained a yard. One more smash and Hill had carried the ball forward another yard to Shaw's one-yard line. Fourth down with goal to gain was coming.
It was then or never for the orange and black. Ulrich barked out the signals. The orange and black linemen, their faces grim and dirty, stiffened. Across from them a band of lads clothed in red jerseys sensed that the supreme test of the game was near. They wore a determined look on their faces. No longer were they certain of victory. They knew that they must stop Hill's next plunge or see their triumph snatched from their grasp.
Ulrich finished calling signals. Roth snapped the ball back to Hill. The lines crashed together, Hill plowed into the wall of human flesh that was battling – one group to hold, the other to push forward. For an instant the Massillon plunger was lost from view. Then a mighty shout went up. As the struggling warriors were pulled apart Hill could be seen lying on the ground a full yard over Shaw's goal line.
Pandemonium broke loose. A thousand cheering fans rushed onto the field. They grabbed a Massillon player wherever they could find one and placed him on their shoulders. The touchdown had been scored just 27 seconds before the game was to have come to an end. The local players were crying for joy. Lined up against their own goal stood a band of eleven lads. Tears steamed down their faces. They had fought a good fight but their best had not been good enough. They were unheeded in the mad rush of fans who swept forward to congratulate the orange and black.
On a bench on the south side of the field sat a man who had hoped that his team could defeat Massillon. He had not expected that Massillon could unleash an attack in the closing minutes of play that would bring a touchdown. The man was Snavely. To see victory snatched out of his grasp was a hard blow for Jack but he bore it manfully.
Police and school officials finally succeeded in getting the field clear so that the teams could line up for the attempt to score another point from field goal, the point that would decide whether the contest would end a tie or a victory for Massillon. Then it was that Bill Edwards got his chance to become a hero. It was upon Edwards shoulders that the responsibility for kicking the goal rested.
"I'll kick that goal or die in the attempt," muttered Bill as he dropped back to receive the pass. The referees' whistle blew. The ball came back to Edwards. There was a thud as leather met leather and then the oval sailed over the cross bars, a scant few inches from one of the uprights and Massillon had won. Another demonstration was staged after Edwards kicked goal.
As was expected, Snavely brought to Massillon a team that was well drilled in the use of the forward pass and open play formations. But Massillon beat the visitors at their own game, winning the battle through the use of an overhead attack which enabled the orange and black to carry the ball into Shaw's territory in the final quarter.
It was a titanic struggle throughout. Never once did the fight lag. Massillon was out to keep its record clean. Shaw was in the game to win. Shaw showed a well-coached team, one that tackled fiercely and with such force that once the visiting players hit a man he seldom got away. The visitors also had plenty of interference for the man carrying the ball. And this enabled Momberger, star quarterback of the visitors, to rip off a number of substantial gains by running from punt formation.
Play was about even in the first quarter although Massillon succeeding in working the ball within Shawl's 20-yard line shortly after the kick off. Shaw held and then Edwards tried a drop kick, which went wide. In the second quarter Shaw opened its aerial attack in its own territory, Momberger heaved a pass to Kyle that was grounded but Referee Gibson ruled that Joe Define had interfered with Kyle and Shaw gained about 20 yards on the play. On the next play Shaw used one of its open formations, the team being spread out across the field. Momberger dropped back as if to punt but instead shot the ball to Kyle who caught it on Massillon's 35-yard line and dashed away for a touchdown, eluding two Massilln tackles. Kyle was brought to earth a foot from Massillon's goal line but fell over the line. Shaw's attempt to kick goal failed.
Statistics of the game show that Massillon outplayed the visitors. Coach Stewart's lads made 16 first downs to seven for Shaw. Massillon's best attack came in the last two quarters when it went through the Shaw team for 10 first downs while Shaw made only one. In the aerial game Massillon also excelled working seven passes for a total yardage of 101 while Shaw completed five passes for a gain of 96 yards, the one which resulted in its touchdown being good for 55 yards.
In the third quarter a pass from Ulrich to Potts, that was good for 35 yards, took the ball to Shaw's 22 yard line. Line plays, carried it to the nine-yard line before Massillon fumbled. Then Hill returned to the game and with his battering ram tactics soon took the ball back into Shaw territory. This time the orange and black carried it to Shaw's four-yard line with goal to gain on the fourth down. Hill hit the line but Shaw held and recovered the ball on its one-yard line.
The fourth quarter found Shaw largely on the defensive and stalling as much as it could whenever it had possession of the ball. The visitors were penalized once by the referee for stalling but they felt their strength going and realized that they must hold Massillon in check if they were to win. But Massillon's fighting spirit was not to be denied and Shaw's best efforts were finally brushed aside when the youthful Tigers launched their victory march.
The two teams were evenly matched in weight. Shaw had a 250-pound tackle in Brown and the rest of its team was of sturdy build. The visitors displayed a smooth working machine. Massillon appeared to be slightly off form. The customary dash of the orange and black was missing for three-quarters of the game. Hill, tower of strength, was far from being in shape.
He was not at all well and a bump near the end of the second quarter stretched him out and he had to be carried off the field. He was out of the game during part of the third quarter, but when he returned he gave Massillon the strength it needed to win.
Some Victory
Massillon – 7 Position Shaw – 6
Potts LE Stopple
Edwards LT Carpenter
Kallaker LG Burgess
Roth C Cox
Pflug RG Ozinski
Salberg RT Hofne
Weirich RE Kyle
Ulrich (c) Q Momberger
Thomas LH Hayslett
Boerner RH Hotckiss
Hill F Remley
Score by quarters:
Massillon 0 0 0 7 – 7
Shaw 0 6 0 0 – 6
Substitutions: Massillon – Define for Boerner, Weirich for Hill,
Rohr for Weirich, Hill for Weirich, Jamison for Rohr.
Shaw – Brown for Horne, Mixer for Hotchkiss,
Kriss for Remley.
Touchdowns – Kyle, Hill
Point from drop kick after touchdown – Edwards
Referee – Gibson, Mount Union.
Umpire – Bietzer, Mount Union.
Headlinesman – Wilson.
Time of quarters – 14 minutes.
Extra 2 Minutes Gives Massillon
Its Big Victory
Starting of Saturday's game was delayed about 15 minutes while officials and coaches of the two teams were trying to reach a settlement on the length of quarters. Snavely held out for 12 minute quarters, saying that it was the rule at Shaw high that its teams should not play over 12 minute periods.
Coach Stewart of Massillon held out for 15-minute periods. The matter was finally settled when both coaches agreed upon 14-minute periods. And the extra two minutes, which Coach Stewart succeeded in getting enabled Massillon to win the game. Had the quarters been 12 minutes long the game would have ended before Massillon could have started its great rally in the last quarter.
THE GAME —
PLAY BY PLAY
First Quarter
Massillon received, defending the west goal. Shaw kicked off to Edwards who returned 15 to Massillon's 40. Carpenter, Shaw's left tackle, was injured in the play. Ulrich hit off left tackle for 3. Hill hit the same hole for 3 more. Hill made 3 more on another line play and then punted to Shaw's 30-yard line. Shaw completed a pass for 4 but fumbled on the next play, Massillon covering the ball on Cleveland's 33-yard line.
Ulrich and Boerner failed to gain but Hill made a first down in two plunges at Shaw's right side. Snavely yanked Horne out of right tackle and sent in Brown, a big 250 pound lineman to plug the hole. Shaw held and Edwards tried a drop from the 20-yard line which went wide of the bars. It was Shaw's ball on its 20-yard line. Momberger passed to Stopple for a first down. Roth dropped Hotchkiss after the latter had made 12 yards on a double pass formation. Hill batted down a Shaw pass. Edwards and Salberg tackled Momberger for a loss of 9. Hayslett skirted Massillon's right end for 9. Momberger, running from punt formation, made a first down for the visitors, carrying the ball to Massillon's 25-yard line. Shaw fumbled on the next play and Weirich covered for Massillon on his 18-yard line. Hill and Ulrich ripped through Cleveland's line for a first down. Ulrich skirted Shaw's left end for 5. Hill failed to gain and on the next play went through for 40. With two yards to go for first down Hill slipped and failed to gain, Shaw securing the ball on its 36-yard line. The quarter ended with Shaw in possession of the ball on its 25-yard line. Score: Massillon – 0, Shaw – 0.
Second Quarter
Shaw fumbled and Edwards covered on Shaw's 26-yard line. Ulrich lost 3 and Hill's pass to Ulrich was grounded. Edwards tried a drop from the 35-yard line which was short and Shaw put the ball in play on its 20-yard line. Edwards and Weirich broke through and threw Hayslett for a 5-yard loss. Shaw punted and the ball was downed on Shaw's 36-yard line. Hill tore through for a first down. Thomas lost 3. Ulrich passed to Boerner for a gain of 5. Ulrich's short kick was covered by Shaw on its 28-yard line. A forward failed and Shaw punted to Ulrich who was downed in midfield. Shaw was penalized 10 and it was Massillon's ball on Shaw's 40. Hill and Define negotiated a first down in three plays. Hill went through for another first down. Define fumbled but recovered without gain. Massillon failed to make its yards in four plays and Shaw gained the ball on its 18-yard line. Massillon was penalized when Define interfered with Kyle when the latter attempted to grab a forward from Momberger. It was Shaw's ball on the 45-yard line. On an open play formation Momberger pased 20-yards to Kyle who eluded two Massillon tacklers and ran 35-yards for a touchdown. A bad pass from center spoiled Shaw's attempt to add another point by a place kick.
Massillon received and Salberg returned 20 to the 40-yard line. Ulrich made 6. Hill made 1 and then Ulrich went through for a first down. Define made 5 but Ulrich's attempted pass to Potts failed. Hill punted to Momberger who was downed on his 31-yard line. Momberger skirted Massillon's left end for 15 as the quarter ended. Hill was hurt in the play and had to be carried from the field. Score Massillon – 0, Shaw – 6.
Third Quarter
Shaw received and Hayslett was downed on his 37-yard line. Momberger passed to Stopple for a gain of 15 yards. Momberger then heaved the ball to Brown for a gain of 8. Shaw was penalized 15 for unnecessary roughness and Momberger from punt formation ran
18-yards. Massillon held for downs and gained the ball on its 33-yard line. Define went around end for 30 but Salberg was guilty of holding and Massillon was penalized 15. Ulrich passed to Potts for a 35-yard gain. It was Massillon's ball on Shaw's 23-yard line. Ulrich went through for 5. Thomas made 7 carrying the ball to Shaw's 9-yard line. Massillon fumbled and Shaw covered. Momberger punted to Ulrich on Shaw's 29-yard line. Hill came back into the game replacing Weirich. Hill hit Shaw's line for 12 and a first down. Hill made 7 in two plays and Shaw was penalized 5 for being offside, taking the ball to Cleveland's five-yard line. Hill was thrown for a loss of 5, but made it up on the next play. Hill went through for 3, taking the ball to Shaw's 4-yard line, but failed to carry it over on the next play which was fourth down. Shaw secured the ball on its 1-yard line. Momberger punted to Ulrich on Shaw's 30. Ulrich made 6, Hill 1 and then Massillon was penalized 5 for being off side. Thomas lost 3 on an end run but Ulrich passed to Potts for a gain of 20 and a first down. Massilln failed to gain and it was Shaw's ball on its 26-yard line as the quarter ended. Score Massillon – 0, Shaw – 6.
Fourth Quarter
Shaw punted to Ulrich who was downed in midfield. Thomas passed to Ulrich for l3 and a first down. Three attempted passes failed and then Kriss intercepted a Massillon pass and carried the ball back to Massillon's 43. Potts stopped Momberger without gain. Thomas intercepted a Shaw pass on his 32-yard line. Hayslett intercepted a Massillon pass and took the ball to Massillon's 43-yard line. Massillon was fighting desperately to gain by an overhead attack while Shaw was trying just as hard to break down the Massillon attack. Shaw punted and Ulrich fumbled but Thomas recovered the ball and was down on Massillon's 12. Hill punted (rest of copy is missing)