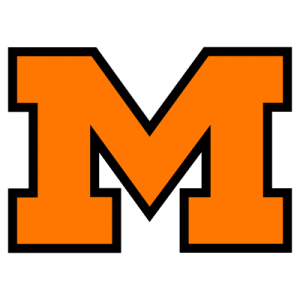 M. H. S. STILL WINNING; SMOTHERS ALLIANCE BY 28-0 SCORE, SATURDAY
Massillon high's brilliant orange and black eleven annexed its sixth straight football victory of the season Saturday afternoon on the driving park gridiron, smothering Alliance high under a 28 to 0 score. Ray McLaughlin, Massillon's brilliant quarterback, played the prominent role.
Every member on the orange and black did himself credit but the scintillating work of McLaughlin, who has played an important part in all of Massillon's victories, stood head and shoulders above the others. The clever pivot man was simply unstoppable and Alliance left the field bearing a lasting respect for this individual. He ran, dodged and squirmed his way through the entire red and blue team on several occasions for gains of anywhere from 10 to 50 yards.
Alliance was beaten. That was expected, but it furnished Coach Snavely's speedy Tigers far more opposition than was at first expected. The east enders haven't won a game this season but they presented a team every bit as big as Massillon's. They did not possess the defense or gridiron knowledge that the orange and black did and as a result they were doomed to another defeat.
Massillon's defense was like a stone wall. Only one first down was credited to Alliance and that came when it recovered one of its own fumbles early in the first quarter. The red and blue could not pierce Massillon's defensive bulwarks and Bischoff, Ertle and Wittmann were the important factors in stopping the Alliance backs.
Wittmann, playing his first varsity game, showed up well. He should make an excellent running mate to McLaughlin. He is fast and clever and several times tore through the Alliance line for substantial gains. He was a tower of strength on defense. Bischoff's work on defense fairly glistened but the lanky athlete had to leave the contest in the last quarter because of an injury. Ertle brought Alliance runners down time after time by his hard tackling.
The lineup and summary:
Massillon – 28. Pos. Alliance – 0.
Harrold le Hahlem
Stoner lt Gove
Ertle lg Robinson
Zepp c Segel
Oberlin rg Rhue
C. Archbold rt Rhue
Bischoff re Hawkins
McLaughlin qb Davis
Converse lhb Kelley
Stults fb Thompson
Wittmann rhb Mills
Score by quarters:
Massillon 14 7 7 0
Alliance 0 0 0 0
Touchdowns – McLaughlin 2, Converse, Fulton.
Goals – McLaughlin 4.
Referee – Plott, Fostoria.
Umpire – Boerner.
Head linesman – Rambaud.
Timers – Copenhaver.
Time of quarters – 12 minutes.
Substitutions – Massillon: Chaney for Stoner, Edwards for Ertle, Ertle for Bischoff, Underwood for Oberlin, H. Archbold for Converse, Fulton for H. Archbold. Alliance: Granahan for Robinson.