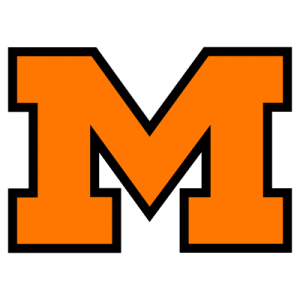 ORANGE AND BLACK "11" WINS OPENER SATURDAY FROM UHRICHSVILLE "HI"
Using nothing but straight tackle bucks with an occasional forward pass and end run, Massillon high's orange and black eleven Saturday afternoon pried the lid off the 1916 scholastic season on the driving park gridiron, east of the city, by trouncing Uhrichsville high 35 to 0.
Massillon received and being instructed by Coach John Snavely to use only straight plays, McLaughlin, at the pivot position, kept sending the backs into the line and the orange and black marched down the field, steadily pushing Uhrichsville within the shadow of its goal posts. After four straight first downs, McLaughlin slipped through tackle and went over the line for the first touchdown. He kicked goal. It required four minutes to make the score.
After this Uhrichsville tightened up and for the rest of the period and during the second period, kept the youthful Tigers from again crossing their goal line.
The alertness of Chester Archbold and Dwight Foust, who entered the game in the third quarter, enabled Massillon to score 21 points in this session and increased its total to 28. Archbold scored the first touchdown in the third quarter when he recovered a blocked punt across the goal line after a Uhrichsville man had been downed on his own three yard line by Bischoff.
A few minutes later Archbold picked up a Uhrichsville fumble on the 28 yard line and scampered through the goal posts for another set of markers. After three forward passes near the end of the quarter had brought the ball from midfield to Uhrichsville's four yard line, McLaughlin went across the line but fumbled the pigskin. Foust pounced upon it for the third touchdown. McLaughlin kicked all three goals.
The last touchdown came in the fourth quarter when Thomas carried the ball over the line on a tackle buck. McLaughlin added a point by kicking goal.
The work of McLaughlin and Harrold stood out prominently in Saturday's conflict. McLaughlin proved a steady ground gainer and Harrold showed up well running back punts and receiving forwards.
Uhrichsville placed a heavier team on the field than was expected. The southerners' line was every bit as heavy as that of Massillon, but the orange and black linemen put up a good game. At times they allowed the Uhrichsville backs to leak through for gains but with more practice their attack should be better. The right side of the line proved stronger than the left. In the backfield Stults, Converse, and Thomas gave McLaughlin good support and ripped through the opposing line for several substantial gains. Taken as a whole the team should develop into a corking good eleven with a week or two more practice.
Latto, Uhrichsville's big fullback, was the only man to make any gains, and he proved the down stater's best bet on defense.
Massillon's open play formations, counted on to make the biggest gains, were not used at all Saturday, Coach Snavely being content to let his gridders win on straight football. The team will use more open play against Akron Central next Saturday. Massillon made 15 first downs to Uhrichsville's