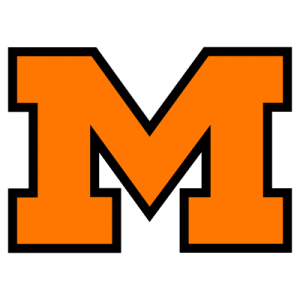 M. H. S. Defeats New Philadelphia In Whirlwind Battle, Saturday Afternoon, 13-0
ORANGE AND BLACK HOLDS DOWN STATERS SAFE AND WIN GAME
Fighting as if their very lives depended upon achieving victory, 11 orange and black clad warriors hailing from Massillon high school, Saturday afternoon defeated New Philadelphia high 13 to 0 on the driving park gridiron.
Untold numbers of brilliant football games have been played on local fields but never before was a contest of the caliber of the one Saturday placed on exhibition.
Playing with a determination to defeat its old enemy, the orange and black was there with colors flying in the pinches and once when New Philadelphia succeeded in getting the ball to within one foot of the goal line, held the Tuscarawas county lads for three straight downs without a gain, taking the ball when the red and black failed to make the necessary gain. This is just one sample of the kind of playing Massillon high did Saturday.
Massillon scored after four and a half minutes of play. Houriet pounded upon a New Philadelphia fumble and line plunges and end runs by McLaughlin, Zorger and Roderick brought the ball to the one yard line from where Roderick bucked it over. McLaughlin kicked goal.
The last touchdown came in the third quarter, Zorger carrying the ball over from the two yard line. New Philadelphia sent to Massillon a band, rooters and a sterling football team, but without McIntosh the down staters would have been like a ship without a rudder. In the last half he carried the ball on nearly every play but was so closely watched by the orange and black warriors that he failed to make many noticeable gains. At hurling the forward pass, New Philadelphia greatly excelled the local team, but Massillon showed up well at running the ends. Bischoff and Graybill played great defensive games while Roderick, McLaughlin and Zorger showed up well carrying the ball.
EFFORTS REWARDED
M. H. S. – 13. Pos. N. P. H. S. – 0.
Harrold le Stiffler (c)
Archbold lt Cable
E. Stultz lg Stroller
Bischoff c Mathias
Graybill rg Smith
H. Stultz rt Robinson
Houriet (c) re Hartman
Hollinger qb Helmick
McLaughlin lhb Fisher
Roderick fb McIntosh
Zorger rhb Eckert
Score by quarters:
Massillon 7 0 6 0
New Philadelphia 0 0 0 0
Touchdowns – Roderick, Zorger. Referee – Plott, Fostoria. Umpire – Getz, New Philadelphia. Head linesman – Boerner. Timers – Copenhaver, Ritter. Goals – McLaughlin 1. Time of quarters – 12 m. Substitutes – Massillon: Stoner for H. Stultz; New Philadelphia: Gross for Helmick.