Football Hall of Fame is the Next Stop for Larry Larsuel
Larry Larsuel could have reminisced about some great Massillon wins that he was involved in during the 1964 season, but unfortunately he's not around anymore for us to hear it first-hand.  There was the 14-8 victory over Niles McKinley in the Rubber Bowl that broke the Red Dragons' 48-game winning streak and solidified the Tigers as the best team in the state at that time.   And there was the 38-14 shellacking of 8-2 Altoona, Pennsylvania.  Finally, old timers will never forget the 20-14 come-back win over No. 2 Canton McKinley that punctuated the season and returned the crown to Massillon.  But Larsuel was more than just a participant.  He was one of the stalwarts on the offensive line that led a devastating ground attack under first-year Massillon and future Ohio State Head Coach Earl Bruce.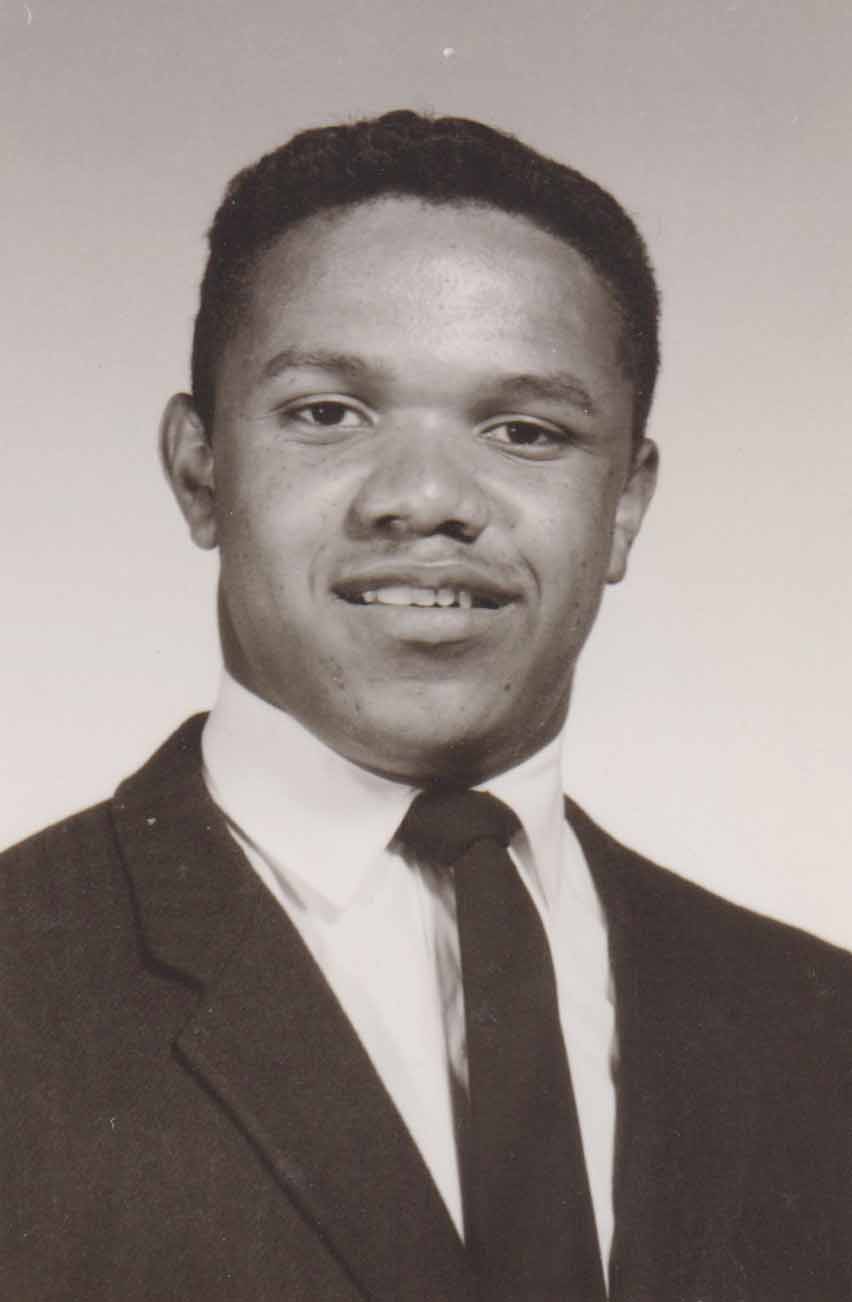 Larsuel began his varsity career in 1962 as a 5'-8", 176 lb. sophomore when Head Coach Leo Strang named him a starter at offensive guard against Akron Garfield.  Unlike today, sophomores didn't dress for varsity games, let alone play.  So, he must have made an early impression on the coach of his potential.  Turns out, it was his only start that year and the team finished 6-5.  But good things were yet to come.
Larsuel hit his growth spurt entering his junior year and became a full time starter at offensive guard, playing at 5'-11", 197 lbs.  The team finished 9-1, losing to 10-0-1 Akron Garfield 13-6, while finishing second in the state to 9-0-1 Niles.  Ironically, Garfield was voted sixth.  Since Canton McKinley was barred from playing football in 1962 on account of a recruiting violation, the team teams matched up twice in 1963.  Massillon won both, by scores of 24-20 and 22-6.  Strang then left for the top job at Kent State, opening the door for Bruce.
"Coach Leo Strang of Massillon was all smiles as he praised the Tigers' team effort (against 8-2 Alliance).  He especially patted senior wingback Bill (Rabbit) Blunt and junior lineman Larry Larsuel on their respective backs.  "Didn't Blunt run well," he said, "and that Larsuel, he played guard, linebacker and middle guard and did a tremendous job at all three spots." – Massillon Independent
For his outstanding play, Larsuel was named 2nd Team All-Ohio at the guard position and 1st Team All-Stark County by both the coaches and the Massillon Evening Independent.
It was during his senior season that the big games mentioned above were played.  With those three wins plus seven more, Massillon finished the season 10-0 for the second straight year and retained the state championship trophy.  The 5'-10", 206 lb. Larsuel was again lauded by the opponents.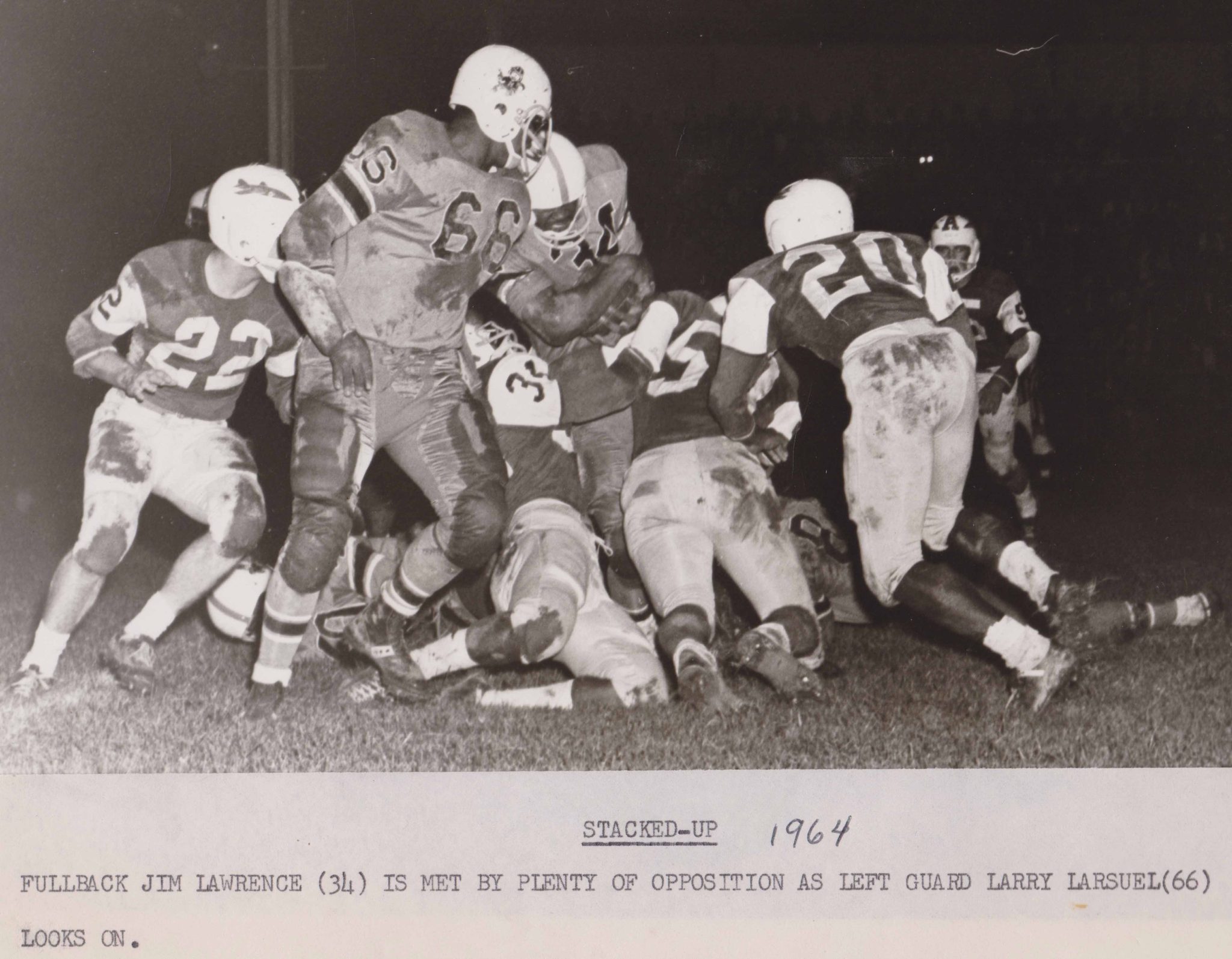 "THEY OWNED US down the middle in the second half," said Altoona Coach Earl Strohm, headman of the Lions, now in his 11th year at the Pennsylvania football power house.  The veteran coach was especially impressed with Larsuel, terming the senior all-county and all-state guard "a real good football player."  Based on the game movies, fullback Lawrence was named player of the week for his running and faking.  Lineman of the week was guard Tom Whitfield with Larsuel the runner-up. — Massillon Evening Independent.
Larsuel also played a little defense and made a great play against Niles.  Per the Massillon Evening Independent, "With second and 10, Infante went back to pass but found tackle Jim Binge looming in front of him and tried to run to the left where Larry Larsuel knifed through and dropped him for a 5-yard loss to the 18, with 1:28 left in the game.  Niles tried 2 more passes, both of which were incomplete, and Massillon took over on its own 17 and ran out the clock for its second win of the season.  Lineman honors went to guard Larry Larsuel who got his man 65 per cent of the time and who on defense freed Muhlbach by handling the Niles tackles.  Backfield honors went to Bob Hewitt for his blocking and running."
At the end of the season Larsuel was named 1st Team All-Ohio at guard.  He also grabbed 1st Team All-Stark County from both the coaches and Massillon Evening Independent.  And he received the Massillon Jaycees Sportsmanship Award.  The following summer Larsuel participated in the Ohio North-South All-Star Game, lining up at offensive guard.
Now he is being inducted into the Massillon Tiger Football Hall of Fame.