Part 3 – Running Backs in the Massillon Tiger Football Hall of Fame – The Early Years
The Tiger Football Hall of Fame recognizes those individuals that have made contributions to the Tiger football program, whether it be a player, coach, band director or just an individual who has been influential in a positive way.  Inductees are honored in the WHS Sports Hall with plaques that display the inductees' contributions.  As of 2022, a total of 105 members have been inducted.
Complete List of Massillon Tiger Football Hall of Fame Inductees
This entry is Part 3 of a series that presents the inductees by playing position and features running backs that competed in the 1940s and before.
Seven Massillon running backs have gained Hall of Fame distinction during this period, including Stanfield Wells, Edwin "Dutch" Hill, Henry "Heine" Krier, Ed Molinski, Bob Glass, Tommy James and Fred "Pokey" Blunt.  There are a few other running backs in the Hall that not listed, as these players were inducted either through another playing position or as a coach.
Stanfield Wells (1906-08)

Not a lot is known about Stanfield Wells' time at Massillon, other than he played one year for the Tigers, at left halfback and teamed with his twin brother, Guy, who was on the line.  That, after the family had moved in from far away South Dakota.  The team was not stellar, finishing 1-5.  But after Massillon he played collegiately for the University of Michigan (1909-11) and then professionally for the Akron Indians, the Cleveland Indians and the Detroit Heralds.
"Stanfield Wells was Massillon's first All-American.  He was a fine man, big fellow, played a little pro ball.  I went up to Michigan to meet him.  He was overjoyed.  He got to talking and asking about some of the Massillon people he graduated with.  He went back in his bedroom and came out with his Massillonian in his hand.  He asked me about quite a number of ones who were in there." – Luther Emery, The Independent (Ref. Massillon Memories, by Scott Shook).
In 1994 he was inducted into the Massillon Wall of Champions.
Edwin "Dutch" Hill (1922)
Dutch Hill moved to Massillon for his senior year after aging out at Burgettstown, Pennsylvania.  And he made an immediate impact for the Tigers, as a 6'-0", 190 lb. fullback, passer and punter, scoring at least one touchdown in every game.  For the season he tallied 33 TDs and helped lead his team to a 10-0 record and a state championship under legendary head coach Dave Stewart.
Eight touchdowns came against Akron North in a 94-0 victory, leading one sports reporter to write, "The big fullback gained from five to ten yards with six or eight Akron players hanging onto him, trying desperately to down him. Other times he bowled the entire Akron team over like a ball knocks over pins on a bowling alley and then would dash away for a touchdown leaving a trail of fallen Akron warriors in his wake."  Dutch also scored three of the four touchdowns in a 24-0 victory over Canton McKinley.
"He was a big star," said Bud Houghton, former Massillon player and head coach.  "He was just a big burly guy.  Kind of had a swaggering walk.  He normally plowed over everybody."
"He was a powerhouse," said classmate Tom McConnaughy.  "He would take the ball and plow through the other team, knocking them right and left."
Following the season he was named All-State.  His high school football career over, Hill left behind the following Tiger records:
Most touchdowns rushing in a game (8)
Most points scored in a game (48)
Most touchdowns scored in a game (8)
Most touchdowns scored rushing in a season (33)
Most touchdowns scored in a season (34)
Second most points scored in a season (204)
Later he was named as Massillon's All-Time First Team Fullback and in 2006 was inducted into the Massillon Wall of Champions.
Henry "Heine" Krier (1932-34)

Henry Krier played running back during Coach Paul Brown's first three seasons at Massillon.  In 1933 the team finished 8-2, with Krier contributing 12 touchdowns, 11 rushing and one via an interception return.  He also kicked 17 points after touchdown.
In his senior year the 174 lb. back scored 21 rushing touchdowns and accounted for 22 PATs, totaling 148 points to lead the team in that category.  Seven TDs came against Youngstown South and three each were tallied against Alliance and Akron West.  Although the team finished 9-1, it was the third straight loss to McKinley and Krier was never able to enjoy a win in that rivalry.
Nevertheless, he was named 1st Team All-Ohio and left his mark in the record book:
Second most rushing touchdowns in a single game (7)
Second most points scored in a single game (45)
Ed Molinski (1933-35)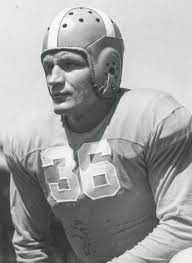 Ed Molinski served several positions for Coach Paul Brown, who was in his earlier years at Massillon.  During his 3-year career as a Tiger, Molinski's team compiled a 27-3 record and were named both state and national champions during his senior year.
Molinski stood 5'-10" and weighed 182 lbs. and he spent his first two years at guard and linebacker. In his senior year he was moved to quarterback, which at that time was the lead blocker for the running backs in Coach Brown's system.  But it might not have happened since, as he was also a pretty good boxer, his father feared injury on the gridiron.  Only, Brown saw it differently and persuaded the father to relent.  So, he continued to box in the off-season and became the Ohio state heavyweight Golden Gloves champion.
"I told Eddie, 'If you make good at Massillon I'll write to Elmer Layden at Notre Dame and recommend you."  I didn't hear a word from Eddie from then on, until the practice the Friday night before the game with Canton McKinley.  Eddied saw me standing on the sidelines and came over and said, 'You know you told my family if I made good you'd write a letter to Notre Dame.'  I said, 'Yes, I remember that.'  He said, 'Well, do you think I made good?"  I said, 'I think you did, now I'll write that letter.'  Layden wrote back and said he'd send some alumni.  Sure enough some alumni came down and talked to him, but they didn't come to any kind of an agreement.  Eddie looked all around and finally landed at Tennessee, where he was All-American." – Luther Emery, The Independent (Ref. Massillon Memories, by Scott Shook).
"Massillon is where it all started," said the now Doctor Edward Molinski.  Talking with the great Massillon sportswriter Luther Emery, Molinski went on to say, "If you guys hadn't persuaded dad to let me play football, I probably would be walking the streets with holes in my shoes."  (The Emery Wheel, Massillon Evening Independent, 1963)
In 1964 Molinski was inducted into the Massillon Wall of Champions.
Bob Glass (1935-37)
Bob Glass was one of the best running backs to roam the gridiron for Massillon.  Standing about 5'-10" and weighing around 200 pounds, Glass was a rare combination of speed and power.  Equally adept at smashing the middle of the line, running slants or streaking around the end, Massillon foes for three years were always confronted with the difficult task of setting up a defense that would hold Glass in check.  Unquestionably, Glass was one of the best ball carriers in Ohio scholastic history.
In addition to his superb ball carrying ability, Glass performed the other duties of the triple threat back – passing and kicking.  He handled all the punting, kick-offs and extra points and did an outstanding job in each department.  His poorest specialty was as a passer, although here he was still better than average, as he did most of the throwing during the 1937 season.  On defense, he alternated at end and halfback.
During his 3-year varsity career from 1935-37 he scored 47 rushing touchdowns, helping his team compile a record of 28-1-1 and capturing three state championships and two national championships.  He was also team captain during his senior year and All-Ohio in each of his three years.
"Bob Glass, I'll grant you, broke every rule that Paul Brown ever made.  I saw him smoke, drink beer.  But he was a just a fun-loving guy who didn't give a shit.  He was one of those 'Go to Hell' guys who loved to have a helluva good time.  But he could play football.  Had that been a lesser player, Brown would have had him out of there a long time ago." – Earl "Ick" Martin, Massillon player (Ref. Massillon Memories, by Scott Shook).
Record book:
Second most career rushing touchdowns (47)
Second most career points (343)
Third most career touchdowns (47)
After Massillon, Glass played for Tulane University, receiving Honorable Mention All-American.  In 2008 he was inducted into the Massillon Wall of Champions.
Tommy James (1938-40)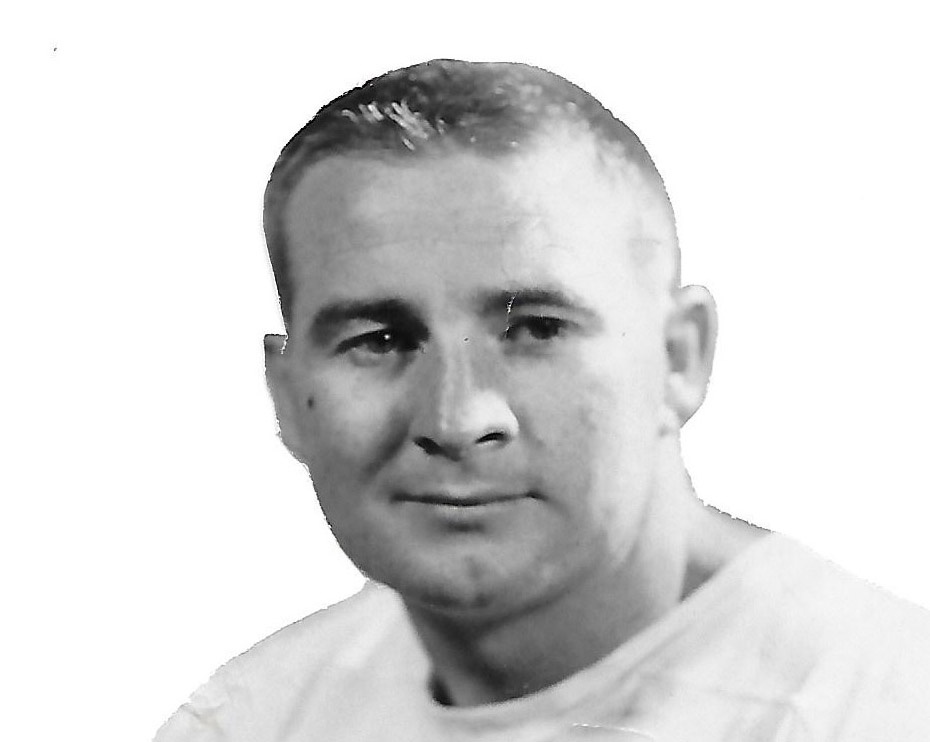 Tommy James never lost a game during his three years at Massillon, with his teams going 30-0 and winning the state title each year.  They also won two national titles.  All under Head Coach Paul Brown.
In his junior season, Tommy recorded ten touchdowns and had the distinction of scoring the first TD in the new Tiger Stadium.  The points came against Cleveland Cathedral Latin, which owned a 17-game winning streak, and propelled the Tigers to a 64-0 victory.  James also threw the first touchdown pass in the new arena, a 50-yard completion to Horace Gillom.  His team punctuated the season by christening newly opened Canton Fawcett stadium with a 20-6 victory over Canton McKinley.  For his effort, Tommy was named 2nd Team All-County.
In his senior season, James added to his responsibilities by throwing most of the passes.  He was both the leading rusher (13 TDs) and the leading passer (10 TDs) in a season that included three rushing touchdowns against Erie East, Pennsylvania, and three passing touchdowns against Warren Harding.  "My senior year I was the tailback (left half) in the old single wing," he said.  "You handled the ball more, called the signals, did the passing.  The right half was Ray Getz." – Jim Thomas, Canton Repository, February 2, 2003.
Following the season he was named 1st Team All-Ohio.  His next stop was Ohio State, followed by the Cleveland Browns.  In 1994 he was inducted into the Massillon Wall of Champions.
Fred "Pokey" Blunt (1939-41)

Pokey Blunt was able to experience three state championships and two national champions enroute to a 29-0-1 overall record.  He scored nine touchdowns during his junior year, including three against Cleveland Cathedral Latin in a 39-0 victory.
In his senior year Blunt tallied 13 times.  His best performance came against 8-3 Alliance when the team captain crossed the goal line three times, helping his team to a 46-6 romp.  After the season, Blunt was named 1st Team All-Ohio.
Paul Brown had high praise for the speedy running back.  "I often wondered whether my Ohio State team that first year, which lost one game, 14-7 to Northwestern, could have beaten our '40 team here in Massillon.  Our '40 team was much faster.  Ohio State would be bigger. I coached both teams.  Blunt was the most deceiving fella, tremendous jet speed.  If I compared him to the guy who was playing for me at Ohio State it would have been no contest as far as being a long shot running back was concerned.  It's a thing that's crossed my mind more than once." – Paul E. Brown, Massillon and Ohio State Coach (Ref. Massillon Memories, by Scott Shook).