He was lightning fast and shifty on the gridiron.  Could break it for a long run on any play, daring any opponent to chase him down.   By season's end he had rushed for over 1,300 yards, scored nearly 100 points and helped his Massillon Tigers to an undefeated regular season and berth in the first-ever Ohio high school football playoffs.  And after a stellar career in both college and professional football, Tom Hannon was honored in 1994 with a place on the Wall of Champions.
No. 45 was called "The Man with the Flying White Shoes," by sportswriter Chuck Hess.  "We had a neighborhood with a bunch of kids who wanted to play for the Tigers," said Hannon.  "And everybody who wanted to play for the Tigers ended up playing for the Tigers.  Before the games on Friday night we would always play in somebody's yard.  I was always Bill Blunt because he was my idol.  He was number 45.  After that Tommy James was 45.  After that it was Larry Harper.  And after that it was me." – from Scott Shook's "A Century of Heroes."
Tom Hannon was born in Massillon on March 5, 1955 and became a 3-sport athlete at WHS, participating in football, basketball and track.  Following an undefeated sophomore football season, Tom began his varsity career as a junior in 1971.  Not wasting any time in showcasing his talents, he made an immediate impact on special teams, returning 21 punts for 192 yards and averaged 23.4 yards per kickoff return on eleven attempts.  In addition, he played running back behind the great Willie Spencer, Sr., rushing 30 times for 190 yards (6.3 yards/attempt) and scored eight points.   He also played in the defensive secondary, recording five pass interceptions.
But his senior season was a breakout year in which he became the featured tailback, at 6'-0", 186 lbs., while also serving time in the defensive secondary.  For the season Hannon rushed 253 times (3rd all-time) for 1,392 (7th all-time) and scored 14 touchdowns.  Eight times in eleven games he eclipsed the 100-yard mark.  Tom also caught two passes for 22 yards and even completed one of two halfback pass attempts for 15 yards and a TD.  He continued his exploits on special teams, where he returned 24 punts for 217 yards and twelve kickoffs for an average of 22.8 yards per return, including one for an 87-yard touchdown.  He also scored 94 of the team's 193 total points.  Defensively, he intercepted three passes and recovered a pair of fumbles.  It seemed as if he never left the field.
Massillon won all ten regular season games that year, outscoring the opposition 179-29, but two contests really jumped off the page: Upper Arlington and Canton McKinley.  Upper Arlington had defeated the Tigers in 1966 and 67 and captured the state poll title in 1967, 68 and 69, whereas the locals won the same title in 1970, in spite of the Golden Bears finishing unbeaten for the fourth consecutive year.  So it's no surprise that, according to Hannon, Coach Bob Commings absolutely hated Upper Arlington and approached the game like it was Massillon vs. McKinley.  It's all he talked about in the weeks leading up to the contest, Hannon remarked.   Now, with the game finally back on the slate, it was time to settle matters on the field and determine who would lay claim to Ohio dominance.
The two teams met in the third week of the season, at Upper Arlington, in front of sellout crowd of 11,000.  So excited were the fans of Massillon that as soon as the gates were opened they rushed the stadium to get choice seats, as only general admission seats were sold for this one.  Gate attendants never had a chance to collect the ticket stubs.
The first half was scoreless as neither team was able to generate much offense.  But after Coach Commings delivered an inspiring halftime talk mixed with colorful expletives (according to Hannon), the Tigers came out in the second half and simply overwhelmed the Bears, coming away with a 14-0 victory.  Tommy led the way by rushing 16 times for 169 yards, including runs of 17, 12 and 31 in the third quarter and 16, 12 and 52 in the fourth.  He finished with 24 carries for 224 yards (9.3 yards per carry).  Upper Arlington was held to just 130 total yards of offense (60 rushing and 70 passing).  They eventually finished the year 6-2-2, losing to Zanesville 21-20 and tying Cincinnati St. Xavier and Cincinnati Princeton, 0-0.
Against McKinley, in front of a sellout crowd of 22,371 fans, Hannon rushed 28 times for 108 yards.  He also returned five punts/kickoffs and intercepted a pass as his team went on to defeat the Bulldogs 12-3, with all the points scored in the first half.  McKinley ended the year with an 8-2 record, the other loss coming to Akron Garfield, 12-6.
"It was just like Super Bowl week on a smaller scale," said Hannon.  "It was so crazy.  That's one crazy week.  It wasn't like you could prepare for the game.  There were so many distractions.  I was like, 'Let's just play football.'  But I really enjoyed it." – from Scott Shook's "Massillon Memories"
The win wrapped up an undefeated regular season and first place in the All-American Conference.  The Tigers were also awarded State Champions by the Associated Press.  But the award was only symbolic, since it was the first year of the state playoffs.  Nevertheless, with only one team qualifying in each region that year, it was only fitting that the owner of 24 previous state crowns participate in the very first playoffs.
The game was held as part of a Class AAA double header at OSU Stadium with Massillon facing Cincinnati Princeton in a morning start and Warren Western Reserve going up against Toledo Scott in the afternoon.  The event drew a huge crowd of around 30,000, with a sizeable majority coming from Tigertown, as they filled both upper and lower decks on their side of the horseshoe.  On the second play of the game, Hannon energized the stadium throng by racing 64 yards for a touchdown.  He then added a 2-point conversion to give the Tigers an early 8-0 lead.  The Tigers scored again on a 40-yard pass from Kevin Westover to Terry Edwards, that one coming near the end of the second quarter.  In between those two scores, Massillon was stopped on downs three consecutive times inside Princeton territory, the third time at the 6 yard line.  It was a complete domination by the Tigers until the final play of the half, when Princeton's Rick White kicked an unprecedented 47-yard field goal, extremely rare for that era.  Nevertheless, Massillon held the lead 14-3 and it might have been 21-3.  Hannon was superb, rushing 15 times for 139 yards.
But the second half was a different story, as the bigger Vikings wore down the Tiger lines on both sides of the ball and eventually won the game 17-14, in spite of Massillon leading in total yards.  Hannon was held in check and Princeton reeled off 34 plays to the Tigers' 18.  Near the end, Massillon advanced to the Princeton 26, but a pass to the 11 yard line was intercepted ending Massillon's final chance to win.  Hannon finished the game with 159 yards rushing on 22 carries.
At the conclusion of the season, Tommy was recognized for his achievements by being named All-County Most Valuable Player and First Team All-Ohio.  He also received the Reese's Raiders "E" Award.
Throughout his senior year, Hannon gained the attention of several major colleges.  He shared one interesting story about his contact with Ohio State.  Upon leaving the locker room following the Upper Arlington game he was approached by OSU Head Coach Woody Hayes.  Along with him was former Massillon and OSU player Steve Luke and OSU quarterback Cornelius Green.  The discussion of course centered around Tom playing running back for Buckeyes and he was offered an opportunity to split time with Archie Griffin.  Well Archie just happened to win the Heisman Trophy in 1974 and 75.  So I believe everyone, including Hannon, knows today how that would have turned out.
Subsequently, he had a good talk with highly respected Tiger defensive backfield coach Larry Coyer, who advised him to switch to defense for college ball, since that would provide him a better opportunity to play professionally.  Hannon admitted that he never really thought about play pro ball until after that conversation.  Eventually a solid match was made with Michigan State, a place where he was very comfortable with the coaches, calling them "really nice guys."  So off to MSU he went, lining up at defensive back for all four years and again wearing No. 45.  His career went like this:
1973 – Coach Dennis Stoltz; record: 5-6-0
1974 – Coach Dennis Stoltz; record 7-3-1; 24 punt returns for 199 yards; 2 pass interceptions for 25 yards; 5 tackle points (39, 16)
1975 – Coach  Dennis Stoltz; record 7-4-0; 15 punt returns for 116 yards; 2 pass interceptions for 1 yard; 93 tackle points (59, 34) 3rd on team; 4 tackles for loss; 4 pass breakups; 2 fumble returns
1976 – Coach Darryl Rogers; record 4-6-1; 2 punt returns for 17 yards; 108 tackles points (68, 40) 2nd on team; 3.0 tackles for loss; 8 pass breakups
In both his junior and senior years, Hannon was named All-Big Ten and was also named to a couple All-American teams.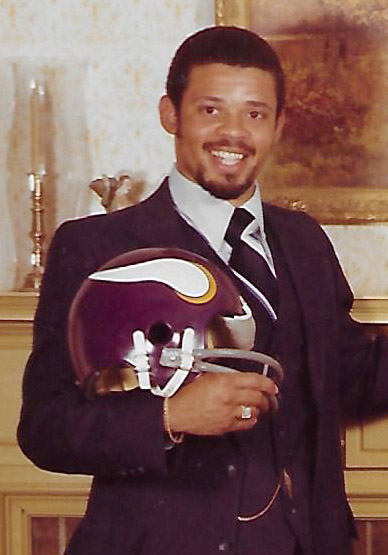 In 1977, although he always wanted to play for the Browns, Hannon was drafted in the 3rd round (No. 83 overall) by the Minnesota Vikings.  There he played safety for eight years, as a starter in all but one, and of course wore No. 45.  During that span he participated in 117 games and started 103, recording 13 fumble recoveries and 15 pass interceptions, which he returned for 202 yards.  One pick went for 41 yards and a score in a 34-14 victory over Chicago.  His team made the playoffs in 1977, 78, 80 and 82.
It was after his first year at Minnesota that he returned to Michigan State to complete his degree and by chance developed a good relationship with the university's president.  That led to an opportunity after his pro career had ended to join the sales staff at Oscar Meyer, where he Tommy worked professionally for 23 years.  Now retired, he currently resides in Southfield, Michigan.
In 2011 Hannon was inducted into the Stark County HS Football Hall of Fame and in 2018 was honored as a Massillon Distinguished Citizen.
When looking back at his days at Massillon High School, Tom said he enjoyed every minute of it and never missed a day of school.  Tommy, we're fortunate to have had you as a Tiger.