Sometimes dreams come true.  As a young Jim Houston sat in Cleveland Municipal Stadium on a cold Sunday afternoon watching his brother Lin play for the Browns, he had one thought in his mind: that could me some day.  "I remember going to Cleveland Stadium as a 9-year-old to watch the Browns," Houston said.  "I used to wonder what it would take to play for the Browns.  Playing for Massillon, Ohio State or the Browns was a dream."  Later in his life, that dream would become reality.
Not only did he follow his family footsteps to Massillon and then onto Ohio State and Cleveland, he also became one of the few players to win national championships at the high, college and professional levels, all within his home state.  For his many accomplishments, he was inducted into the Massillon Wall Champions in 1964.
Houston was born in Massillon on November 3, 1937.  One of four boys in the family, he was the third to play football professionally, joining Lin (Cleveland) and Walt (Washington).  "The Houston family was a remarkable football family.  Lindell, Jack (Purdue captain), Walt and Jim (Ohio State captain) all played college football.  Lindell and Jim made All-American.  They were all good football players.  All of them.  They weren't cocky.  Just down to earth fellas.  They always said that their brother Howard would have been the best of all.  He lost his legs in an auto accident.  They were all good boys." – Luther Emery (The Independent)
"In Massillon it was understood, you go the extra mile to do what you can do to be successful on that football team," said Jim.  "Extra training, extra work, extra effort.  Not only my brothers told me that, but my mom and dad were saying, 'you've gotta do that.'" – Scott Shook's "Massillon Memories"
But that dream was almost derailed before it began.  Astonishingly, Houston was cut by Lorin Andrews Junior High Coach Roger Price in the 7th grade.  It's no surprise that he was devastated.  But his mother said simply to try out again the next year.  After gaining size and speed, he made the 8th grade team.
"I was determined I'd never get cut again," he said.  "I tried out in the 8th grade and made it.  By the ninth grade I had started to grow.  It was kind of a reverse psychology thing.  You put a kid down and he'll fight back harder every time.  I was determined I'd never get cut again." – Ref. Scott Shook's Massillon Memories
High School
Houston played initially on the sophomore team in 1953 at 5'-11", 150 lbs., and then, having sprouted to 6'-1", 180 lbs, became a starter at left end during his junior year under Head Coach Tom Harp.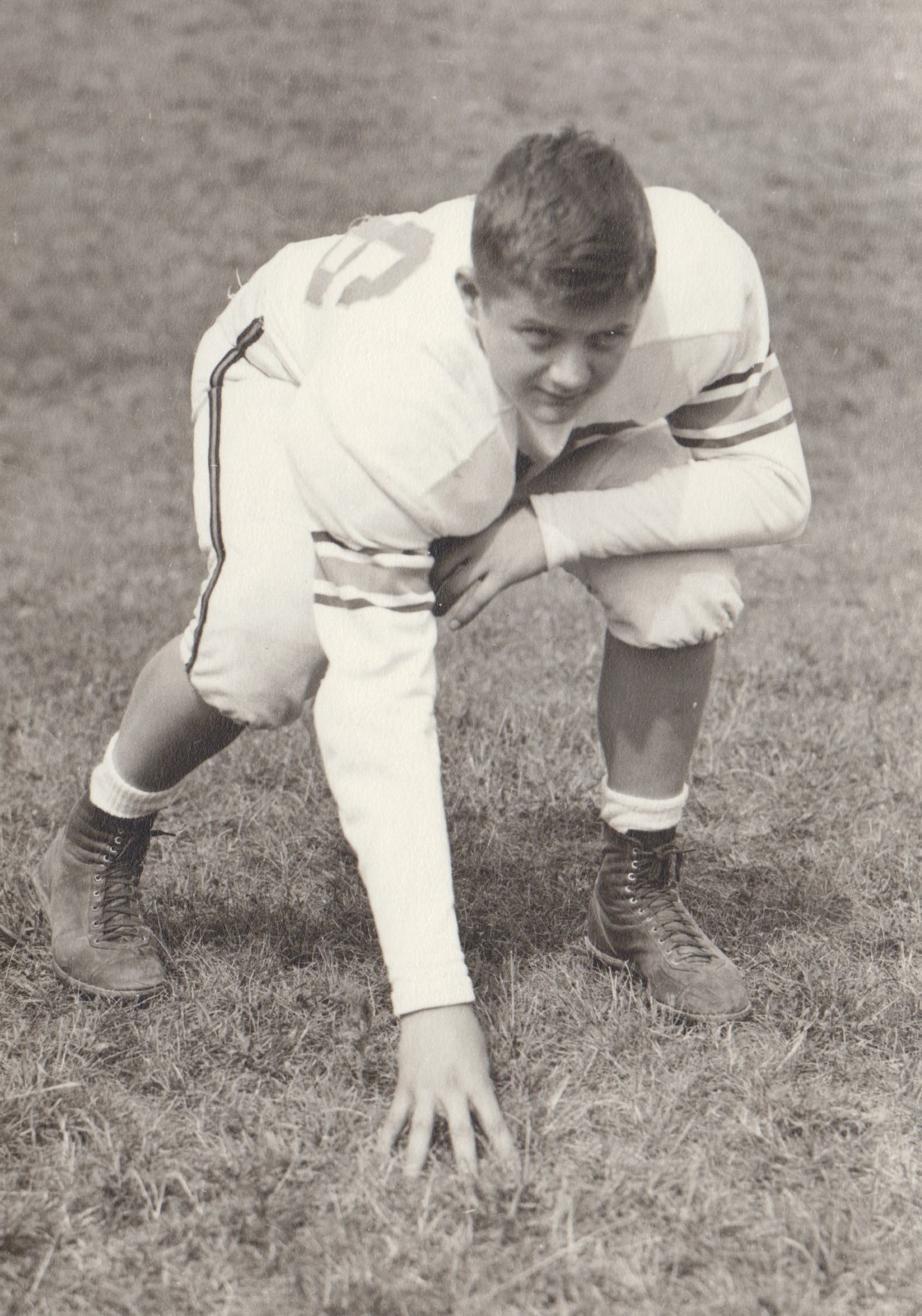 The team finished 9-1 that year, but captured the state championship in spite of the loss due to a confluence of events.  Massillon had lost to No. 2 Alliance 19-7, but had defeated No. 3 Canton McKinley 36-6 and No. 4 Mansfield 18-0.  Meanwhile, McKinley defeated Alliance 26-6 and No. 9 Springfield 26-7, but lost to unranked Warren and Massillon.  It probably also helped that Massillon was the defending state champs.
In his senior year (1955) Houston played both offensive end and defensive end, although he was inserted at linebacker against McKinley.  The Tigers finished 8-1-1 that year, with a 13-7 loss to the Bulldogs and a 12-12 tie with Mansfield.  During that season, Houston caught 10 passes for 180 yards and two touchdowns and rushed for another.  Included in that were scoring receptions of 61-yards and 13-yards against Toledo Waite in a 32-13 victory.  He was also instrumental in gaining the tie with Mansfield.  With the Tigers down 12-6 with less than a minute left, Houston caught passes of 8 and 26 yards to advance the ball to the Tyger 6 yard line.  From there Don Duke powered it in with just two seconds on the clock.  Unfortunately, the PAT kick was just right of the goal and the game ended in a tie.
After the season, Jim was named 1st Team All-Ohio and subsequently accepted an offer from Ohio State.
College
Houston became a starter in 1957 during in his sophomore year under Buckeye Head Coach Woody Hayes.  Aside from his excellent blocking and tackling, he now weighed well over 200 lbs.  So he lined up at both offensive end and linebacker on defense and held that position throughout his remaining time in Columbus.  Jim caught four passes that sophomore year for 16 yards and a touchdown.  The team finished the regular season 9-1, including a win over Michigan, 31-14, with the lone loss coming at home against Texas Christian (5-4-1), 18-14.  As Big 10 Champs, they were invited to the Rose Bowl, where they defeated Oregon 10-7.  Following the win the Buckeyes were named national champs in the Coaches' UPI poll (Auburn (10-0) was No. 1 in the A.P. poll).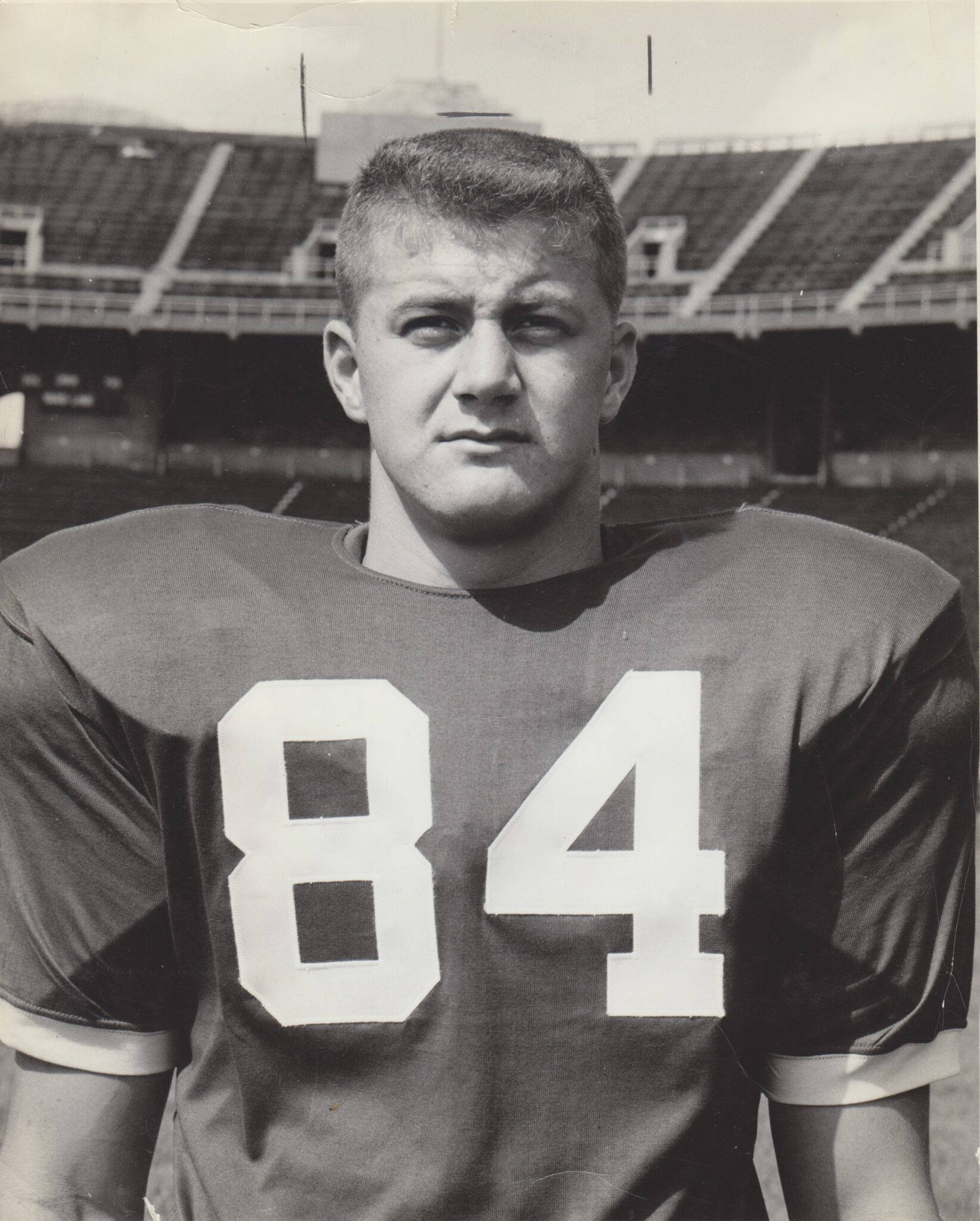 The next year, Ohio State slipped to 6-1-2, tying Wisconsin and Purdue, while losing 21-0 to Northwestern.  But they did defeat Michigan, 20-14.  Houston caught four passes for 127 yards and two touchdowns.  After the season he was named both the team's Most Valuable Player and an All-American.
Jim became captain for his senior year (1959) and repeated as the team's MVP.  For the season, he caught 11 passes for 214 yards and 4 TDs, including a 100-yard game against Michigan in a losing effort.  The team, however, finished 3-5-1.  Nevertheless, All-American honors were again achieved.
OSU wouldn't forget Houston in later years by naming him to the Ohio State Varsity O Hall of Fame in 1979 and then the Ohio State Football All-Century Team in 2000.  And America wouldn't forget, either.  In 2005 Jim was inducted into the College Football Hall of Fame.
Professional
Houston's dream of playing ball in Cleveland was realized when Head Coach Paul Brown used his No. 8 first-round pick on him.  Jim was also drafted by the Buffalo Bills of the AFL but, like his older brother Lin, he chose the Browns.  Coach Brown had him slated for defensive end, as he liked his size and speed.  At that time he was 6'-3" and weighed 240 pounds.  He also ran the 40-yard dash in 4.8 seconds, which was not bad for a big man.
But Houston would not stay at defensive end, for new coach Blanton Collier (1963-70) moved him to outside linebacker.  "Jim is a great athlete," said Collier.  "I'm sure he would be a standout at any position he played in pro football.  He's just naturally gifted."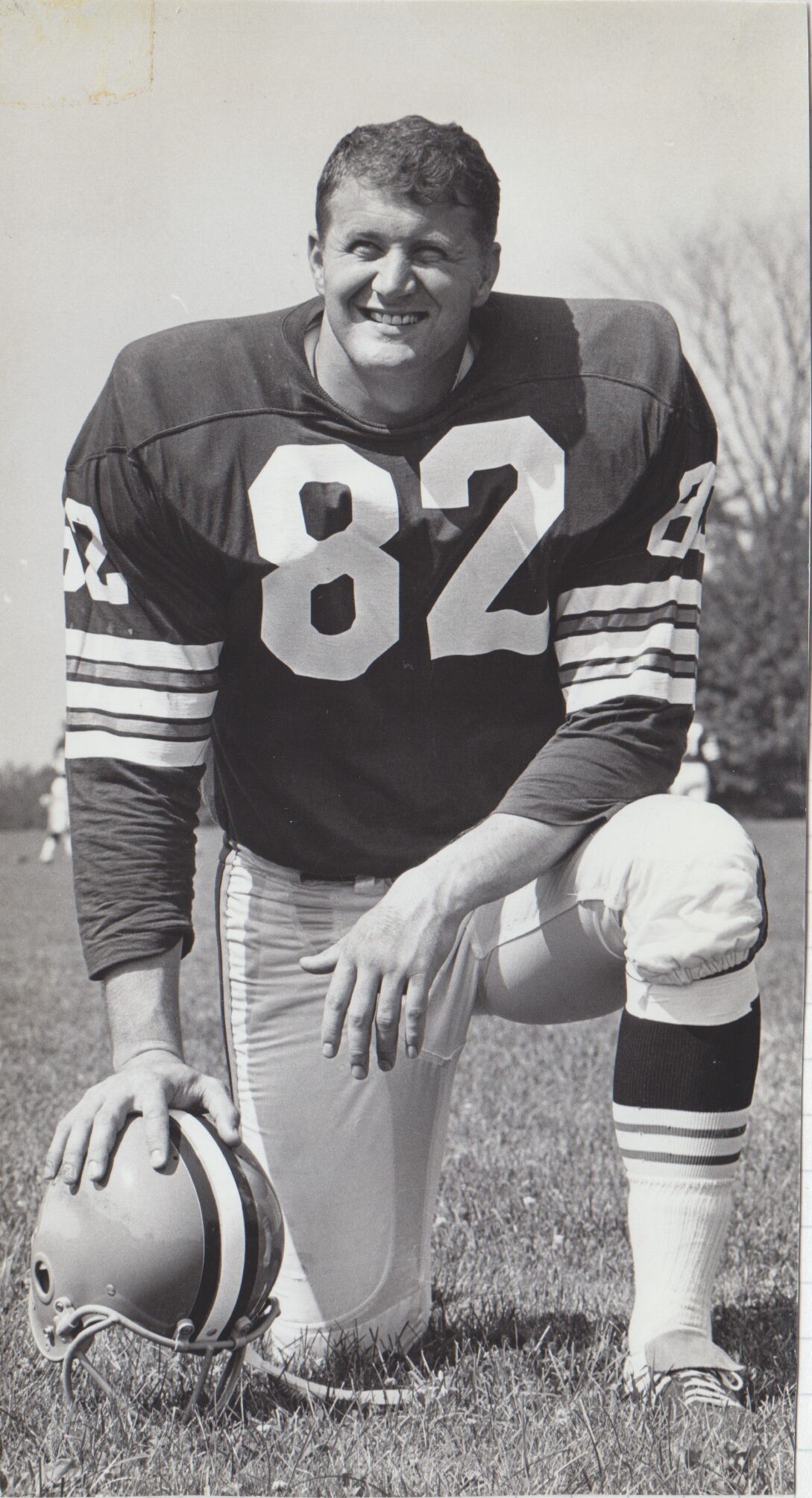 Houston said he liked the move, but noted that he still had things to learn.  "I'm a little nervous inside wondering about covering some of those speedy backs, but I really don't get upset," he said.  "Maybe because I'm used to playing under pressure.  There was just as much pressure at Massillon and Ohio State as there is here.  After a while you adjust to it.  Physically, it's an easier spot than end.  You don't have people stepping on you all the time.  You do a lot more running.  I'm down to about 233 pounds now, but I feel much quicker.  I think I'm beginning to do more of the things instinctively.  Toughest part of the job, of course, is the pass coverage.  A mistake there can cost six points." – Charles Heton
Houston wrapped up his career in 1972, with the final two years coming under Coach Nick Skorich.  Along the way his many accomplishments included the following:
186 games played, 148 as a starter
14 interceptions for 313 yards and 3 TDs, with a long of 79 yards
11 fumble recoveries
29.5 quarterback sacks
1 pass reception for 10 yards and a TD
All-Pro in 1964, 1965 and 1966
Co-Captain in 1968
NFL Pro Bowl in 1964, 1965, 1969 and 1970
NFL championship in 1964, defeating Baltimore 27-0
NFL runner-up in 1965
Overall team record of 121-63-5
And Houston did all this while early in his career maintaining his status in the military.  He was assigned as an active duty army officer at Fort Dix, New Jersey, and he used accumulated leave when reporting to the Browns for practices and games.  Later he was in the reserves.
In 1966 he was named a Cleveland Browns Legend.
Post-Football
When football ended Jim made home in Sagamore Hills, Ohio, and was Regional manager for Midwestern National Life Insurance Company of Ohio, fathering four children along the way.  But he never forgot his roots.  "Do you know what it's like to have Massillon as your hometown?" he said.  "It's the greatest thing going.  Everybody knows of Massillon, Ohio.  Everybody, unless they've never seen a football game ever."
In later years he suffered from chronic traumatic encephalopathy (CTE), a degenerative brain disease, known to cause cognitive problems in football players, along with ALS and dementia.  In fact, all three brothers suffered dementia.  He died on September 11, 2018 at age 80.