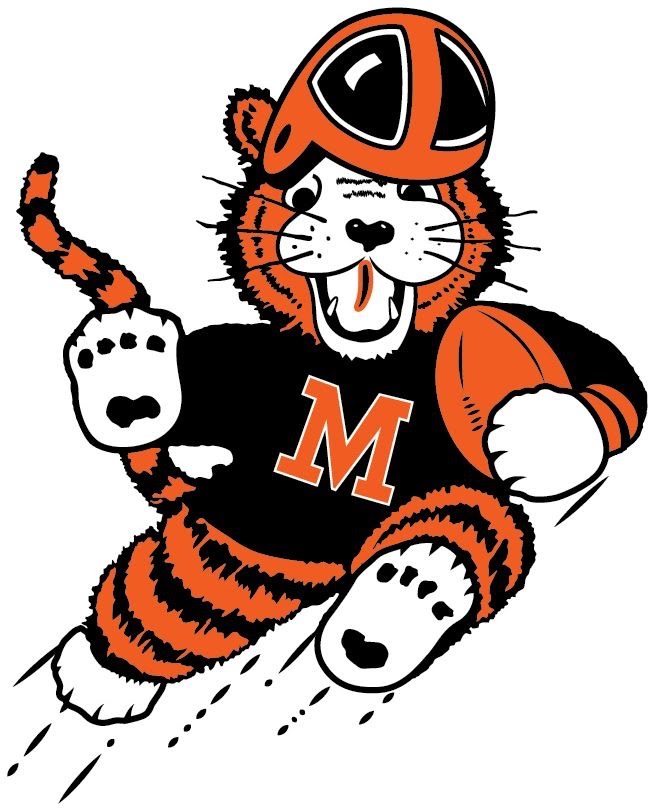 Eleven senior Massillon football players were voted by the Stark County Coaches Association to their 2020 all-star team.  This, following the Tigers' third consecutive trip to the state finals.  In an unusual year of schedule adjustments on account of the Covid-19 pandemic, Massillon won five of six regular season games, including a 2nd all-time win over Cleveland St. Ignatius and a 35-7 pasting of Canton McKinley.  Then they survived a grueling 7-game playoff road to reach the state finals, culminating in a fine 10-2 record.  Over the past three seasons the Tigers have posted a mark of 38 wins against just three losses.
Here are the all-stars:
Jayden Ballard: Wide receiver, 3-year starter, Ohio State commit.  Ballard caught 36 passes for 573 yards and 7 touchdowns.  Included in that were 8 catches against Warren Harding, 6 against North Canton and 7 against Perry.  He also had three TD catches vs. the Panthers and two against Lakewood St. Edward.  Ballard is Massillon's all-time leading receiver for yards and touchdowns.
Terrence Rankl: Offensive lineman, 6′-5″, 285 lbs., 2-year starter, University of Pittsburgh commit.
John Kouth: Offensive lineman, 6′-1″, 320 lbs., 2-year starter.
Rankl and Kouth were instrumental in leading a Tiger rushing attack that averaged 5.0 yards per rush attempt and surrendered just eight quarterback sacks going in to the finale.  The 6.1 yards per play stat ranks 9th among Massillon's spread offense teams over the past 33 years.  They indeed showcased a clinic on power run football.
Alex Bauer: Kicker, 4-year starter.  Bauer connected on 46 of 47 extra points and was perfect until the last try, when a 15-yard penalty hurt his chances on that one.  He also converted 8 of 11 field goal tries.  Bauer holds the all-time career marks for extra point attempts and conversions.
Caiden Woullard: Defensive lineman,  6′-4″, 235 lbs., 2-year starter.  Woullard finished the year with 33.5 tackle points, 10.5 tackles-for-loss (2nd on the team) and 2.5 quarterback sacks (1st on the team).  Last year he set a season high record of 18.0 tackles-for-loss.
Mike Miller: Defensive lineman, 6′-2″, 235 lbs..  Miller had 43.5 tackle points and was a force on the edge, constantly hounding the opposing quarterbacks.
Jaiden Wise: Outside linebacker, 6′-1″, 200 lbs.  Wise showcased his talents in the preseason and earned a starting position to begin the season, covering the wide side of the field.  He recorded 54.0 tackle points (2nd on the team), 11.0 tackles-for-loss (1st on the team) and two pass interceptions.
Andrew Wilson-Lamp: Cornerback, 2-year starter, West Virginia commit.  Also played wide receiver.  Lamp was a shut-down corner that finished the year with 19.5 tackle points, including 3.0 tackles-for-loss and 1.0 sack.  He also had eight pass breakups.  Offensively, Lamp caught 11 passes for 319 yards and one touchdown.
Martavien Johnson: Cornerback.  Also played wide receiver.  Johnson had 30.0 tackle points and 7.0 tackles-for-loss.  He also intercepted two passes and recorded 7 pass breakups.  On offense, he caught 33 passes for 486 yards and 3 touchdowns, including a 46-yard game-winner against Cincinnati LaSalle.  He also rushed 21 times for 134 yards and a touchdown.
Magnus Haines: Punter, 4-year starter.  This year he punted 36 times for 1,492 yards, an average of 41.1 yards per try (3rd all-time).  Haines holds the career marks for total punts and total yards.  Magnus also kicked off, averaging 53.6 yards per kick with 11 touchbacks.
Nick Liebler: Most Valuable Player, inside linebacker. 5′-11″, 190 lbs.  Liebler finished with 79.0 tackle points (3rd on the team), including 4 tackles-for-loss.  This was an incredible year for Nick, having returned to football following a serious leg injury.  Two of his performances stand out especially.  The first came against Canton McKinley, when running back Raekwon Venson was lost to injury in the previous game.  As a backup to replacement starter Willtrell Hartson, he rushed 11 times for 69 yards and a touchdown.  The second was during a 43-13 playoff win over Perry, when he recorded 11 solo tackles and 12 assists.  This effort ranks second all-time for the Tigers, behind Chuck Vliet in 1950.
Congratulations to these fine Tiger football players.