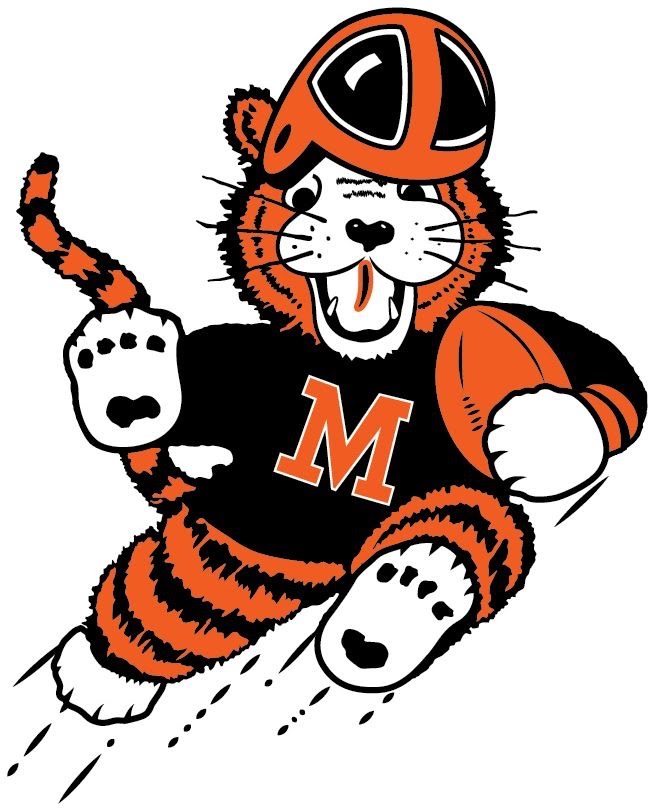 The Massillon Tigers are going to STATE!!!  For the third consecutive year, the Tigers will participate in the Division 2 state finals with a chance to win their 25th state title and the first since the playoff system was introduced in 1972.  The foe will be Akron Hoban, a team with which Massillon has split a pair of games over the past two seasons.  A 14-10 victory last week over defending D2 champion Cincinnati LaSalle secured local's spot in the final game.
"At this point they're all big wins," said Massillon head coach Nate Moore at the weekly Booster Club meeting.  "That was a four-quarter ballgame.  Our guys kept fighting, kept swinging.  It was a great performance.  I'm proud of them.  I thought our defensive coaches had a great game plan and the kids executed it well."
LaSalle scored first late in the opening period when quarterback Zach Branam broke loose on a 76-yard run that carried the ball to the Tiger 4 yard line.  The Lancers scored the touchdown three plays later.  Massillon responded with a 10-play, 62-yard drive, with Jamacius Portis plowing in from the three to tie the game.  The TD was set up by a 24-yard pass from Zach Catrone to Caiden Woullard, erasing a 3rd and 19 situation.
It wasn't until the fourth quarter that the Lancers managed to kick a field goal and take a 10-7 lead.  Faced with a 3rd and 3 at the Massillon 13, Branam kept the ball on a stretch play to the right, looking for a hole to dive through.  But none was found.  A host of Tigers had sealed off the line and Portis dropped him for a 1-yard loss.  That forced the field goal and LaSalle led 10-7.
Massillon gained just 16 yards on their ensuing possession and were forced to punt.   Fortunately, Magnus Haines unloaded a 43-yarder that pinned the Lancers back at their own 13.  It was one of four outstanding punts by Haines, who averaged 46 yards on his boots, with all landing inside the LaSalle 20.  But time was not on the side of the Tigers as the fourth quarter was waning away.  They needed a big stop, and Martavien Johnson delivered, breaking up a 3rd down pass an forcing a punt.  The Tigers would have one more chance.
The punt traveled to the Lancer 48 and Massillon had about two minutes left to at least tie the game with a field goal.  It took just a single play to get the job done.  Johnson lined up at left end with Andrew Wilson-Lamp in the slot.  Catrone dropped back to pass and was secured in the pocket by great pass protection provided by the offensive line.  Meanwhile, Johnson streaked down the sideline and then headed for the post, while Lamp cut it short on an out route.  Johnson was able to use his speed advantage to outrace the defender and caught Catrone's pass at the 15.  He then eluded a pair of would-be tacklers and scored the winning touchdown.  It was certainly the Tigers' biggest catch of the year.  Massillon then held LaSalle at bay to secure the win.
"A great throw by Zach," said Moore.  "A great catch by Martavian.  Martavian had a heck of a game.  We get another game this week.  Another great opponent."
Willtrell Hartson turned in another 100-yard plus night, rushing 26 times for 129 yards.  Catrone completed 5 of 13 passes for 109 yards and one score.  Johnson caught three passes for 70 yards and touchdown.  On defense, Portis had 5 solos and 4 assists, including a tackle for loss.  Isaiah Clark had 4 solos and 6 assists.  Nick Liebler had one solo and 10 assists.  Johnson had three pass breakups and Jaiden Wise had a pair.
The guest co-captains were inside linebacker Xavier Andrews and offensive tackle Terrence Rankl.  "The last game went down to the wire," said Andrews.  "Our defense got some big stops and made the plays."
"Our job as captains is to keep the ship level," said Rankl when addressing adversity.  "And we got a great win.  Having a loss (against St. Edward in Game 1) gives us a great drive.  We don't want that to happen again.  I believe you learn more from a loss than a win.  And that will help us (against Hoban)."
The Knights come into the contest with 10-0 record, with wins over two common Massillon foes: Lakewood St. Edward (35-0) and Cleveland Benedictine (31-24 and 37-0).  They have also defeated Akron St. Vincent (37-9), Mayfield (42-0), Hudson (31-14) and Avon (28-18).  "They're a really good football team," said Moore.
The strength of the opponent lies with the defensive front seven, who Moore calls "very, very, very. very good."  The line has three returning starters within the even front, including senior strong side end Darryl Peterson (6′-3″, 245), senior weak side end Luke Bauer (6′-1″, 245) and nose tackle sophomore Jason Martin (5′-11″, 288).  Peterson is the best defensive lineman the Tigers have seen this year.  He has the full package, according to the coach.  Bauer is the second best they've seen, fast and quick), while Martin is the best interior linemen they've seen.  The linebacking corps is also solid, led by seniors A.J. Kirk (6′-1″, 200) and Damon Ollison (6′-0″, 220).  Ollison plays with great physicality.
The offense gives the opponent multiple looks with their various alignments.  But in essence they just want to run the football.  Two outstanding players alternate at the running back position in senior Victor Dawson (6′-0″, 225) and sophomore Lamar Sperling (5′-10″, 190).  Dawson is a patient runner, a vertical runner, with good speed.  Sperling contrasts that with dynamic play and shiftiness.  Both get the job done.  In last year's game, which the Tigers won 17-14, Dawson rushed 5 times for 20 yards.
Operating under center is 4-year returning senior starter Shame Hamm (6′-200).  He is an accurate passer and throws a nice deep ball.  He also is an effective runner.  Against Massillon last year he completed 13 of 21 passes for 153 yards and one touchdown.  He also rushed 13 times for 25 yards.  In the 2018 state title game against Massillon, Hamm completed 4 of 9 passes for 118 yards and two touchdowns, while rushing 9 times for 67 yards.  The No. 1 pass target is senor Brayden Fox (6′-3″, 205).  He is a 3-year starter (one at GlenOak) and has an offer from Rutgers.  Against the Tigers  last year he caught three passes for 57 yards, including a 47-yard touchdown.
The skill players will operate behind a veteran line that averages 6'2″, 285 lbs.  It is led by senior tackle Luke Petit (6′-4″, 284).  A center last year, he is considered an excellent puller.
Friday's game can be viewed on Spectrum and can be pulled up on the Internet through this website.
Go Tigers.  Bring it home!