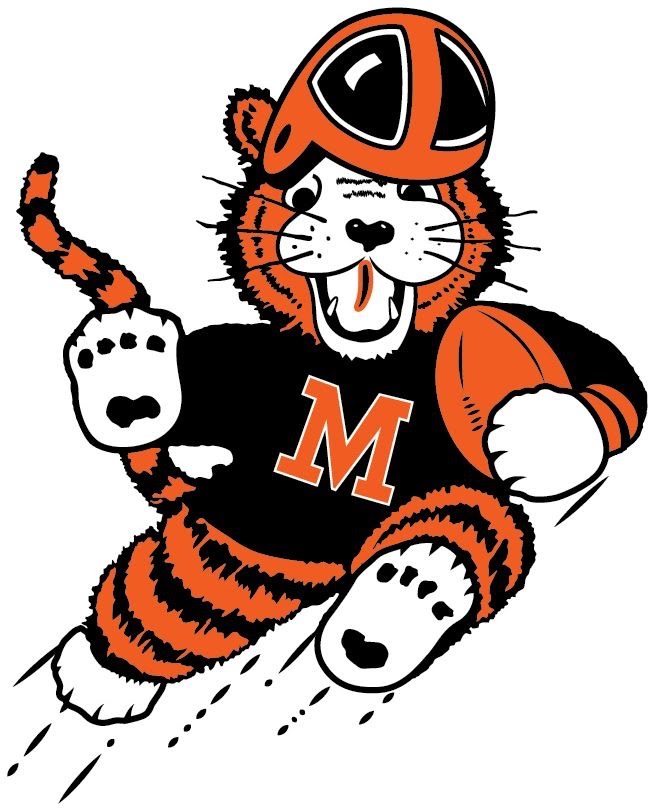 It was certainly a memorable Friday night at Paul Brown Tiger Stadium.  Not only did Massillon beat previously undefeated Westerville South 45-36 to advance to the regional championship game for the fourth consecutive season, but running Willtrell Hartson broke a single-game yards rushing record that has stood for 29 years.  The previous standard belonged to Travis McGuire who, in 1991, helped his team to a 42-13 victory over Canton McKinley.  Both efforts were works of art.  The two running backs showed power in breaking tackles.  They displayed finesse in style.  And they brought bursts of speed in outracing defenders to the end zone.
By the numbers, McGuire had 36 carries, 302 yards (8.4 yds/carry) and 5 touchdowns.  Willtrell Hartson had 27 carries, 324 yards (12.0 yards/carry) and 3 touchdowns.  Included in Hartson's totals were long runs of 54, 53, 39, 25, 23, 23, 17 and 15 yards.  Sounds something like what he did last week.  For the season, Willtrell has now rushed 85 times for 847 yards, for a whopping per carry average of 1o.o.
As a sophomore, that's really, really good," said head coach Nate Moore.  "He had great vision and open field cuts.  It's also an offensive honor," in that the Tigers' massive offensive line constantly opened holes in the South defense.  The wide receivers also had great downfield blocks to extend many runs.
"It was a funny game in a lot of ways," Moore said.  "After the first possession, we played really, really well."  That was an understatement.  Combined with Hartson's effort and a game-controlling defense, Massillon rolled to a 42-9 lead by late in the third quarter.  At that point the Tigers had amassed 404 yards in total offense, 316 rushing and 88 yard passing.  Zach Catrone connected on 3 of 5 pass attempts, including a 72-yarder to Martavien Johnson for a TD.  In fact, the Tigers scored a touchdown on six consecutive possessions during that span.  Meanwhile, South totaled 283 yards, but had just nine points to show for it.
Westerville tried to make a game of it in the latter part of the contest, crossing the goal line four times, but eventually came up a couple scores short.  They were indeed a good playoff team, exceptionally good with the passing game.  "Those guys came back and made some plays," said Moore.  "But we got the stops when we needed to (early in the game) and got the win."
The guest co-captains were quarterback Zach Catrone and wide receiver/defensive back Andrew Wilson-Lamp.  "Last week we ran a very efficient game," said Catrone.  "Willtrell Hartson did an absolutely great job.  Our offensive line and wide receivers did a great job."
"The defense played really well," Lamp remarked.  "We gave up some points, but they were a really good team.  Every time a team plays us, they're going to give us their best shot."
Next up for the Tigers is Perry for the regional championship.  The Panthers are 9-0 with playoff wins over Canal Winchester (42-0), Dublin Scioto (35-10) and Olentangy (14-10).  The also have signature wins over North Canton Hoover (20-14) and Canton McKinley (35-23).  Massillon owns a 16-2 advantage in an on-and-off series that began in 1978.  Last year the Tigers defeated Perry in the regional semifinals 35-7, with all of the points coming in the first half.
The Perry offense utilizes their traditional double-wing concept with a tight end.  It revolves around running back Joshua Lemon, who has amassed 1,597 yards (7.9 yards per attempt) and 18 touchdowns.  The offensive line is a good group and comes off the ball well, according to the coach.  They all play with great effort and are an athletic group.  Look for a heavy dose of various runs between the ends with a few jet sweeps thrown in, although normally very little passing.  Coach Moore highlighted the following players:
Left tackle Anthony Brumbaugh – 6′-1″, 218; senior; 2-way returning starter; pretty good player overall.
Strong guard Vinny Hildebrand – 6′-1″, 220; junior; best offensive lineman.
Running back Lemon – 5′-10″, 185; senior; 2-year starter; runs with power and can take it to the outside.
Wingback Dominic Vinas – 5′-9″, 180; senior; runs hard.
Wide receiver Devonte Armstrong – 5′-9″, 155; senior; 9 receptions for 142 yards.
Quarterback Hayden Vinas – 5′-9″, 185; senior; returning starter; runs tough; makes decisions in the passing game fairly accurately.
The defense is mostly in an even front, more like a 4-4.  The line is pretty good with hands and come off the ball well.  But the linebackers are the strength of the defense.  Top players per Moore are:
Strong side end Anthony Jones; 6′-205; senior; a good player.
Weak side end Cameron Nickson; 6′-200; junior; pretty athletic;  good hands and feet.
Middle linebacker Dominic Vinas – reads keys fast; quick.
Middle linebacker Cayman Williams – 5′-11,215; senior; excellent downhill player; gets off blocks; very physical.
Safety Devonte Armstrong – returning starter; really good;  good speed.
"The kids had a really good practice today," Moore said in closing.  "The scout team did really well.  We just need to come out and play Massillon Tiger football and bring home another regional championship."
Game time Friday is 7:00 pm.  It will be broadcast on Spectrum.
The freshmen dropped their finale to Lakewood St. Edward, 14-6.  They finished the season with a record of 8-3.
A game ball from Win No. 900 is  being raffled off.  Tickets are $10.00.  Watch social media for details.
Chris Spielman is under consideration for the Pro Football Hall of Fame.  Fans can participate in the preliminary voting on www.profootballhof/fanvote.
Go Tigers!