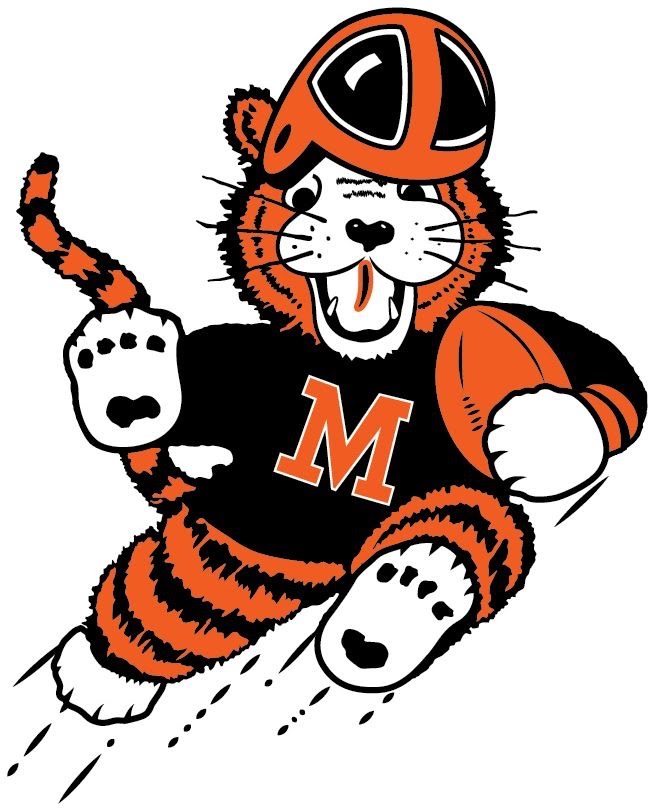 "It was a tremendous win by the Tigers.  These guys have no idea what it means to lose to McKinley."  With those words, Head Coach Nate Moore opened the weekly Booster Club meeting in reference to Massillon's 35-7 shellacking of Canton McKinley.  The Tigers have won the last five over the Bulldogs and nine of the last ten in what has recently become a one-sided affair.  For the numbers, it was Game No. 131 and the locals command a 20-game lead in the series, at 73-53-5.
In other contests:
7th Grade (3-3): Lost to Austintown, 22-6.  The Mentor game scheduled for this week has been canceled.
8th Grade (6-0): Defeated Austintown, 36-0.  Plays Mentor on Wednesday at home at 5:00 pm.
9th Grade (5-1): Defeated Canton McKinley, 45-0.  Plays Kirtland on Friday away at 6:00 pm.
JV (4-3): Was idle.  Plays Lakewood St. Edward on Saturday at home at 10:30 am.
The Massillon Booster Club members in attendance were ecstatic about the large margin of victory over McKinley.  But at the same time were puzzled at the apparent lack of consistent effort put forth by the Bulldog players.  Aside from an 87-yard touchdown drive early in the third period and quarterback Elijah Wesley's 77-yard gallop on the first play of the game, McKinley's other drives accounted for a net 20 yards and the longest drive was just 35-yards, which came on their last possession.  The Tiger defense completely controlled the line of scrimmage and held the Bulldogs' vaunted passing game to a mere 16 yards (4 of 9) as Wesley was constantly hounded by rushing defenders.  Was it the lack of pre-game festivities or was it simply that they knew coming into it they were overmatched?  Only the Pups can figure that out.  But most people in Massillon hope they can.  For it takes two great teams to make this rivalry what it has always been.
Meanwhile, the Tiger offensive line put on a virtual clinic, propelling the team to 285 yards rushing and five touchdowns.  With several running backs unable to go on account of injury, Coach Moore inserted little used sophomore Wittrell Hartson, who responded with 188 yards on 22 carries, including a pair of touchdown runs.  Twice he broke long gainers to energize touchdown drives, with sprints through the middle of the line of 37 and 61 yards.  Moore also inserted senior Nick Leibler, who had never run the ball past the freshmen level.  Leibler was masterful, with 11 carries for 69 yards and a touchdown.  Although running back was Nick's second position during the pre-season, he had not practiced in that area until just this past week.  "Nick came in and answered the bell," said Moore.
The guest co-captains were senior quarterback Zach Catrone and senior wide receiver/cornerback Andrew Wilson-Lamp.  "We kicked their butts." beamed Catrone.  "Offensively, the run game was working.  Hartson and the offensive line did a great job.  The whole line beat the snot out of McKinley."
"As a defense, our job was to shut them down," said Lamp.  "And I think we did that pretty well.  I'm super proud of our guys and we proved we're one of the best defenses out there."  It was Lamp who ran Wesley down inside the ten and shoved him out of bounds on that first play of the game.  "It gave us a shot to get on the field and defend the goal line," said Moore.  On the subsequent play, the McKinley running back was stripped of the ball by C.J. Harris, who also recovered it.  That spearheaded a 9-play 95-yard touchdown, which gave the Tigers a lead they never relinquished.
"It was a good day to play our best game," Moore added.  The Tigers won the battle of special teams, as evidenced by each team's average starting field position: Massillon at their own 37 and McKinley at their own 21.  Most of the credit belongs to punter Magnus Haines, who averaged 42.0 yards per kick on his three attempts and 52.0 yards per kickoff.  He even ran down a punt snap that went over his head and boomed a 36-yarder rugby-style, just avoiding the block.  Alex Bauer connected on all five PAT attempts and continues to extend his career records in that area.  Even Martavien Johnson returned a punt for a touchdown, only to have it be called back due to a holding penalty.
As noted above, the defense was smothering on all but one play.  "We did a great job all game with our alignments against their unbalanced line," said Moore.  "The whole defensive effort was a highlight reel."  Several times the Bulldogs tried to block 6′-4″, 235 lb. Caiden Woullard with their 5′-8″, 180 lb. running back.  It was like sending a lightweight against a heavyweight in a boxing prize fight.  Woullard would simply throw the blocker aside and run down the quarterback.  Then there was junior Austin Brawley, who played downhill from his safety position to break up many attempts to run the ball.  He finished with eight solo tackles and one assist.  Isaiah Clark, the other safety, was in on four solo tackles five assists.  But at the end it was a total team effort as many player shared in the action, including Johnson who had two tackles-for-loss.
Moore noted that McKinley's defense greatly feared Massillon's tag screens and shaded their outside linebackers in that direction to provide extra support.  All that did was open up the run.  "So we just kept running up the middle," said the coach.  "And McKinley never adjusted."  As a result, the Tigers threw the ball just eight times.  But Catrone was right on target to Wilson-Lamp on a 32-yard pass that set up Massillon's fourth touchdown.
The Tigers will now take a week off after receiving a first-round bye in the playoffs.  On October 16 they will host the winner of this week's game between Columbus Walnut Ridge and Columbus Independence.
Playoff notes: All tickets will be sold online, with codes provided to parents of players and bandsmen.  Open purchase of any remaining tickets will commence on Friday at noon.  The OHSAA will control all TV / Internet broadcasts through Spectrum.  In the event Spectrum does not cover a particular game, the participating schools will be permitted to provide video coverage.  As of this moment, the stadium attendance limitations imposed by the Ohio Department of Health have not changed (1,500 or 15% of stadium capacity, whichever is lower, plus any variances allotted by the ODH; Massillon's limit is 1,776).
Go Tigers!