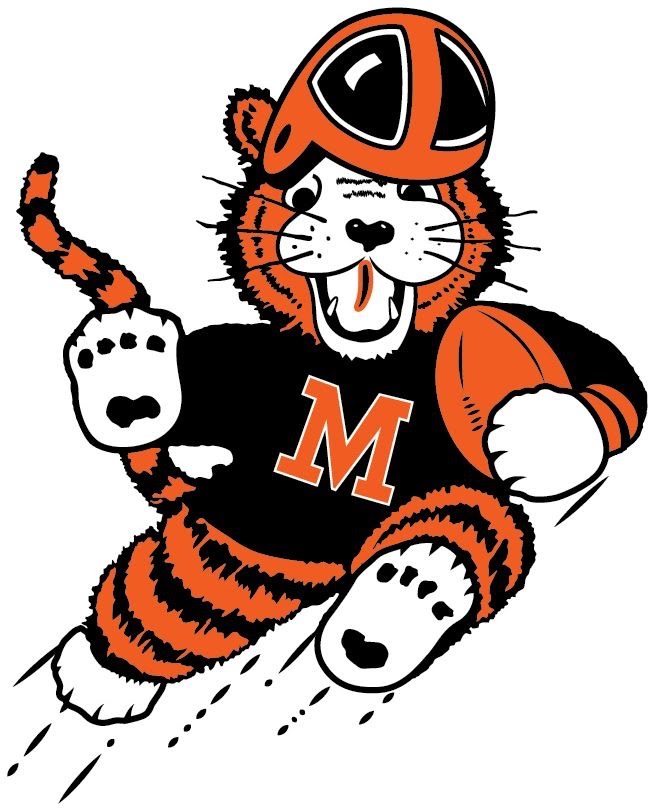 By defeating Columbus Bishop Sycamore 35-0 last Friday, the Tigers reached a major milestone, posting their 900th victory in a history that dates back to 1891.  The overall record now stands at 900-293-36, a winning percentage of .747.  While maintaining its status as Ohio's leader in total wins, the Tigers join only four other teams across the country that have reached the mark of 900 victories: Valdosta, GA (933), Louisville Male, KY (906), Fort Thomas Highlands, KY (901), and Mayfield, KY (900).
Scores from other teams:
7th Grade(1-1): Defeated Canton, 22-12.  Plays Warren on Wednesday at home at 6:00 pm.
8th Grade (2-0): Defeated Boardman, 44-6.  Plays Warren on Wednesday away at 6:00 pm.
9th Grade (1-1): Defeated Alliance, 33-22.  Plays Warren on Thursday away at 6:30 pm.
JV (1-2): "A" Team lost to Avon, 27-20.  "B" Team lost to Painesville Riverside, 36-19.  Plays Warren on Saturday away at 10:00 am.
Smiley's is feeding the team after this week's game.
The guest speaker was David Lee Morgan, author of the recently released book, "15 for 15."  The publication chronicles Massillon's 2019 season in which they compiled a record of 14-1 and advanced to the Division 2 state title game.  The book also contains many human interest stories.  It's a great read and highly recommended.
Zach Catrone and Andrew Wilson-Lamp were the co-captains invited to the meeting.  "I think the young guys did very well stepping up after injuries," said Catrone.  "We're looking for No. 901 this week."
"We came out with a chip on our shoulders," added Lamp, referring to the previous week's 1-point loss to Lakewood St. Edward.  "We wanted to turn that around."
"It was a crazy football game," said head coach Nate Moore.  "Extended injury timeouts.  Eighteen penalties against Bishop Sycamore.  It was really hard to get any flow."  Moore thought that many of the Sycamore players were larger than the roster indicated.  Of course, at least half of the players were older and had already graduated from high school.  "They were excellent up front," added Moore.  "Huge, big and strong.  A couple were really good.  The skill guys were better than I thought.  They had a very, very good talent level."  The coach thought it was a good test for the Tigers and the game went about how he thought.
The defense played "lights-out," holding the Centurions to negative 26 yards rushing (28 att.) and 72 yards passing (4 of 15).  But the offense struggled at times behind a sophomore quarterback that was making his first start on account of an injury to the original QB1.  The first quarter went quite well with three scoring opportunities in three possessions, producing a touchdown and a field goal.  And the last three possessions of the game were also productive, with two touchdowns and a final drive that closed the contest at the one yard line.  But in between the offense struggled to get much going, particularly on the ground.
"We shut down their run game early," said Moore.  "So they started throwing the ball and they weren't good at it.  With the good defensive backs we have, we were able to blitz a little more.  All-in-all, it was a good outing.  It was a good experience for our offensive line."
This week's opponent is Warren Harding, which lost its opener to Cleveland Benedictine (2-0), 24-17, and then rebounded last week against Youngstown Cardinal Mooney (0-2), winning 27-10.  Warren coaches will tell you that they have been looking forward to this team for a long time and expect a lot out of this large group of returning players.
Offensively, the Raiders operate out of the spread behind a returning starter at quarterback in Elijah Taylor.  "He makes a lot of good throws and throws well on the run." said Moore, who believes this is the best quarterback they have seen so far.  The primary running back is Elizah Smith, a 6′-2, 205 lb. returning starter from last year.  But his production has been hampered by an offensive line that is not very adept at blocking. However, they do provide decent protection in the pass game.  A pair of wide receivers, Dom Foster and Deavion Burgess, provide good skill level in that area.
On defense, Warren aligns mostly in a 4-4, cover-3.  The best linemen are defensive ends Jabari Felton (6′-1″, 210) and Kincade Tyson (6′-1″, 210).  But both interior linemen and the two inside linebackers (each new at the position) appear struggle with read techniques.  The secondary is a mixture of skilled and not so skilled players.  Coach Moore does not believe they will have the speed to press cover Massillon's wide receivers.
Go Tigers!