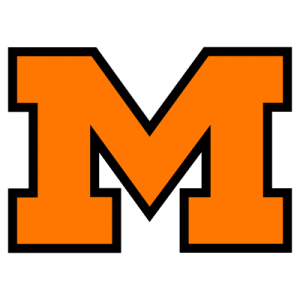 Massillon advanced to the Playoff Regional Finals for the third consecutive year with a resounding 35-7 victory over Massillon Perry.  All of the points were scored in the first half and the coaches seemed intent on just getting it over with the remainder of the way.  It was win No. 897 in the undefeated Tigers' long history of football.  Next up is 2-time defending Division 2 State Champion Akron Hoban, a 42-21 winner over the Tigers last year in the State Finals.  With the playoff regions realigned this year, Massillon has been moved into Hoban's region.  Thus the earlier than hoped for rematch.
The Booster Club is sponsoring a bus to the Hoban game, which will leave at 4:30 pm from the K-Mart parking lot.  The cost is $20.00.  No food or beverage will be provided.  Tickets can be purchased at Keller's Office Furniture.
The guest players at the Booster Club meeting spoke briefly about their preparation for Akron Hoban.  "We have a great game plan going into this week," said quarterback Aidan Longwell.  "We're going to take what they give us."  "We're putting last year behind us," added offensive lineman Cole Jones.  "We're just focusing on the game this year."  Both of these fine players were recently named 1st Team on the All-Northeast Inland District Team and WHBC All-County.  In addition, Longwell was honored as the Northeast Inland District Offensive Player of the Year.
Regarding the win over Perry, Head Coach Nate Moore really liked the play of the defense in holding the Panthers to just 208 rushing yards and 261 yards overall.  This coming against a team that has been averaging 368 rushing yards and 411 total yards per game.  "Our defense had just an outstanding game," he said.  "They played really well."  In fact, neither of Perry's two featured running backs eclipsed the 100-yard mark and it was the Panther's lowest rushing total of the year.  Moore once again singled out the play of defensive lineman Manny McElroy (2nd Team All-Northeast Inland District) and added linebacker Noah Richards to the list of players receiving accolades.  "Richards had his best game of the year," he said.  Luke Murphy (Kent State commit) was a force from his safety position, leading the group with nine solo tackles and eight assists, as he was instrumental in managing Perry's jet sweeps.
The offense also had a stellar night, scoring a touchdown on each of its first five possessions, all coming in the first half.  With Perry intent on stopping the run, the Tigers went to the air early and often.  In that first half, quarterback Aidan Longwell (Kent State baseball commit) completed 14 of 15 passes for 300 yards and five touchdowns, three going to Andrew Wilson-Lamp and the other two targeting Jayden Ballard (Ohio State commit).  For the night, Longwell threw for 337 yards.  Ballard had ten catches and Lamp had eight.
Akron Hoban enters this week's game with a record of 11-1, following last Friday's 21-17 comeback win over previously undefeated Mayfield, a team that defeated Massillon Jackson 26-10 early in the season.  Their schedule is as follows.
Akron Hoban's schedule:
Harrisburg, PA (D1) (7-3) D1: 42-12
Yng. Cardinal Mooney (D4) (4-6): 49-0
Clev. St. Ignatius (D1) (5-5): 41-42 L
West Toronto Prep, ON (D3) (0-9): 49-13
Akron St. Vincent (D3) (8-3): 30-0
Clev. Benedictine (D2) (10-2): 42-10
Mentor Lake Catholic (D4) (4-6): 49-6
Parma Padua (D2) (5-5): 44-6
Walsh Jesuit (D2) (1-9): 42-21
Clev. Cathedral Latin (D3) (3-7): 38-13
Alliance (D2) (7-4): 69-6 (P.O.)
Mayfield (D2) (11-1): 21-17 (P.O.)
"This is the best team we have seen all year," remarked Moore.  "But they've suffered some injuries over the course of the season."  All along, the key for the Knights has been Deamonte Trayanum, who the coach calls the best player in the State of Ohio.  The senior running back / defensive back goes 6′-0″, 230 lbs. and has been offered by Arizona State.  "He's really, really good," he said.  "As good as anybody you will ever see.  But he's dealing with an injury."  That injury may severely limit his time on the field and, according to Hoban's coach, may not fully heal until winter.  If Trayanum can't go, he will be replaced by 6'0″, 200 lb. junior Victor Dawson (2nd Team All-Northeast Inland District).  Moore says Dawson is a very good player with very good speed.
Definitely out of this week's game is tight end Caiden Clark, who caught a 28-yard touchdown pass against Massillon last year.  Clark, a former Tiger and brother of Danny Clark, suffered a season-ending injury in the middle of the year.  This will be a big miss for the Knights since Clark is considered one of their best blockers on the offensive line.  However, Moore says that line is still "very good."  The right tackle is Walter Ganous, a 6′-3″, 340 lb. senior with an offer from the University of Akron.  He is the only returning starter on the line.  The left tackle is a transfer from Wooster.  Senior Jacob Burns goes 6′-2″, 295.  The other three linemen consists of two sophomore guards (both returning from injuries) and a junior at center.  Overall, the line averages 6′-2″, 290 lbs., about the size of Massillon's line.  They are very physical and will present some challenges.
Ernest Witcher, who lines up at either fullback or tight end is a 6′-4″, 255 lb. senior.  "He's a pretty good player," said Moore.  "Well above average."  Canton GlenOak transfer Brayden Fox, a 6′-3″, 205 lb. junior, leads the receiving corp. and is the favored target for quarterback Shane Hamm (1st Team All-Northeast Inland District).  A 5′-11″ 190 lb. junior, Hamm returns at starter, where last year against Massillon he completed 4 of 9 passes for 118 yards and two touchdowns.  He also ran 9 times for 67 yards and two TDs.  Without Trayanum, Moore considers Hamm the best player on the field for Hoban.  Per Moore, he is a really good player with good touch on the deep ball.  And also runs pretty well.  A very confident kid.
Hoban, with a run-first mentality, will utilize a lot of different formations and will often pull the center to lead the blocking.
Defensively, the front-7 overshadows the defensive backfield and has exceptional talent at linebacker.  The defensive line is very good and is led by tackle Darryl Peterson, a 6′-3″ 235 lb. junior, who has an offer from Wisconsin.  The even-front line averages 6′-0″, 229 lbs.  But the key to stopping the run rests with two returning starters at linebacker in Devin Hightower and Damon Ollison.  Hightower, a senior, is 6′-2, 225 lbs. and has an offer from Michigan State.  Ollison, a junior, is 6′-0″, 215 lbs. and has an offer from Michigan.  Moore calls it "the best linebacker corp. in the state."
The defensive backfield will be hurt tremendously with the loss of Trayanum and may be an area the Tigers can exploit.
The defense normally aligns in a base formation and will use an occasional blitz.
Moore believes Massillon will have a distinct advantage in special teams.  Although Hoban's coverages are good, the specialists are a bit lacking, especially since the starting kicker appears to be injured.
Hoban will start five seniors, four juniors and two sophomores on offense and four seniors, six juniors and a freshman on defense.  They return four starters from last year on offense and six on defense.
Go Tigers.