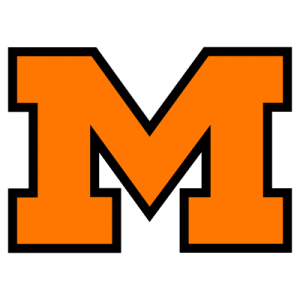 The first Football Booster Club meeting of the 2019 season was held on Tuesday at the WHS Communications Center.  Head Coach Nate Moore reviewed last week's 44-14 victory over Akron St. Vincent-St. Mary and previewed this week's opponent, Canton GlenOak.
Guest players were Inside Linebacker Ben Krichbaum, who will return to action this week, and Defensive Lineman Manny McElroy, who Moore called "unblockable" after his stellar performance last Friday.  Against the Irish, Manny was able to continuously fight through double-teams to totally disrupt the Irish' iso run game, leaving the linebackers "clean" to make the tackles.
The guest coach was Jason Jarvis, who coaches cornerbacks and special teams.  Jarvis noted that of the three phases of football (offense, defense and special teams), it was the special teams that graded the highest.  Their effort included three kickoffs in the end zone by Magnus Haines, who also averaged 45 yards a punt in his two attempts.  Alex Bauer converted all six of his extra point tries.  Coverage teams were great, according  to Jarvis.  And in the return game, St. Vincent elected to kick off short and out of bounds all night long, except after a safety, which might have been a miss-hit by the kicker.  For Jayden Balled returned that one 66 yards for a touchdown, a play that included a downfield block by Zion Phifer that lasted five seconds, as he waited for Ballard to clear his area.  "The drive to win is what makes them play well," beamed Jarvis.
Coach Moore singled out Andrew Wilson-Lamp for his record-setting  performance last week in which he caught eleven passes for 232 yards and a touchdown.  The all-time Massillon single game record for yards now stands as follows:
Andrew Wilson-Lamp, 232 yards vs. Akron St. Vincent, 2019
Austin Jasinski, 222 yards vs. Mentor, 2016
Austin Kutscher, 208 yards vs. Canisius, NY, 2017
Devin Jordan, 206 yards vs. Dayton Chaminade, 2001
Reggie Rogers, 206 yards vs. Austintown Fitch, 2013
GlenOak enters this week's contest against the Tigers coming off a 42-13 win over John Adams of South Bend, Indiana.  New coach Beau Balderson is trying to right the ship after the Golden Eagles suffered through a 1-9 campaign last season, which included a 49-0 home loss to Massillon.
On offense GlenOak utilizes multiple sets, some with tight ends and some with spread.  Two players share responsibility at quarterback, one a sophomore and the other a junior.  Moore likes the soph, Isaiah Knox, 6′-0″, 143 lbs.  Defensively, the coach says their are strong at cornerback, a position that includes Kindel Richardson, last year's quarterback and a Michigan recruit.  Recall that It was Richardson that the Tigers put out of action for the remainder of the season when he tried to run the ball up the middle of the Massillon line after failing to find an open receiver.  Also keep an eye on inside linebacker Devon Blanchard, a 5′-10″, 220  lb., sophomore.
Depth may be a problem for the Golden Eagles in that several players go both ways.  They will also start seven underclassmen on offense and six on defense.  The offensive line averages 6′-0″, 248 lbs.and includes two seniors.  The junior-laden defensive front four average 5′-11″, 201 lbs., which may be a problem matching up against Massillon's 278 lb. line.
"This is a rivalry game," said Moore.  "A Stark County game.  They have some good players.  They will come ready to play."
The Booster Club is sponsoring a bus to the Warren game on September 13.  The cost is $25 and includes a sandwich and drink.  Tickets can be purchased at Keller's Office Supply.  Departure is planned for 4:30 pm at the old K-Mart on Lincoln Way E.
Go Tigers!