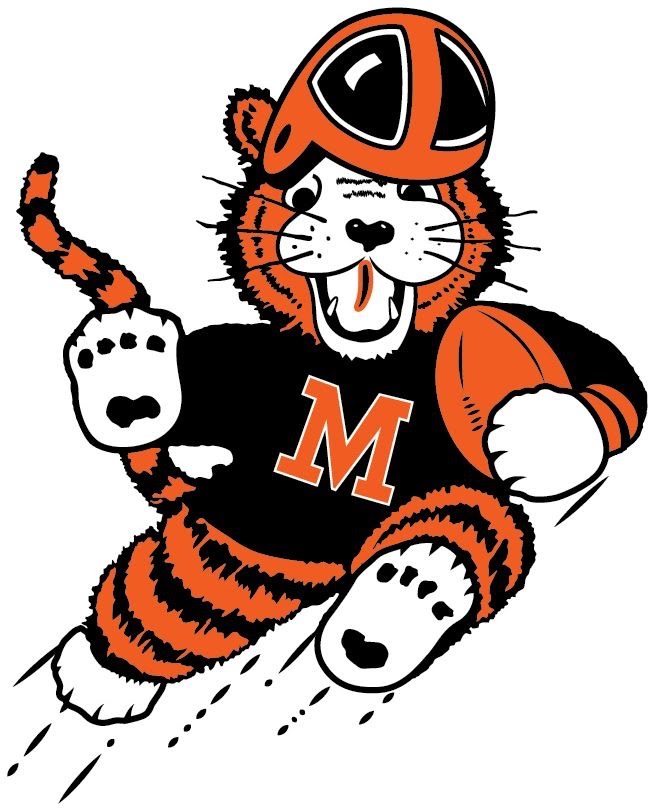 The Tigers took another step forward Friday night in their preparation for the season opener against Akron St. Vincent, which comes in just two weeks.  The opponent in this second of three scrimmages was Berea Midpark and the Tigers came away with a 27-6 victory in one half of game action.  Prior to this, the teams traded 10-play series during which Massillon outscored the Titans, 10-7.  In game conditions, the Tigers led in total yards 295-140, with nearly all of the Berea yards coming via the pass, while Massillon was effective in both the run and the pass.
Several potential starters were held out for various reasons, including Aidan Longwell at quarterback, two offensive linemen, a linebacker and a safety.  But backup QB Zach Catrone did a commendable job engineering the offense as it continued to demonstrate its explosive character with numerous long runs and passes.  For the night, Catrone connected on three touchdown passes.
Substitution was the script for the night and Coach Moore surely came away with a wealth of film on all of the players.  This was especially important for the defensive backfield as this area of the lineup appears to be very unsettled at the moment.  Pursuit and tackling was good throughout, but pass defense seemed to be an issue.  However, that's not to overlook a good performance by the Berea quarterback, who displayed good accuracy and target selection.  In addition, the Titans ran a lot of slip screens to the flats, which are not necessarily something a defense would prepare for in a scrimmage. Nevertheless, the coaches utilized a virtual parade of candidates to see who could consistently perform on the field.
10-Play Series
Berea – Completed a 24-yard touchdown pass.  Score: 0-7.
Massillon – Catrone tossed a 16-yard pass to Jayden Ballard in the corner of the end zone.  The pass was set up by a 34-yard run by Preston Hodges.  PAT by Magnus Haines.  Score: 7-7.
Berea – Lost two yards in three plays.  Restart at the 30.  Gained 35 yards and ran out of plays.  Tiger blitz very effective.  Berea run game completely stymied.
Massillon.  Gained 45 yards ending in a 42-yard field goal by Alex Bauer.  A previous 14-yard touchdown pass was negated on account of holding.  Score: 10-7.
One Half of Action
Berea – Completed a 15-yard touchdown pass to a wide open receiver.  PAT failed.  Score: 0-6.
Massillon – Catrone passed to Ballard for 33 yards on the first play.  Anthony Pedro took a short pass and worked his way to the Berea 17.  Terrence Keyes flew up the middle for an 11-yard TD run.  PAT by Bauer.  Score: 7-6.
Berea – 3 and out.  Punt.
Massillon – Zion Phifer ran 20 yards to the Berea 40 on the first play.  Catrone hit Pedro for a 23-yard touchdown pass.  PAT by Bauer.  Score: 14-6.
Berea – Moved the ball to the Massillon 3 but stalled and surrendered it at the 30.  The drive was halted by two critical penalties.
Massillon – Keyes with an electrifying 70-yard touchdown run on the first play from scrimmage.  Used several open field cuts to defeat would-be tacklers and sped untouched thereafter to the endzone.  PAT by Haines.  Score 21-6.
Berea – Lost five yards and punted.
Massillon – Catrone ran for a first down on fourth down at the Berea 34.  But the play was negated since quarterbacks are not permitted to run in this scrimmage, giving the ball to Berea on downs.
Berea – Gained 10 yards and punted.
Massillon – Starting at the Berea ten Catrone connected with Ballard on a 53-yard pass.  However, the drive stalled at the Berea 40 and the Tigers punted.
Berea – Pass intercepted by Ahmon Williams at the Berea 37.
Massillon – Catrone tossed a post pattern pass to Andrew Wilson-Lamp for a 37-yard score on the first play.  PAT failed.  Score 27-6.
Berea – Gained 15 yards and punted.
Massillon – Underthrown long bomb intercepted at the goal line.  End of action.
Observations
Quarterback – Catrone played well and will continue to improve with more playing time.
Running backs – Once again, all of the backs ran hard and with good speed.
Wide receivers – Very effective part of the game.
Offensive line – Struggled early to protect the quarterback.  This settled itself during game-condition football.
Defensive front seven – Completely negated any attempt by Berea to run the ball.  Manny McElroy was unmovable in the middle and made several tackles behind the line of scrimmage.
Secondary – As described above.
Kicking game – Both kickers showed field goal excellent range.  Haines with booming punts.
JV Scrimmage (2 ten-play series each)
Massillon won three touchdowns to none.  Ramier Kyles 2-yard run set up by a 40-yard pass from Tanner Pierce to TJ Williams.  Defense recovered a fumble in the end zone.  30-yard TD pass from Pierce to Nate Watkins.  Defense solid throughout.  Offense effective primarily with the run.
Next scrimmage: Thursday, August 22 at 7:30 pm against Lakewood St. Edward.