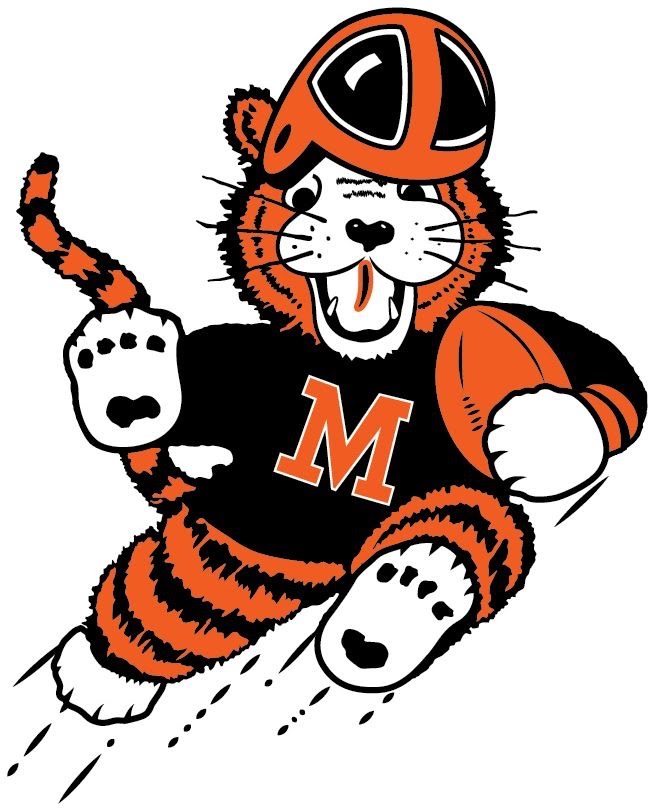 The 2019 Massillon football season was officially launched off on Friday at the Massillon Eagles with the annual Spring Kickoff Event in front of a capacity crowd of Tiger faithful.  Following social time and a steak dinner, head Coach Nate Moore spoke at length about all of the good things happening with the football program and his prognosis for the upcoming season.  He was preceded by guest speaker Mike Leach, head coach of Washington State, which happens to be the next stop for Jamir Thomas, the Tigers' sensational running back.  Thomas set career records last year for rushing yards, rushing attempts and points scored.  Earlier in the evening Leach was featured at a "meet-and-greet" at Kozmos.
Mike Leach has been at Washington State for seven years following a successful tenure at Texas Tech, compiling an overall record of 133-83.  Twice he was named Pac-12 Coach of the Year.  Last season the Cougars finished 11-2, including a 28-26 victory against Iowa State in the Alamo Bowl.
Coach Leach utilizes the "Air Raid" offense as his primary scheme, speaking at length about its benefits in the college game and its recent influence at both the high school and professional levels.  Originally derived from the "Wish-Bone," distribution is the key, he said.  Lots of players touch the ball.  The goal is to create space with the passing game and get the ball to the open receiver, whether it be to a wide receiver or a running back.  It's not unusual to see the running back become the leading receiver.
The play book is not large, but every play is extensively practiced each day.  Then it's just a matter of selecting the optimum plays to run against each opponent.  "It's always been a game of execution," he said.  "It's always better to have too little than too much."
Then it was Coach Moore's turn, fresh off a Division II state final appearance with his 14-1 team.  The very successful Massillon coach Moore covered a lot of ground in his speech and the highlights are presented below:
The team goals this year are fairly simple: beat Canton McKinley and win the state title.
The Tigers return all of their coordinators, including John Mazur and Jarett Troxler on the offensive side of the ball and Craig McConnell and Spencer Leno on the defensive side.  Other returning assistant coaches include Cale Miller (wide receivers), Eric Copeland (running backs), Dan Hackenbracht (safeties), Jason Jarvis (cornerbacks and special teams), J.P. Simon (defensive tackles), Dave Weber (defensive ends) and Danny Studer (strength and conditioning).  New to the program are Mike Stone (fullbacks and tight ends) and Josh Garvin (offensive line).
Seven full-time starters and several part-time starters from among a group of 26 lettermen return from last year.  Six players have already landed athletic scholarship offers.
The annual Lift-a-thon was held last week and the participants lifted a combined weight exceeding 53,000 pounds.  Moore said the players did a tremendous job.
The College Showcase was held last Wednesday and nearly 70 coaches from all levels of college football were in attendance.  "It was a tremendous day for all of our players," said Moore.  "Several kids got offers.  Lots of video was taken.  There will be more offers."  Jayden Ballard ran a 4.43 40-yard dash and Andrew Wilson-Lamp ran a 4.45.  Several players were between 4.5 and 4.6.  "We're strong and we're fast," summed up the coach.  "This is a highly dedicated group.  They work really hard."  Next, the team will focus on skill development.
A busy summer is planned for the summer in preparation for August 1st official start of practice.  7-on-7s are scheduled for the University of Akron, Ohio State University and Pittsburgh University.  Camps are on tap at Kent State, Cincinnati, Ohio State and Akron.
The team GPA for the 3rd quarter was 3.05, a bit shy of the goal of 3.3.  The coach expects improvement in the 4th quarter.
Becca Moore, wife of the coach, will again provide preparatory work for ACT testing.
The Golf Outing is scheduled for August 6.
Coach Moore then gave a rundown on each of the opponents on this year's schedule, which comprises six home games:
Akron St. Vincent – They were young last year and should be good this year.  They have a 4-year starter at quarterback.  Terrance Keyes returns at running back for a third season.
GlenOak – New coach Bo Balderson will try to get the Eagles back on track.  The quarterback, Kindel Richardson, returns.
At Warren Harding – They always have great skill.  This will be a tough matchup.
Penn-Trafford, PA – They went 9-3 last year and have a Division 1 running back.
Akron Firestone – Same old.
At Austintown Fitch – Expect another great game.
Gateway, PA.  They went 11-2 last year and have a Division 1 running back.  They are similar to East St. Louis, a national-power the Tigers faced last year.
At Barberton – The Magics are 28-2 in the regular season during the past three years and have a stellar running back returning.
Louisville – The final game in the series, as the contract will not be renewed following a 41-0 blowout last year.  The quarterback returns.
Canton McKinley – "This is the greatest high school rivalry in the country," said Moore.  They have a new coach in Marcus Wattley, formerly of Akron St. Vincent and University of Akron (Dan Reardon has moved on to a former coaching stop, Youngstown Ursuline).  The Bulldogs return several key players.