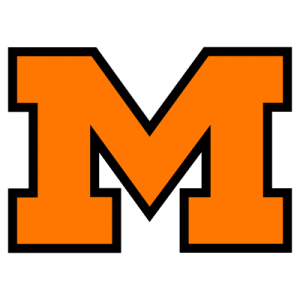 BACK ON TRACK
Hurst shifts to receiver, Blankenship QB in win
BY CHRIS EASTERLING
Independent sports editor
MASSILLON It was just the kind of game Massillon was looking for. Just the kind of home cooking the Tigers needed to leave themselves feeling much better about things.
After an up-and-down quarter-and-a-half, Massillon turned things on midway through the second quarter and gradually pulled away from Ursuline for a 49-18 win at Paul Brown Tiger Stadium on Friday night.
"It felt really good," Tiger coach Nate Moore said after his team improved to 3-4. "Our kids, they played hard. They played with effort, but they also played well, which has not always happened. They executed and all that stuff. It was a great team victory."
The Tigers have won two in a row at home, and two out of their last three overall. They return to Paul Brown Tiger Stadium next week when Cincinnati Mount Healthy visits.
They will do so a different-looking team on offense.
Massillon's offense was looking for a spark of some sort to jolt it back into rhythm after last week's loss at Austintown Fitch. It may have found it by shifting Lee Hurst II from quarterback to receiver while handing Seth Blankenship the keys to the offense at quarterback full-time.
On the very first play of the game, Blankenship hit Hurst for an 8-yard gain. The bigger gain, though, came with four minutes left in the first half, when Blankenship connected with Hurst for a 37-yard touchdown pass to put Massillon ahead 21-12.
It was one of three first-half touchdown passes for Blankenship, who was 12-of 17 for 204 in the game. He completed a 31-yarder to Austin Jasinski for a 14-12 lead; the strike to Hurst for a 21-12 lead; and a 24-yarder on fourth-and-18 to Montrell Stevens to make it 28-12 with 1:07 left in the half.
In the third quarter, Blankenship hit Hurst on a slip screen, which the latter turned into a 19-yard touchdown for a 35-18 Tiger lead. Hurst finished the game with 81 yards and the two touchdowns on five catches.
"Lee played great," Moore said. "He had two touchdowns, one way down the field and one on the screen where he broke some tackles. We're really proud of him."
Massillon also was proud of its continued defensive improvement during the last few weeks.
The Tigers allowed Ursuline to manage 304 total yards, 190 of which came in the first half.
"Our ends played really well," said Moore, whose team forced three turnovers, including two interceptions by Kordell Ford. "They played head-first defensively. We were reading our keys and getting off blocks."
Ursuline came into the game happy to have running back Kimauni Johnson back after he had left last week's loss with an injury. On the Irish's second play – their first one was picked off by Ford to set up a Massillon score – Johnson raced 80 yards for a touchdown to pull them within 7-6.
Johnson rushed for 150 yards on 13 first-half carries. However, a shoulder injury in the second quarter knocked him out of the game.
Other than Johnson, though, Massillon's defense did a solid job in limiting the Irish to just field goals in the first half. Those field goals – of 26- and 27-yards – did give Ursuline a 12-7 lead with 8:59 left before halftime.
Ursuline's only other touchdown came on a very short field after a Massillon fumble at its own 3. One play later, the Irish scored to make it 28-18 with 9:56 left in the third.