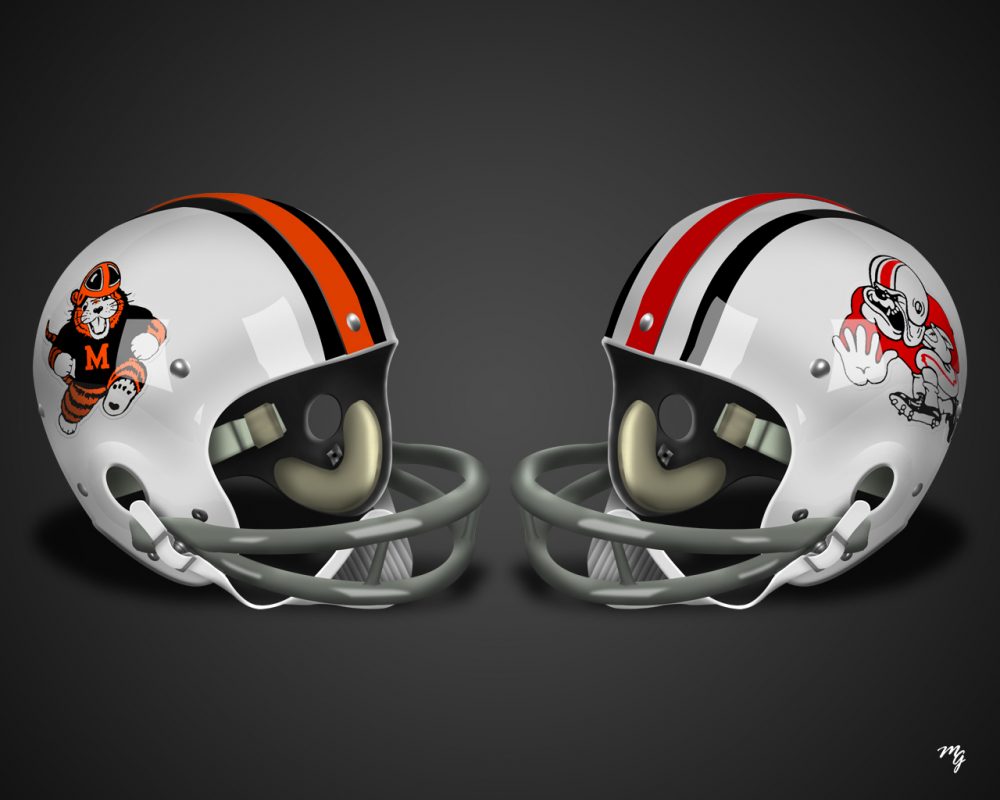 Tigers overwhelm Bulldogs
Massillon secures its fourth straight post‑season berth
By JOE SHAHEEN
Independent Sports Editor
The Massillon Tigers paved their way into the playoffs by steam rolling archrival Canton McKinley in the second half for a 34‑17 victory in front of 16,162 fans on a cool, gray autumn Saturday afternoon at Paul Brown Tiger Stadium.
It was Massillon's fifth consecutive victory over McKinley in the teams' 110th meeting all‑time.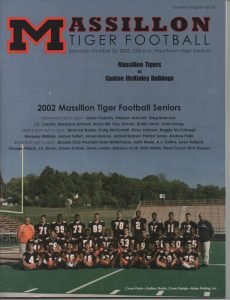 The Tigers, who improve to 8‑2 and will play at North Canton in a regional quarterfinal game next Saturday, were prohibitive favorites against McKinley, which falls to 3‑7. But the Bulldogs struck first for a 6‑0 lead and it took a Max Shafer 21‑yard field goal to give Massillon a 17‑14 lead at halftime.
The second half was a different story as the Massillon defense shut down McKinley running back Ryan Brinson, who had rushed for 123 yards in the first half, and the Tiger offense went almost exclusively to the ground game to overpower the Bulldogs.
"McKinley has done such a great job over the five years I've been here," Tiger coach Rick Shepas said after getting an ice‑water drenching from his players at game's end. "We needed everything in our play book to go against this McKinley team. Spider Miller does an outstanding job of coaching. Their kids played very hard. Brinson is a great back and I think Mike Shaffer is going to be a great quarterback as well.
0ur kids have been fighting all year long and they've been in big games and have come up short. But I'll tell you what, I think our coaches have done a great job and I'm very proud of the way our kids have responded. We get a chance to play another week and who knows what can happen after that."
McKinley sideline boss Spider Miller, who held his team together through an injury‑riddled and emotionally tumultuous season, had the Bulldogs primed to pull the upset.
"Our kids have never quit," Miller said. "They played with great pride and character, but we just ran into a great football team. "Massillon has a lot of talent. We hung in there for awhile."
The teams exchanged punts to open the second half with the Tigers taking over at their 43. That's when Shepas opted to line up in the I‑formation and power the football at McKinley.
Massillon ran the football on seven consecutive plays, with senior Ricky Johnson getting six of those handoffs. Johnson, who would finish the game with 188 yards rushing to top the 1,000‑yard plateau for the season, capped the march with a nine‑yard gallop around right end. He extended the football over the goal line as he was being tackled.
"We felt like we could go up there and just power football right up the middle," said Tiger senior tackle J.P. Simon "We felt like we were the more physical team, the more conditioned team. We felt like we could have success that way and that's just what we did."
Shafer added the point after and Massillon was up 24‑14 at 3:26 of the third quarter.
A long Brinson kick return gave McKinley good field position but Tiger cornerback Jamaal Ballard outfought Bulldog wideout Tyrone Gillespie on a deep pass to quell Canton's momentum.
Massillon was then forced to punt and McKinley capitalized with Matt Campbell's 31‑yard field goal to cut the Tiger lead to just 24‑17 at 10:55 of the fourth quarter.
But on the ensuing kickoff, Billy Relford returned the ball 61 yards to the McKinley 27.
"I felt like it was time," said Relford. "I told coach to let me get the ball. I told the guys, 'You set the wedge and I'm going to run this ball.' They set the wedge and I just followed my blocks and just took off."
Six plays later, Shafer kicked his second field goal of the game ‑ this one from 30 yards out ‑ and Massillon was up 27‑17 with 7:41 to play.
Eeriely, Massillon led Warren Harding 27‑17 with 7:29 to play one week ago but didn't close. "Absolutely we talked about that and we worked on it all week," Shepas acknowledged. "We were able to respond today." The response came in the form of Ballard's second interception of the afternoon, just three plays after the ensuing Tiger kickoff.
"Every game I always come out with the idea I'm going to shut down my side of the field," Ballard said. "With them throwing to my side every time this afternoon, I proved that. He kept throwing it and I kept taking the ball from them." "Jamaal Ballard needed to have a game like this," added Shepas. "I'll tell you what, he played great today and he has played great for two years here. He is an outstanding player."
The Tigers tacked on their final score with a seven‑play, 45‑yard drive capped by a seven‑yard Johnson touchdown run over left tackle. Shafer added his fourth extra point of the afternoon to go with the two field goals.
"Max is definitely our Special Teams Player of the Game after a situation where last week he didn't realize how important he was to our football team," Shepas said. "I think he learned last week and I think he knows for sure now.
It's awesome," Shafer said. "It feels great because I wasn't in last week and everything so I worked twice as hard this week to come back to where I was before."
The smell of upset was in the air early on. McKinley jumped out when senior linebacker Josh Grimsley blocked a Massillon punt and senior Dorian Chenault covered the ball in the end zone for a touchdown. Relford blocked the extra point attempt and McKinley was up 6‑0 with 7:09 of the first quarter.
The Tigers came right back to score on their next possession. Beginning on the Massillon 29, the Tigers went to Johnson on four consecutive plays and he advanced it to the McKinley 47. Then, out of the wing‑T, Steve Hymes picked up seven yards on a keeper play to the 40. On first down Hymes ‑ ran the option to perfection, pitching to Johnson when the defense committed to him. Johnson went untouched down the right sideline 40 yards to the end zone. Shafer's point after was on target and Massillon was up 7‑6 with 4:47 showing on the first quarter clock.
It appeared Massillon was about to blow the game open when it scored the very next time it touched the ball. Matt Martin handed the ball to James Helscel on an end around, but Helscel pulled up and threw a strike down the right sideline to Devin Jordan for a 45‑yard gain to the Bulldog 15. After a holding penalty on Massillon, Martin connected with Jordan at the 10 and the senior wideout carried it into the end zone. Shafer's kick made it 14‑6 Massillon with :20 left in the opening period.
Brinson tuned the momentum back in McKinley's favor after the teams exchanged punts.
On a first down play from the Bulldog 25, the sophomore running back went around right end, somehow eluded a pack of Tiger tacklers at the line of scrimmage, then bolted 75 yards to pay dirt. Shaffer hooked up with Chris Jeter for a two‑point conversion and it was a 14‑14 contest at 11:34 of the second quarter. That's the way it stayed until the waning moments of the first half.
Beginning on their own 47, the Tigers got in position for a field goal when Martin found Relford wide open along the left sideline for a 47‑yard gain. Three plays later, Shafer was true on a 21‑yard field goal to set the stage for the second half, and the Tigers drive to their fourth straight playoff berth.
Massillon 34
McKinley 17
M MC
First downs rushing 13 4
First downs passing 4 3
First downs by penalty 0 1
TOTAL first downs 17 8
Net yards rushing 248 150
Net yards passing 130 59
TOTAL yards 378 209
Passes attempted 13 26
Passes completed 5 14
Passes intercepted 0 2
Punts 7 6
Punting average 32.1 27.2
Fumbles/Lost 1/0 0/0
Penalties 9 2
Yards penalized 72 21
Massillon 14 03 07 10 34
McKinley 06 08 00 03 17
SCORING
MCK ‑ Grimsley 10 blocked punt return (kick failed)
M ‑ Johnson 40 run (Shafer kick)
M ‑ Martin 34 pass to Jordan (Shafer kick)
MCK ‑ Brinson 75 run (Shaffer to Jeter)
M ‑ Shafer 21 field goal
M ‑ Johnson 9 run (Shafer kick)
MCK ‑ Campbell 31 field goal
M ‑ Shafer 30 field goal
M ‑ Johnson 7 run (Shafer kick)
INDIVIDUAL STATISTICS
Massillon rushing: Johnson 31‑188, Woods 9‑37.
McKinley rushing: Brinson 17‑152.
Massillon passing: Martin 4‑12‑86 1 TD.
McKinley passing: Shaffer 5‑21‑59 4 INT.
Massillon receiving: Jordan 2‑78, Relford 1‑48, Johnson 1‑5.
McKinley receiving: Gillespie 2‑44.