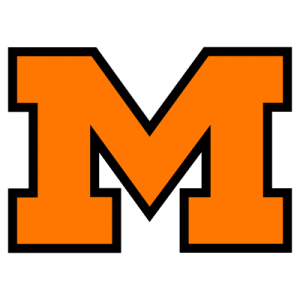 Perry grounds out win over Massillon
Panthers run it for 324 yards
By JOE SHAHEEN
Independent Sport Editor
Maybe that old computer knows something after all.
The Perry Panthers, No. 1 ranked Region 2 team in the latest computer ratings, handed No. 2 ranked Massillon a convincing 31‑17 defeat in front of an estimated 18,000 fans at Fawcett in Canton, Saturday night.
"Their line did an outstanding job," said Massillon head coach Rick Shepas. "They came off the ball very well."
The Panthers, generally considered an underdog in what was the third meeting between the two neighboring schools in the last 12 months, handed the Tigers their second consecutive defeat by running the football successfully all night long. Perry rushed for 155 yards in the first half in building a 10‑3 lead, then generated another 169 yards on the ground in the second half to salt the game away.
Massillon, meanwhile, ran for just 90 yards on the night and completed less than 50 percent of its passes for the second straight week in totaling 222 yards through the air.
The Tigers were within a touchdown and extra point of Perry with over five mintues to play, after Justin Zwick drilled Marquis Williams between the numbers with a 13‑yard touchdown pass in the emd zone to make it a 24‑17 game.
When the Panthers had to begin the ensuing possession inside their own 15 yard line, seemed Massillon may have momentum with an opportunity to pin Perry deep and get a shot at tying the game and forcing overtime.
But Perry would not be denied. On third-and-11 from the 12, Panther senior quarterback Matt Miller hit tight end Matt Beebe in the right flat and Beebe did the rest picking his way for 19 yards and a first down at the 29‑yard line.
Seven plays later, Eric Heinzer bulled into the end zone from two yards out and Perry had closed out Massillon with a 10‑play, 89‑yard touchdown drive that consumed all but the final 47 seconds of play.
"I was very pleased with the wau our kids maintained their concentration," said head coach Keith Wakefield.
Heinzer played with great gusto all night long, finishing the evening with 195 yards and two touchdowns on 29 carries, an average of 6.7 yards per tote. He never seemed to go down on the first hit and displayed superb speed and quickness to complement his tackle‑breaking ability.
Massillon took the opening kickoff and embarked on an eight‑play 65 yard march that was culminated by David Abdul's 32 yard field goal at 10:58 of the first quarter. Perry James' 19 yard burst off left tackle and a 22 yard Zwick to Jeremiah Drobney hookup keyed the drive.
Perry came right back and drove the ball 75 yards in 10 plays on its first possession of the contest. Doug Hutchinson's 12‑yard pickup on an option pitch around left end and Heinzer's 13‑yard sweep around right end set up Kevin Woodard's 12‑yard touchdown buck over right guard and tackle at 6:45 of the first quarter.
Joe Shimek's point-after kick made it 7‑3 Perry.
Beebe set up Perry's second score of the game when he blocked a Tiger punt which ended up traveling just 10 yards.
The Panthers took over at the Massillon 29, penetrating to the 13 before Shimek was called on to boot a 20‑yard field goal that made it 10‑3 Perry at 4:02 of the second quarter.
Jamal Ballard's 32‑yard kickoff return set Massillon up with first and ten near midfield and the Tigers mover the ball inside the Perry 20 before Anthony Ranalli quelled the incursion with an interception in the end zone with 1:50 until the band show.
The Tiger defense forced Perry into a three‑and‑out on the Panthers first possession of the second half and the Massillon offense responded after taking over on its own 22 following the punt.
A Zwick to Montale Watkins pass netted 12‑yards and Zwick then found Jesse Robinson for 23 more to the Massillon 47. Six plays later, Robinson beat the Perry defense deep and Zwick dropped the ball his arms in the left corner of the end zone for a 35-yard touchdown pass.
Abdul's PAT tied the game at 10‑10 with 6:42 to play in the third.
Again, Perry asserted itself at an opportune time, marching 76‑yards in seven plays to regain the lead. On a bootleg right end, Miller connected with a wide open Beebe at the 5 and the senior carried into the end zone for a 38 yard touchdown.
Shimek_was_true with the conversion kick and Perry was again on top at 17-10 with 3:21 left in the third.
Robinson returned the ensuing Perry kickoff 71 yards to the Panther 17 yard line but Massillon could not score. A Zwick to Watkins pass was caught in the end zone but Watkins was unable to stay in bounds and the pass was ruled incomplete.
A subsequent field goal attempt from 39 yards was wide right and an opportunity had passed the Tigers by.
"We had a shot at getting points," said Shepas. "We came up empty. Any time you have an opportunity to get points and don't, it becomes significant."
Perry took advantage of a short field for its next score, moving 47 yards in seven plays with Heinzer covering the final 12 for the touchdown at 7:21 of the fourth. Shimek's kick made it 24‑10 Perry.
Massillon would score again but the Panthers closed the game out in style to remain undefeated and prove the computer right.
"Massillon's a good team," Heinzer said. "We knew we had to run the ball against them and we did. Our offensive line did a great job."
PERRY 31
MASSILLON 17
M P
First downs rushing 4 17
First downs passing 12 4
First downs by penalty 1 1
TOTAL first downs 17 22
Net yards rushing 90 324
Net yards passing 222 120
TOTAL yards 312 444
Passes attempted 38 8
Passes completed 19 5
Passes intercepted 2 0
Punts 5 5
Punting average 26.2 35.5
Fumbles/Lost 0/0 0/0
Penalties 11 9
Yards penalized 74 89
MASSILLON 3 0 7 7 17
PERRY 7 3 7 14 31
SCORING
M ‑ David Abdul 32‑yard FG
P – Kevin Woodard 12-yard run (Joe Shimek kick)
P – Shimek 30-yard FG
M – Jesse Robinson 35-pass from Justin Zwlck (Abdul kick)
P – Eric Heinzer 12-yard run (Shimek kick)
M – Marquis Williams 13-yard pass from Zwick (Abdul kick)
P – Heinzer 2-yard run (Shimek kick)
INDIVIDUAL STATISTICS
Massillon rushing: Perry James 14-81, Jesse Robinson 2-6.
Perry rushing: Heinzer 29-195 2TD's, Woodard 12-49 TD, Doug Hutchison 9-46, Miller 9-34.
Massillon passing: Zwick 19-38-222 2TDs, 2INTs.
Perry passing: Miller 5-8-120 TD.
Massillon receiving: Robinson 7-89 TD, Watkins 5-53, Jeremiah Drobney 4-52, Williams 2-19 TD, James 1-9.
Perry receiving: Beebe 3-86 TD, Heinzer 1-19, Anthony Ranalli 1-15.