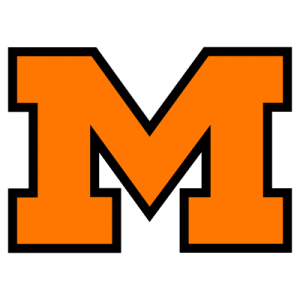 Massillon cruises with
Marshall at controls
F
By JOE SHAHEEN
Independent Sports Editor
Maybe it doesn't matter who's under center. The Massillon Tigers, without the services of starting quarterback Dave Irwin for the first half, hardly missed a beat in handing the Lakewood St. Edward Eagles a 31-14 defeat in front of 8,351 fans at Paul Brown Tiger Stadium, Friday night.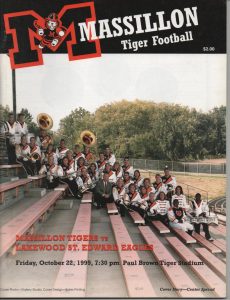 Brett Marshall filled in for Irwin – who suffered a gashed right index finger in metal shop on Monday – and threw for three touchdowns as Massillon remained undefeated at 9-0.
Irwin even got into the act, starting the second half with a glove on his injured hand. The senior tri-captain still completed seven of 12 aerials for 113 yards and one touchdown. That scoring pass, his 17th this year, set a new Massillon single-season TD mark.
But this night belonged to Marshall, who could barely contain himself afterward. "I couldn't feel better right now," Marshall said. "I expected to go out and do a good job but nothing like this. This is great." Right from the start, Massillon's Air Raid Attack of­fense seemed to be in synch despite the change in the triggerman.
Massillon's first possession began at its 49 after a St. Edward punt and Jessie Scott got things rolling with a 35 yard gain off right guard and tackle that moved the ball to the Eagles' 12. On second and 12 from the 14, Marshall dropped back and lofted a perfectly throw pass over Jon Stanke's right shoulder and into his waiting arms in the end zone for a quick six.
"We had a play action fake and I told the linemen, `You get the job done and I'll get the job done,"' Marshall said. "They gave me time and I laid it out there. At first I thought I overthrew it. Then I saw his arms outstretched and touchdown. From there on I had all the confidence in the world."
The referee had barely raised his arms to signal a touchdown before Marshall was changing into his kicking shoe. The senior drilled the point after kick and Massillon led 7-0 at 6:43 of the first quarter.
Tigers junior safety Jared Frank, filling in for the injured Jason Jarvis, Stripped the football away from a St. Ed receiver on the Eagles next possession and Ty McElroy recovered for Massillon near midfield.
However, the Tigers were unable to move the ball as the teams went on to exchange three punts.
St. Ed's quarterback Joe Marcoguiseppe hooked up with Michael Bowman on a post pattern that went for 47 yards to set the Eagles up with a first and-10 at the Tiger 12-yard line. Two snaps later, Alphonso Hodge took a handoff, faked to the outside and cut up the middle for an 11-yard touchdown jaunt. Chris Bonezzi was true with the extra point kick and the game was tied 7-7 at 1:27 of the first.
The score remained deadlocked until late in the first half when Tiger linebacker Steve Eyerman took Hodge down for a loss of three and defensive tackle Ellery Moore forced Marcoguiseppe to throw away a fourth down pass to give Massillon the ball at its own, 34.
An illegal procedure call set the Tigers back five yards and then the fireworks began. On first-and-15, Marshall dropped to pass and began to scramble left as the Eagles pass rush began to penetrate. The Tiger QB then changed direction, heading toward the right sideline before releasing a short pass to Scott.
The lightning quick senior worked his way along the right sideline to midfield, then cut back into the open at the 40 and left the St. Ed's defenders in his wake for a 71-yard touchdown pass and run. Marshall's kick made it 14-7 Tigers at 2:24 of the first half.
After Massillon's defense forced a quick punt', Marshall connected on consecutive aerials to Dave Bumgarner and Anthony Battle to move the ball 33 yards to the visitor's 25. Then he scrambled for 12 more yards before the drive stalled at the Eagles 12. From there, Marshall calmly switched shoes and was perfect on a 29-yard field goal to make it 17-7 at the break.
Irwin took just about everyone by surprise by starting the second half. But it wasn't until the Tigers fifth possession of the half, early in the fourth quarter, that they put up their third touchdown of the night.
The score was set up by Matt Shem's interception and return to the St. Ed's four-yard line. Two penalties and a sack set up second-and-goal from the 30 but Irwin never wavered. He dropped back to pass and found Jessie Robinson striding toward the end zone.
The pass was under thrown and Robinson stopped dead in his tracks as the defensive back blew past him at the 2. The Tiger wideout calmly caught the football and walked into the endzone for the touchdown at 10:05 of the fourth quarter to make it a 24-7 contest.
"It really doesn't matter who the quarterback is," Irwin said modestly. "The offense runs the same way. As long as the line blocks and the receivers run their routes, we'll be fine."
Massillon put up one last score after St. Edward made it 24-14 on Alphonso Hodge's one-yard TD plunge at 6:38 of the fourth.
After the Eagles' onside kick was recovered by Massillon, the Tigers went to work at their own 38-yard line. Two running plays netted two yards to set up third-and-eight from the 40. Marshall dropped to pass and pitched it to Dave Bumgarner along the left sideline. The senior fullback did the rest, breaking two tackles and racing the rest of the way to pay dirt. Marshall's PAT made it 31-14 with just over five minutes to play.
"That felt good," Marshall said. "I had a little break. The coaches came up and told me Irwin wanted to get some snaps in to get confident for McKinley. I'd feel the same way. "I went back out there and finished the job. Coach DiLoretto told me to put one more on the board and we put one more on the board."
"We're really glad to get that win with Brett in there at quarterback," said Rick Shepas. "He really did a nice job. "We were fortunate to get Dave Irwin some snaps and Seth Stefanko got some snaps too. This is a game before we get ready for next week that you want to get healthy and get out of there."
Next week, of course, is the 106th meeting between the Tigers and the McKinley Bulldogs. Game time at Fawcett Stadium one week from today is 2 p.m.
MASSILLON 31
ST. EDWARD 14
M S
First downs rushing 7 9
First downs passing 8 7
First downs by penalty 0 2
TOTAL first downs 15 18
Net yards rushing 125 114
Net yards passing 300 134
TOTAL yards 425 248
Passes attempted 26 35
Passes completed 16 9
Passes intercepted 0 1
Punts 6 7
Punting average 29.7 33.3
Fumbles/Lost 4/2 4/2
Penalties 8 6
Yards penalized 65 40
MASSILLON 07 10 00 14 31
ST. EDWARD 07 00 00 07 14
SCORING
M – Stanke 14 pass from Marshall (Marshall kick)
S – Hodge 11 run (Pierce kick)
M – Scott 71 pass from Marshall (Marshall kick)
M – Marshall 29 field goal
M – Robinson 30 pass from Irwin (Marshall kick)
S – Hodge 1 run (Pierce kick)
M – Bumgarner 60 pass from Marshall (Marshall kick)
INDIVIDUAL STATISTICS
Massillon rushing: Scott 12-85, James 6-13, Smith 2-34, King 2-16.
St. Ed rushing: Hodge 25-100.
Massillon passing: Marshall 8-13-183 3 TDs, Irwin 7-12-58 1 TD
St. Ed passing: Marcoguiseppe 9-34-­134 1 INT.
Massillon receiving: Battle 5-75, Bumgarner 3-76, Scott 2-73.
St. Ed receiving: Hodge 3-41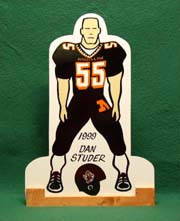 Dan Studer