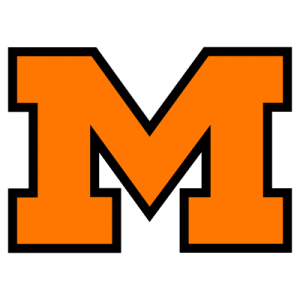 Perry has 'Rocky' time against Tigers
Dorsey's two TD receptions are key
By JOE SHAHEEN
Independent Sports Editor
The Massillon Tigers and Perry Panthers battled it out Friday night and they did it the right way, without the involvement of lawyers, judges or athletic association commissioners.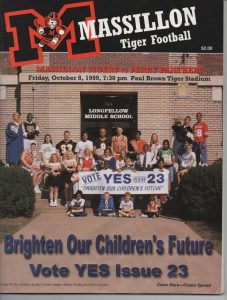 Massillon and Perry, embroiled in a months­ long recruiting controversy that remains in litigation, waged a spirited and well-played football game in front of 14,185 at Paul Brown Tiger Stadium. When the final whistle sounded the Tigers were still undefeated, securing a 35-14 victory over their neighbors to the east.
While the game was crisp and clean on the field, there were post-game developments that underscored the lingering hard feelings be­tween the two programs.
Tigers coach Rick Shepas was not happy that his counterpart, Perry mentor Keith – ­Wakefield, avoided him as the teams shook hands. "Coach Wakefield is an outstanding coach," Shepas said afterward. "I developed a respect for him when I was a player back in Youngstown and he was (coaching) at Austintown Fitch. "I'm very disappointed he wouldn't shake my hand after the game."
While Wakefield declined comment after the contest, he was overheard chastising Perry athletic director Frank Gamble for signing the two-year contract to play Massillon on the gridiron. Gamble, a former assistant for Wakefield, responded angrily as the two retreated into the visitors' locker room.
On the field, Tigers senior Rocky Dorsey snared touchdown passes of 22 and 43-yards from quarterback Dave Irwin as Massillon pulled away from a 7-7 halftime tie to win go­ing away. It is Massillon's seventh victory in as many starts.
Dorsey's first scoring reception capped a six-play, 59-yard drive. The two-year starter was well covered but out-fought a Perry defender to secure the football in the end zone in what appeared to be a jump-ball situation.
"We talked about making plays for the football," said Shepas. "Dave is going to make some great passes but he's not going to make a per­fect pass on every down. So our receivers have to go up and make a play on the foot­ball every now and then and we have guys – like Rocky Dorsey – who can do that."
Irwin also had praise for his receiver's spectacular catch. "Rocky made a great play on that pass," Irwin recalled. "The ball was kind of slippery and I underthrew him. All of our receivers are aggressive. They'll go up and get the foot ball."
Dorsey's first TD made it 21-7 Massillon with three minutes left in the third quarter. But Perry battled back behind the hard­nosed running of junior fullback Jordan Henning, who rushed for 102 yards in 19 carries on the night.
Henning keyed a 14-play, 74-yard drive with four carries that garnered Perry first downs. Junior quarterback Matt Miller put the score on the board, after faking to Henning and going around right end from a yard out.Joe Shimek's kick cut the Tigers' advantage to 21-14 with 8:36 still to play.
Massillon, however, put the game away in short order. The Tigers got the football near midfield after a facemask call on Perry on the kickoff return. Three plays later, an Irwin pass hit Dorsey in stride down the left sideline for a 43-yard touchdown aerial. Brett Marshall's kick made it 28-14 and while there was over seven minutes still to play, the Pan­thers were unable to respond.
Shepas indicated there was no panic in the Tiger locker room, despite the 7-7 half­time deadlock. "We didn't make many ad­justments because we didn't have that many touches of the ball in the first half," he explained. "So we took a calm, cerebral approach in the locker room at halftime. We let the kids tell us what we should do. We went out and did that. "But give Perry credit. They really did move the football on us. They pos­sessed it on us. They have tough kids."
Massillon came out of the halftime break and pieced to­gether an 11-play, 55-yard march that took just 3:57 off the clock. A 13-yard Irwin to Jeremiah Drobney completion erased a third-and-10 situa­tion and set the Tigers up with first-and-goal at the Per­ry 5. From there Jesse Scott took a handoff and skirted right end for the touchdown, that put the orange-and-black ahead for good.
Irwin then connected with Dave Bumgarner for the two ­point conversion and it was Massillon 15, Perry 7 with eight minutes remaining in the third.
The first half was contest­ed on even terms. Perry took the opening kickoff and moved from its 29 to its 48-yard line on six consecutive running plays but was forced to punt. Massillon opened things up from the get-go as quarter­back Dave Irwin found se­nior wide-out Joe Price along the left sideline for 19 yards on first down.
Scott, who's transfer from Perry to Massillon sparked the recruiting charges, against the Tiger football program, picked up nine yards over left guard and tackle on the next snap to move the ball across mid­field. Irwin hooked up with Price for nine yards to the Perry 32 and the duo repeated their act as the Tigers moved to the 13.
Then Irwin found tight end Anthony Battle with a quick pass to the 5 and the senior fought his way to the 1. On first and goal from there, Scott dove over his left tackle and into the end zone. Marshall's conversion kick made it 7-0 Massillon at 4:13 of the first quarter. The ten-play, 74-yard march only took 2:13 off the clock.
Perry went three-and-out on its next possession. Massillon managed one first down after receiving the panthers punt but its drive quickly stalled and the Tiger punt rolled into the end zone for a touchback.
On the Panthers' ensuing possession, Henning gained 12 yards on two carries for a first down. Two plays later, Miller found Brian Janson open for 15 yards to midfield. A pass interference call and an encroachment penalty against the Tigers moved the ball to the Massillon 30. Three snaps later, Henning went over his left guard for nine yards and the Panthers had a first-and-goal at the Massillon 9.
A holding call against Per­ry appeared to have stalled the visitors' drive. But on third and goal from the 22, Miller threaded the needle with a pass to Joe Bailey at the 5-yard line. Wakefield called timeout and decided to go for six. Miller dropped back, got solid protection from his line, and found senior tight end Joe Croston open in the left corner of the end zone for the touchdown. Shimek booted the extra point to cap off the 13-play, 80-yard march and knot the score at 7-7 with 6:43 left in the first half.
MASSILLON 35
PERRY 14
M P
First downs rushing 6 11
First downs passing 13 3
First downs by penalty 1 1
TOTAL first downs 20 15
Net yards rushing 94 180
Net yards passing 279 62
TOTAL yards 373 242
Passes attempted 25 13
Passes completed 18 6
Passes intercepted 2 1
Punts 2 5
Punting average 30.5 22.6
Fumbles/Lost 0/0 0/0
Penalties 6 6
Yards penalized 59 61
MASSILLON 07 00 14 14 35
PERRY 00 07 00 00 14
SCORING
M – Jesse Scott 1 yard run (Brent Marshall kick)
P – Joe Croston 6 yard pass from Matt Miller (Joe Shimek)
M – Scott 6 yard run (Dave Bumgarner pass from Dave Irwin)
M – Rocky Dorsey 22 yard pass from Irwin (Kick failed)
P – Jordan Henning 1 yard run (Joe Bailey kick)
M – Dorsey 43 yard pass from Irwin (Marshall kick)
M – Joe Price 9 yard pass from Irwin (Marshall kick)
INDIVIDUAL STATISTICS
Massillon rushing: Scott 11-55, Perry James 10-48.
Perry rushing: Henning 19-102, Doug Hutchison 8-39, Miller 11-17.
Massillon passing: Irwin 18-25-273 3 TDs, 2 INTs.
Perry passing: Miller 5-8-63 1 TD, Shimek 1-5-20 1 INT.
Massillon receiving: Dorsey 3-101, Price 6-68, Anthony Battle 3-38.
Perry receiving: Bailey 2-29, Brian Janson 2-12, Hutchison 1-15.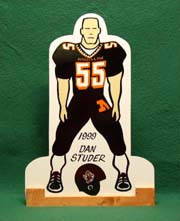 Dan Studer