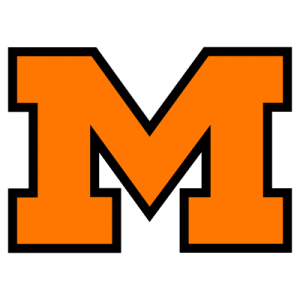 Tigers are too legit to quit
By TODD PORTER
Repository sports writer
MASSILLON ‑ The Game lived up to its hype.
So did the Massillon Tigers.
When it was gut‑check time, the Tigers laid it on the line against Cincinnati Moeller Saturday night in The Repos­itory Game of the Week.
The unlikeliest of heros ‑ a second‑string fullback ‑ led the top‑ranked Tigers to a 20‑15 win over perennial pain‑in‑the‑neck Moeller.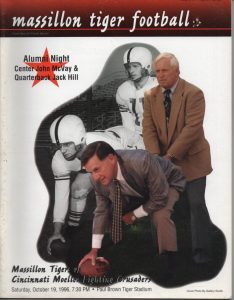 Junior fullback Dave Hodg­son broke a 74‑yard trap play that hit Moeller like a sledge­hammer as the Tigers defeated the Crusaders for the second year in a row in front of 13,102.
"I never would have expected (Hodgson) would be the guy that decided this game," Massillon head coach Jack Rose said. "Dave has some speed. It was an unbelievable run."
Beating Moeller finally gave Massillon the "L" it has been searching for: Legitimacy.
"It seems like we haven't got­ten a lot of respect lately," said Rose, whose players noticed they were 6‑3 underdogs in The Repository.
"I think they deserve it," Moeller head coach Steve Klonne said. "Rankings are rankings and they don't mean a thing unless you play like the No. 1 team in the state come the playoffs."
The win against No. 7 Moeller will assure Massillon of keeping its No. 1 ranking by the Assoc­iated Press. Depending how Massillon's opponents did over the weekend, the win should help the Tigers in their quest to break Cleveland St. Ignatius' computer‑point record of 450.45 last year. The Tigers should have close to 300 with two weeks left to play.
The victory all but assures Massillon of a playoff spot, too. It didn't come easy, though.
It was a game of momentum swings and emotional highs and lows.
When it looked like Massillon fans would have to sit through the final two minutes of torture and possibly watch one of those famous Moeller comebacks, the Crusaders ended that night­mare.
Massillon's Eric Lightfoot punted to the Crusaders with less than three minutes to play. However, Moeller's Tony Ham­ilton had already fumbled away one punt in the first half.
He did it again when the gamer mattered most.
"I really feel sorry for the play," Klonne said. "It happen­ed to him twice. We win as a team and we lose as a team. We had a lot of mistakes."
Moeller fumbled the ball five times and lost three of those. The two teams combined for eight fumbles in a constant mist.
Not rain, snow, nor a brick wall could have brought down the 5‑foot‑8, 180‑pound Hodg­son.
Hodgson took the trap hand­off, which had been very suc­cessful against Moeller all night, broke three tackles near line of scrimmage, and out­ran Moeller to the end zone.
"I'm the second‑string full­back," Hodgson said, "there wasn't anything or anyone that was going to stop me once I got going. I really had myself be­lieving I could run through a brick wall."
Massillon didn't do itself any favors as soon as the game started. On the first play from scrimmage, Tigers' tailback Christian Morgan fumbled at the Massillon 14.
Moeller took a 6‑0 lead when Tom Pucke scored from a yard out. The PAT was blocked.
"That's not the kind of start we had in mind," Rose said.
Massillon then put together an 11~play‑drive that stalled at the Moeller 49. After a Massil­lon punt, the Crusaders had the ball in their own 5. Three plays later, Massillon defensive back Josh Kreider picked off a Ryan Cooper pass at the. seven and took it in for the first Massillon score. Josh Hose's PAT gave Massillon a 7‑6 lead.
Massillon took a 13‑9 lead when the Tigers silenced a gambling Moeller defense that sent defensive ends almost every play. Massillon quarter­back Ben Hymes, sprinted to his left, and handed off to tail­back Elijah Blake, who took the sprint draw play 35 yards for the Tigers' TD. That drive took Massillon all of 28 seconds to go 73 yards.
Moeller's Pucke also had field goals of 32 and 45 yards that made the score 13‑12 Mas­sillon at halftime. He nailed a 46 yarder that had plenty of dis­tance in the fourth.
"I have to give our defense a lot of credit," Rose said. "They won this one."
The Massillon defense held Moeller to 240 total yards, 96 in the second half.
"We shot ourselves in the foot a lot," Klonne said. "Massillon deserves credit. They were opportunistic."
at Paul Brown Tiger Stadium
Cincinnati Moeller 6 6 0 3 15
Massillon 7 6 0 7 20
Mo ‑ Price 1 run (kick failed)
Ma ‑ Kreider 10 interception return (Hose kick)
Mo ‑ FG Pucke 32
Ma ‑ Blake 35 run (run failed)
Mo ‑ FG Pucke 45
Ma ‑ Hodgson 74 run (Hose kick)
Mo ‑ FG Pucke 46
Team statistics
Rushing:
Massillon 40‑208,
Moeller 39‑147.
Passing:
Massillon 4‑10‑0,26 yards;
Moeller 8‑20‑1, 93 yards.
First downs:
Massillon 10,
Moeller 14.
Fumbles‑lost:
Massillon 3,1;
Moeller 5‑3.
Records:
Massillon 8‑0;
Cincinnati Moeller 6‑2.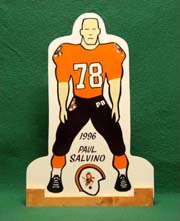 Paul Salvino