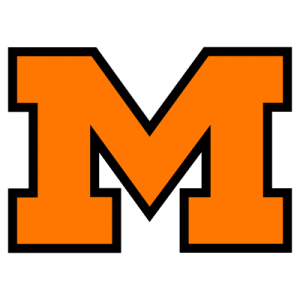 Time stands still as Tigers run by Irish 28-21 in OT
By STEVE DOERSCHUK
Independent Sports Editor
The clock quit. The Massillon Tigers didn't
They'll fix the clock at Paul Brown Tiger Stadium. Or replace it.
The Tigers don't need fixed. Their 28-21 overtime victory over Akron
St. Vincent-St. Mary in front of 10,822 fans at Paul Brown Tiger Stadium left them looking like they'd just had an oil change, tune-up and wax job.
And the fans certainly don't want to replace them. They're taking a shine to this group that now seems to be streaming toward the playoffs, so far with a 5-1 record.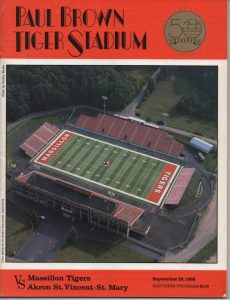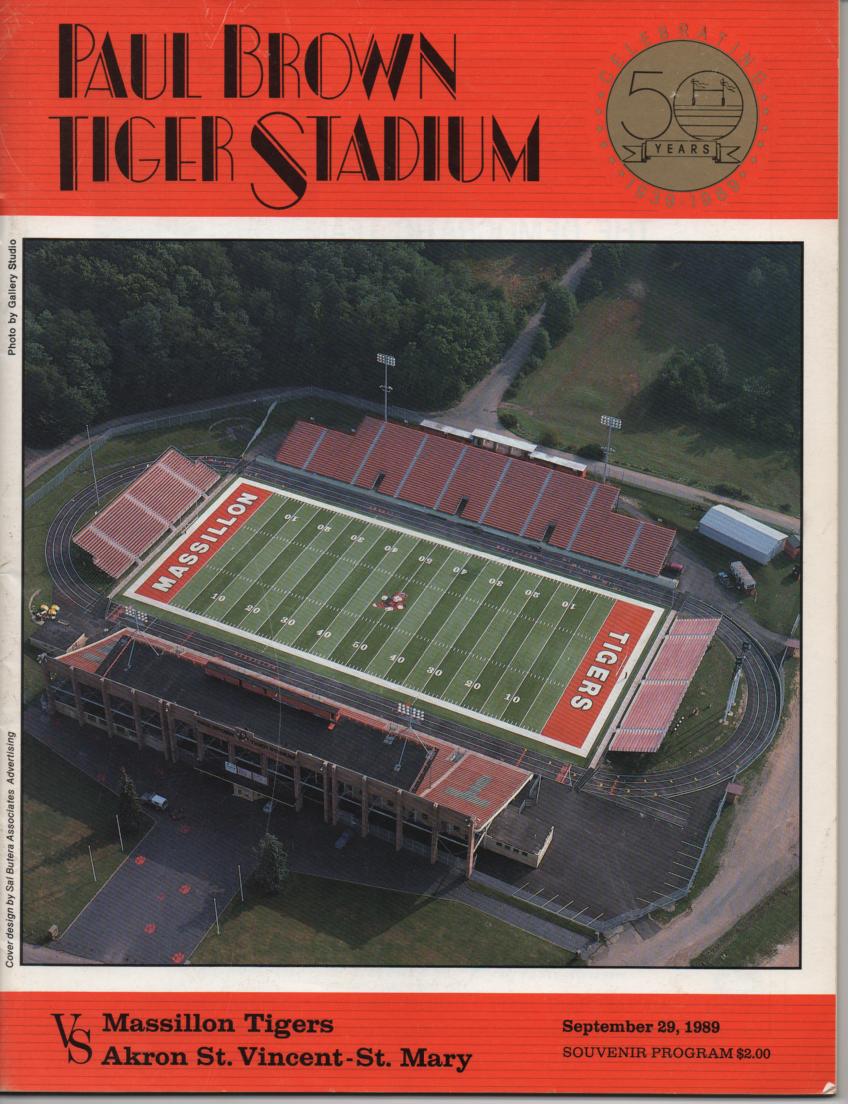 The clock started acting quirkly in the first half, despite a Thursday visit by a repair crew that spent hours tinkering with it.
They didn't even bother to turn it on for the second half, when time was kept on the field.
In the end, they didn't even need stopwatches, because the game went to overtime tied at 21-all.
In overtime, each team gets a turn with the ball 20 yards away from the end zone. The team that scores more points on its possession wins. If neither team outscores the other the first time this is done, they do it again; in fact, high school overtime could go on endlessly in theory, since there are no ties in Ohio high school football.
This brief explanation of overtime is necessary, since the Tigers have played only one other overtime contest, last year's 10-7 victory over McKinley.
In fact, one Tiger player spent the joyous aftermath yelling "McKinley flashbacks" to teammates.
This one went to overtime only after some scary Fitch flashbacks.
Last year, Austintown-Fitch beat the Tigers 20-19 on a game-ending 43-yard field goal. With 30 seconds left in regulation last night, St. Vincent's Jerry Arney, who had kicked several extra points to kingdom come, lined up for a 43-yard field goal try aimed at breaking a 21-all tie.
"I didn't think this kick was going to make it," Massillon coach Lee Owens said. "Their kicker had struggled with extra points coming into this game. For some reason, he was booming the extra points tonight, but this was a lot longer than an extra point."
Tiger fans didn't have to hold their breath for long. Arney's kick never had a chance. It duck-tailed to the left, crashing into the TV-25 banner on the fence behind the end zone.
So it went to overtime.
Massillon senior Desmond Carpenter, who earlier recovered a teammate's fumble in the end zone for a touchdown, said he sensed the right stuff among his teammates.
"I saw a lot of pride out there," he said. "We got down in the second half. We had the lead (21-7) but they caught us. Then it came down to heart and determination."
And maybe some good play-calling.
The Irish won the overtime-coin flip and elected to give Massillon the ball first.
"That way you get to see what the other team does, and you know exactly what you have to do on your possession," said Irish coach John Cistone.
Cistone didn't like what he saw on first down. Massillon quarterback Lee Hurst, who had been effective keeping the ball on bootleg runs through most of the night, made as if he was bootlegging one more time. The ball, meanwhile, had been given to running back Lamonte Dixon, who sprinted left while Hurst disappeared right.
"The bootleg had been working pretty well and they had to pay attention to it," Owens said.
Dixon, who had carried only 10 times to that point, dashed to the 6 for a 14-yard gain. On first-and-goal, Ryan Sparkman churned to the 4.
"That put them in a position where they had to respect the inside run," Owens said.
On second down, while the Irish were respecting just that, Hurst was bootlegging again – 4 yards for a touchdown around left end.
Gary Miller's PAT kick made it 28-21.
The crowd began chanting, "defense!" as loudly as you will hear it at Tiger Stadium. On fourth-and-one from the 11, though, Irish quarterback Phil Lenz penetrated the defense to the 5, and the visitors were back in business.
But not for long. They never penetrated the 5. Lenz lost a half-yard on first down and running back David Vincent was stopped for no gain on second down. On third down, inside linebacker Craig Turkalj shot through a gap to stuff Vincent for a 1½ hard loss.
"For some reason, the Packers-Cowboys championship game from the 1960s popped into my mind," Turkalj said. "that was the ice bowl game. Those two teams just lined up down by the goal line and went at it."
"Our goal-line down linemen (Tom Menches, Mark McGeorge, Scott Sirgo and Brent Bach) made it happen. They knocked everybody out of the way and I had a clean shot to the ball carrier."
McGeorge said it was a matter of "everybody selling out."
"I was just thinking 'root hog.' You crawl through the offensive linemen's legs and create a big pile."
It was fourth-and-goal from the seven. It wasn't over. Cistone called a pass play. Lenz had a man open near the right corner of the end zone.
"They caught us," Turkalj said. "It was a good call."
But the pass fell incomplete. The game was over. The Tigers moved to next week's game against Indianapolis North Central with a 5-1 mark. The Irish went into next week's game against Youngtown Cardinal Mooney with a 3-2 record.
"With the schedule we play," Owens said, 'we're going to be in some tight games. The great teams and the ones that find a way to win at the end of games like this one."
"St. Vincent-St. Mary is a great team, too. It's too bad somebody had to lose."
Cistone certainly agreed with that. He spent a long time after the game muttering to himself and to other coaches that this one shouldn't have gotten away.
But in the end he told his team, "You played a helluva game. That's all I can tell you. I couldn't ask for any more."
Hurst figured in three of the Tigers four touchdowns, passing for one and running for two. The senior signal caller passed for 148 yards, giving him 984 on the season. He is on course to challenge the single-season Massillon passing record of 1,604 yards by Brian Dewitz in 1983 – and Dewitz needed 13 games to reach that figure.
Rameir Martin, who caught the touchdown pass on a 10-yard play in the first quarter, had another big night. The 6-foot-4 senior end caught six passes for 54 yards. He has caught 356 yards worth of aerials this year, putting him within striking distance of Marty Guzzetta's single-season team record of 706 (11 games) set in 1979.
MASSILLON 28
ST. VINCENT 21
STATISTICS
M St. V
First downs rushing 8 8
First downs passing 7 4
First downs by penalty 0 0
Totals first downs 15 12
Yards gained rushing 148 195
Yards lost rushing 18 13
Net yards rushing 130 182
Net yards passing 148 72
Total yards gained 278 254
Passes attempted 28 18
Passes completed 13 8
Passes int. by 2 0
Times kicked off 4 4
Kickoff average 56.3 44.3
Kickoff return yards 36 34
Punts 7 6
Punting average 35.6 41.2
Punt return yards 16 98
Fumbles 2 6
Fumbles lost 1 3
Penalties 2 3
Yards penalized 10 28
Number of plays 63 61
Time of possession 23:23 24:37
Attendance 10,822
Individual Statistics
Rushing
(M) Dixon 11-39, Hurst 10-31, Sparkman 13-53. Manion 1-7.
(St. V) Carter 6-26, Lenz 10-56, Butash 2-8, Vincent 16-45, Campbell 7-45, Flynn 1-2.
Passing
(M) Hurst 13-28-2 148.
(St. V) Lenz 8-18-0 72.
Receiving
(M) Martin 6-54, Sparkman 4-38, Carpenter 1-11, Harig 1-33, Manion 1-12.
(St. V) Campbell 2-25, Ferrer 2-33, Palko 1-18.
St. Vincent 0 7 7 7 0 21
Massillon 7 6 8 0 7 28
M – Martin 10 pass from Hurst (Miller kick)
St. V – Vincent 1 run (Arney kick)
M – Hurst 14 run (kick failed)
M – Carpenter fumble recovery in end zone (Harig pass from Hurst)
St. V – Campbell 19 pass from Lenz (Arney kick)
St. V – Lenz 8 run (Arney kick)
M – Hurst 4 run (Miller kick)
Tigers' QB
takes game in own hands
By MARK CRAIG
Repository sports writer
MASSILLON – Massillon Washington High School quarterback Lee Hurst couldn't think of a better person to get the ball on second-and-goal from the 4 in overtime of Friday night's game against Akron St. Vincent-St. Mary.
Hurst, who was intercepted by Joseph Adolph at the Irish 13 as the Tigers were driving for the winning touchdown midway through the fourth quarter, said he was the man for the job.
Hurst got his opportunity and carried the ball untouched around left end after faking a handoff to the right. Hurst's TD, which came three plays into the overtime, and Gary Miller's third PAT of the evening gave the Tigers a 28-21 lead.
Massillon's defense turned the lead into the Tigers' fourth victory of the season when it held the Irish on fourth-and-goal at the 7. Massillon is 4-1, while St. Vincent-St. Mary dropped to 3-2.
After gaining 15 yards to the Massillon 5 on three plays in their overtime possession, the Irish were pushed back two yards. On fourth-and-goal, Irish quarterback Phil Lenz' pass to the goal line was overthrown, sending most of the 10,822 fans in Paul Brown Tiger Stadium into a frenzy.
"We had no doubt we'd stop them," said Massillon outside linebacker Joe Pierce. "When it gets down to a situation where we have to hold them in OT, we know we can get the job done."
Hurst certainly got the job done when it counted. After a 14-yard gain by Lamonte Dixon and a two-yard gain by Ryan Sparkman in overtime, Hurst knew it was time for him to win the game.
"That's the play I was hoping for," said Hurst, who rushed for 31 yards and completed 13-of-28 pases for 148 yards, one TD and two interceptions. "It had worked a couple times earlier in the game, and I knew me and the line could make it work again."
Hurst almost didn't have the opportunity to make up for his two interceptions. With 38 seconds left in regulation, St. Vincent-St. Mary place-kicker Jerry Arney had a chance to win the game with a 48-yard field goal.
His kick was long enough, but wide left.
"We played a heckuva game, but it's hard to be satisfied with just that," said St. Vincent-St. Mary head coach John Cistone. "We should have won the game. Arney has the leg to make that field goal."
Massillon head coach Lee Owens was somewhat concerned with the way the Tigers couldn't put the Irish away after going on top 21-7 seven plays into the third quarter. He also is a little concerned with the way the Irish's wishbone backfield effectively ran the counter play on offense while piling up 182 yards rushing.
Owens, however, wasn't worrying about all that Friday night.
"When it came eight down to winning the ball game, the kids came through," Owens said. "Lee showed the type of leader he is, and then the defense held on to give us the win. You can't ask for much more than that."
Massillon opened the scoring after Eddie Williams recovered one of the three fumbles
St. Vincent-St. Mary lost. The Tigers took the ball from the St. Vincent-St. Mary 32 and drove 10 plays in 6:40.
Hurst, who gained six yards rushing on a fourth-and-5 play during the drive, capped the drive with an 11-yard TD pass to Rameir Martin. The pass was one of six passes Martin caught for 54 yards.
Punt returner Don Blake set up Massillon's second score by returning a punt seven yards to the Irish 37 with 5:01 left in the first half. Four plays later, Hurst faked a handoff left and went around right end for a 14-yard TD run. Miller missed the PAT, and Massillon led 13-7.
Hurst also had the key plays in the Tigers' third TD drive. After the second-half kickoff, Hurst led the Tigers down field by completing an eight-yard pass to Martin and a 33-yarder to tight end Doug Harig.
Sparkman, who led the Tigers with 53 yards rushing, carried the ball to the goal line; but was hit and fumbled into the end zone. Desmond Carpenter recovered in the end zone for the Tigers TD.
St. Vincent-St. Mary 0 7 7 7 0 21
Massillon 7 6 8 0 7 28
M – Martin 10 pass from Hurst (Miller kick)
S – Vincent 1 run (Arney kick)
M – Hurst 14 run (Kick failed)
M – Carpenter fumble recovery in end zone
(Harig pass from Hurst)
S – Campbell 19 pass from Lenz (Arney kick)
S – Lenz 8 run (Arney kick)
M – Hurst 4 run (Miller kick)