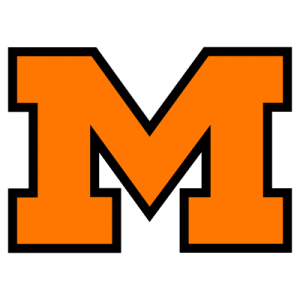 Tigers stun St. Vincent Behind big play attack
By STEVE DUNGJEN
Independent Sports Editor
MASSILLON ‑ There were no smiling Irish eyes in Paul Brown Tiger Stadium Friday night.
Oh, there was The Eye of the Tiger. And it was smiling. Boy, was it ever.
That's because Massillon's football‑playing Tigers applied a 28‑21 shiner to visiting Akron St. Vincent-St. Mary before 10,342 screaming fans.
"The guy upstairs was sitting on our side of the field," Massillon head reach Mike Currence told one of his aides after the game.
St. Vincent entered the game with a 6‑1 record. They were second in their region of the computer poll and fourth in the UPI wire‑service poll.
The Irish left with an empty feeling.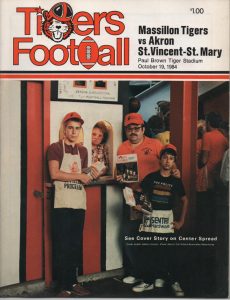 "The two quick touchdowns got us. What can you do?" said a beleaguered St. V head coach John Cistone. "It was just one of those things. You have to give them credit for making those big plays. They're a good football team."
The entire game's complexion changed in a matter of 77 seconds. Actually there was a 15‑minute break between the two lightning-quick Tiger scores that altered the outcome.
Holding a 14‑7 lead late in the first half, the Irish (6‑2) looked as if they were going to knot things, Faced with a first‑and‑goal from the Tiger 6, St. V called on halfback Henry Henderson to get them six points.
And six points did go up on the board, but it went up on the Massillon side. Henderson hit the line, fumbled and linebacker Pete Johnson alertly speared the ball in midair and rambled 95 yards to paydirt.
Instead of tieing the game up at halftime, the Irish went into the lockeroom trailing 21-7.
Stunned as they were, the Irish were hardly ready for what transpired shortly after intermission.
Enter Cornell Jackson.
Jackson, who didn't start the game, took the second handoff of the second half and burst 76 yards to paydirt with just 46 seconds gone in the period. Dan Kozma, putting his best foot forward this season, booted his fourth straight point‑after, and the Tigers owned a surprising 28‑7 advantage.
"For the first time this year, we got some breaks," Currence said. "This is a nice thing to happen for the team. When you lose three games like we have and then you come up and beat one of the best teams in the area, it's a big game for the coaching staff and the players."
Leading by 21 points, the Tigers (5‑3) were given a most definite scare in the second half by the never‑say‑die Irish.
St. V, which won the statistical battle, cut Massillon's lead in half with 43 seconds left in the third period when Henderson punched it in from five yards out. Ted Fundoukos added the PAT.
The Irish defense stiffened and forced the Tigers to punt for its second time. Taking over at its own 35, St. V went 65 yards in 12 plays with Unaitis sneaking over from a yard out with 6:28 showing.
Needless to say, it was anybody' game for the taking at this point.
St. V's Steve Englehardt then intercepted a tipped Mike Scott pass on the first play following the kickoff, giving the Irish the ball at the Tiger 43.
Sensing a fierce comeback, the Irish stormed down to the 12 in five plays for a first down. Fullback Jim Fedrick picked up two yards when Tiger sophomore Lance Hostetler made the biggest play of the game with an 11‑yard sack of Unaitis.
On the next play a Unaitis pass fell incomplete, and on fourth down from the 21 a screen pass netted just five yards. The Tiger Claw had held its own.
But, nearly three minutes still remained. And anything could happen.
Massillon picked up one first down, but eventually had to punt the ball with 1:12 remaining. Tiger punter Scott Byelene, who was shaken up earlier in the period, lofted a kick that went nearly straight up, covering just 13 yards. St. V took over at its own 47.
Two straight Unaitis completions moved the ball to the Tiger 41. On first down the Irish, with no time outs left, went to the air. The pass was completed again, only it went to Massillon's Jeff Smith at the 10. Victory was saved.
"At the first of the year there was no way we could've beaten St. V," Currence said. "It's through dedication and hard work that we are where we are. I was real pleased with the emotion of the team right from the beginning. We won it with emotion."
Massillon opened scoring on its first possession, driving 80 yards in nine plays with Derrick Newman hitting paydirt from four yards out.
Biggest play in the march was a 32‑yard pass from Scott to Wes Siegenthaler on third‑and‑10, catching St. V in a blitz. Irwin Hastings' downfield block allowed Siegenthaler to gain most of his yardage.
The Irish stormed right back and tied the score when Henderson, who finished with 118 yards on 26 carries, tallied from five yards out.
Scott was intercepted in the end zone on Massillon's next possession by Greg Littler. Jackson, the game's leading rusher with 165 yards on 10 carries, was wide open in the end zone, but the ball was under thrown.
Massillon scored the next time it had the ball, marching 62 yards in seven plays with Scott hitting Bruce Spicer from four yards out. A 33‑yard punt return by Siegenthaler helped set things up, and a 25‑yard run by Jackson put the ball at the 3 where the Tigers scored three plays later.
Undaunted by Massillon's 14-7, the Irish were rolling, moving all the way to a first‑and‑goal at the 6 when Johnson made his big‑play touchdown on the fumble return.
"We had to get on the board before they did," Cistone, alluded to Jaskson's long TD run, "If we do it's 21‑14 and we're in the ballgame."
The Irish held a commanding 21‑11 edge in first downs, and an even bigger edge in time of possession, 31:18 to 16:42. St. V also held a slight 332‑265 edge in total yards gained.
Scott finished the night by completing 8‑of‑14 passes for 100 yards. He hit six different receivers with Newman and Spicer both catching two aerials.
Unaitis (his name's spelled different than Hall of Famer Johnny Unitas) threw for 138 yards on 13‑of‑21.
The game was virtually penalty free as only one flag was thrown, that being a five‑yarder on St. V for a delay.
The Tigers, working on a four game winning streak, will now take on Perry (7‑1), 70‑0 winners over Marlington, next Friday night.
MASSILLON 28
ST. VINCENT‑ST. MARY 21
M S
First downs rushing 7 13
First downs passing 4 8
First downs by penalty 0 0
Totals first downs 11 21
Yards gained rushing 192 195
Yards lost rushing 27 11
Net yards rushing 165 184
Net yards passing 100 138
Total yards gained 265 322
Passes attempted 14 21
Passes completed 8 13
Passes int. by 2 1
Times kicked off 5 4
Kickoff average 45.6 53.8
Kickoff return yards 69 92
Punt 3 3
Punting average 28.0 37.3
Punt return yards 41 13
Punts blocked by 0 0
Fumble 0 1
Fumbles lost 0 1
Penalties 0 1
Yards penalized 0 5
Touchdowns rushing 2 3
Touchdowns passing 1 0
Miscellaneous touchdowns 0 0
Number of plays 39 67
Time of possession 16:42 31:18
Attendance 10,342
ST. V‑ST. M 7 0 7 7 21
MASSILLON 7 14 7 0 28
M ‑ Derrick Newman 4 run (Dan Kozma kick)
S ‑ Henry Henderson 5 run (Ted Fundoukas kick)
M ‑ Brian Spicer 4 pass from Mike Scott (Kozma kick)
M ‑ Pete Johnson 95 fumble recovery (Kozma kick)
M ‑ Carroll Jackson 75 run (Kozma kick)
S ‑ Henderson 5 ran (Fundoukas kick)
S ‑ Mark Unaitis 1 ran (Fundoukas kick)
Massillon's long TD plays
Enough to outlast St. V-M
By Roland Queen
Beacon Journal staff writer
For most of this season, Massillon coach Mike Currence has had more reasons to cry than laugh.
It has been an uncharacteristic football season for one of the most successful high school teams in Ohio.
But Currence was sporting his biggest grin of the season Friday night in the Tigers locker room after his team defeated powerful St. Vincent‑St. Mary 28‑21 before a crowd of 10,342 at Paul Brown Tiger Stadium.
For the Tigers (5‑3), it was a night of big plays as the Fighting Irish (6‑2) won the statistical battle but came up short on the scoreboard.
"I'll tell you," Currence said, "to lose three ballgames like we did early in the season then come up with a big win like this over one of the best teams in the area is a great feeling."
The two biggest plays of the game for the Tigers came just before and just after halftime.
With Massillon leading 14-7 late in the second quarter, St. V-M drove 66 yards in seven plays and had a first‑and‑goal on the Massillon 6‑yard line.
On the next play, St. V‑M's outstanding tailback, Henry Henderson, took a handoff from quarterback Mark Unaitas on a counterplay off tackle. But jut as Henderson got to the line of scrimmage, he was hit by Massillon senior linebacker Pat Spicer. The ball popped straight up, and Tiger linebacker Pete Johnson caught it in the air and raced 95 yards for the touchdown just 31 seconds before halftime.
Instead of a 14‑14 tie at the half, the Tigers were in command 21-7 after Dan Kosma's second of four extra‑point kicks.
Johnson said be was only thinking of one thing after the big fumble nestled in his arms and an open field loomed ahead of him.
"All I was thinking was touchdown," said Johnson, a senior. "I could smell the goal line. I had intercepted a pass earlier this year like that and I got caught on the 7‑yard line. This time, I wanted it. I wasn't about to let that happen again."
After the Tigers received the second‑half kickoff, it took two plays before senior halfback Cornell Jackson (10 carries, 165 yards) broke through a big hole off tackle and raced 76 yards down the sideline for the eventual game‑winning touchdown with 11:14 left in the period.
"It was a big‑play game," Currence said. "Both teams moved the ball well in the middle of the field. But when you come right down to it, the big plays won the game for us."
Holding a 21‑point lead, Currence admitted the Tigers became "too conservative."
The Fighting Irish then put together a furious comeback that fell just short of being successful.
Behind the passing of Unaitis and the running of Henderson, St. V‑M drove 56 yards in nine plays late in the third period. Key plays in the drive were 13‑yard passes from Unaitis to tight end Steve Englehart and split end Bill Clevenger. Henderson ran the final 5 yards and the conversion by Ted Fundoukos (his second of three) made the score 28‑14 with 43 seconds left in the period.
Everyone in the stadium knew the momentum had shifted to the Irish. The Tigers were forced to punt on their possession following Henderson's touchdown and St. V‑M had the ball on its 35.
The Irish drove the 65 yards in 12 plays with Unaitis going over from the 1. And St. V‑M had 6:28 left to finish its comeback.
On the first play from scrimmage following the Unaitis' touchdown, Currence said he decided to forget being conservative and Tiger quarterback Mike Scott dropped to pass.
But Scott's pass bounced off the hands of split end Wes Siegenthaler and was intercepted by Englehart who returned it 13 yards to the Massillon 43.
As the Tiger fans held their breath, St. V‑M drove to a first‑and‑10 on the Massillon 11 behind runs of 9 and 15 yards by Henderson, who finished the night with 118 yards on 26 carries.
But instead of staying with his premier runner, St. V‑M coach John Cistone said he tried to catch the Tigers off guard with a first‑down pass. Unaitis was sacked for a 10‑yard less. It was the key play of the drive as Massillon held on downs and took possession on its 20 with 2:54 to play.
St. V‑M got the ball back with less than a minute left at the Massillon 47, but Unaitis first‑down down pass from the 41 was intercepted by Jeff Smith with 30 seconds to play.