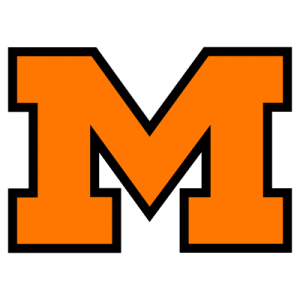 Magics' Johnson, Breitenstein star
Mistakes hurt Tigers in 26‑24 defeat
By ROLLIE DREUSSI
Independent Sports Editor
"God bless Melvin Johnson," said a Barberton football player in the jubilant Magic lockerroom after their 26‑24 win over the Massillon Tigers Saturday night in the Akron Rubber Bowl.
Johnson had just erased a 24‑20 Massillon lead by returning a kickoff 75 yards for his third touchdown of the game with 2:48 remaining, sending the Tigers down to defeat for the second time in six games before approximately 15,000 fans. Barberton is now 5‑1.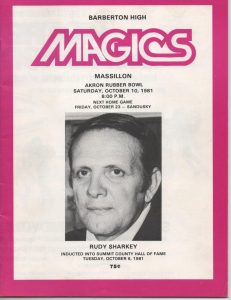 But Johnson wasn't the only Barberton player who seemed blessed Saturday night. Quarterback Bryan Breitenstein hit 14 of 18 passes for 295 yards and three scores ‑ two to Johnson and one to Randy Usko.
Despite Barberton's inspired play, the Tigers were their own worst enemy. Their numerous mistakes kept them from putting the game away early, and even aided Johnson on his kickoff return that won the game.
Twice the Tigers moved inside the Barberton five and failed to score, missing a field goal one time and losing the ball on downs the other time.
And a penalty on the Massillon bench for charging onto the field after Gary Conley caught a 56‑yard touchdown pass from quarterback Rick Spielman to put the Tigers ahead 24‑20 hurt plenty. It forced Tim Manion to kick off from his own 25, and that's the kickoff Johnson turned into the game‑winner.
All in all, it was a wild and exciting game, with three touchdowns being scored within a 49‑second span late in the game. It was a game that left Barberton coach Rudy Sharkey ecstatic and Tiger coach Mike Currence numb and pale.
"It's a fantastic win, a great effort," Sharkey said. "It was a great ball game, I suppose the fans went nuts with that ball game."
"I don't know what to tell you guys," Currence said to the reporters after the game. "We just got beat. That's all I can comment on. I have no other comments I can make on this team.
"I thought if we had the ball with two minutes to go we could score again. But we put it in the air and it got picked off," he said.
That was following Johnson's TD when Barberton's kickoff went out of bounds and the Tigers got the ball at their own 40 with 2:46 to play.
Spielman went back to pass, scrambled to the left and threw long down field where Scott Murphy intercepted the ball at the 21 yard line. Murphy is the player Conley had beaten on his game‑tying TD play.
"It was a hard game to lose, we had it won three or four times," Currence said. "We could have won the game, let's just leave it at that."
When told by a reporter that it was an exciting game, Currence said: "We're always a good show, unfortunately we didn't win tonight. I hope I never see this place again until the playoffs," he added.
With a 4‑2 record, the Tigers' playoff hopes are almost nil. And with undefeated Akron St. Vincent coming to Paul Brown Tiger Stadium Saturday, the Tigers stand a chance of losing two straight games for the first time since Currence's first two games as Tiger coach in 1976.
It didn't start out looking like the Tigers would lose this game, as they took the opening kickoff and marched 78 yards in 17 plays ‑ all running plays ‑ and scored on a three‑yard run by fullback Greg Grimsley with 7:56 gone in the quarter. Manion's extra point kick was wide right.
But the Magics struck back on the accurate arm of Breitenstein who kept finding wide open receivers all over the Rubber Bowl's artificial surface.
The Magics traveled 62 yards in five plays with Breitenstein hitting Johnson with a 23‑yard scoring strike. Jeff Sharkey's kick was wide left and it was 6‑6 with 1:48 to play in the quarter.
A key play in that drive was a 16‑yard pass from Breitenstein to Josh Ferguson. The Magic tailback had leaped high into the air to catch the pass and was hit hard by a Tiger defender from behind almost as soon as he caught the ball. He seemed to lose control of the ball on the way down, but the officials ruled it neither an incomplete pass or a fumble (a Massillon player recovered the ball). They called it a completion, and two plays later Barberton scored.
Massillon got a break when Johnson fumbled a Manion punt at his own 14 early in the second period. The Tigers drove to the Magic three yard when Spielman bootlegged for a first down on a fourth‑and‑two play.
But he was stopped for no gain on a keeper on the next play, and a high pitch to halfback George Roknich resulted in a fumble and an eight‑yard loss. The Tigers ended up trying for a 33‑yard field goal, but Greg Radtka's kick was wide left with 7:28 on the clock.
Barberton then drove 80 yards in 12 plays with Breitenstein hitting Randy Usko with a two‑yard TD toss at 1:52, Johnson swept left end for two points and a 14‑6 Magic lead.
That drive was aided early on when Massillon's Sam Clark was called for a personal foul on a dead ball penalty. It gave Barberton 15 yards following a 13‑yard pass completion game. Clark was ejected from the game.
Massillon put together a drive of its own before halftime, as Spielman came out throwing and found halfback Larry Newman for 18 yards and 19 yards. The Tigers had the ball first‑and‑10 at the Barberton 34 with one minute left.
A long pass down the middle to a wide‑open Bob Catlin was slightly underthrown. Catlin slid to make the catch but the ball bounced off his chest, incomplete at the three-yard line.
The Tigers finally settled for a 29‑yard field goal by Manion with 11 seconds on the clock, cutting Barberton's lead to 14‑9.
Murphy got off a 19‑yard punt the first time the Magics got the ball in the second half, and the Tigers took over at Barberton's 48.
This time the Tigers struck like lightning, as Roknich followed some great blocking around right end and hotfooted it all the way for the TD with 9:30 to play in the third quarter. Spielman bootlegged left for the conversion and a 17-14 Tiger lead.
Another Magic punt gave the Tigers the ball at the Barberton 45 and they drove to a first down at the Magic four with 4: 10 to play in the quarter.
Grimsley gained three yards to inside the one and it looked like the Tigers might be ready to apply the KO punch.
But Grimsley was stopped for no gain and Spielman got nothing on a third‑down carry. On fourth down, Spielman started moving before he got the snap, and his one‑yard sneak for a TD was negated by a five‑yard penalty.
On fourth‑and‑goal from the six, Newman was stopped after a two‑yard gain.
Following an exchange of punts, Johnson hauled in a 24 yard scoring pass from Breitenstein with 3:37 to play in the game. Sharkey's PAT kick was short and Barberton led 20‑14.
Newman returned the kickoff 31 yards to his own 44 and Spielman hit Conley with a 56‑yard touchdown pass on the next play with 3:00 remaining. That's when the Massillon players illegally ran onto the field. After Jim Bushe booted the conversion, the Tigers had to kick off from their own 25.
That's when Johnson did his thing.
Following Spielman's interception, the Tigers looked as though they would get the ball back one last time, albeit with 18 seconds remaining and no timeouts left.
In an effort to block the Barberton punt, the Tigers sent in all their fastest players. However, they sent in one player too many, and Newman's return to the Tiger 40 was negated by a penalty that gave Barberton the ball back and a first down and insured their second upset of the Tigers in four years. They defeated Massillon 9‑7 in the season opener in 1977 in the Rubber Bowl.