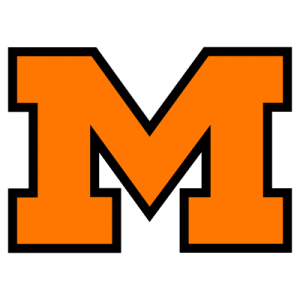 Interceptions help Massillon roll 37‑14
Tigers' defense keys win over Magics!
By ROLLIE DREUSSI
Independent Sports Editor
Massillon Tigers did a little tinkering with their defense Friday night, and it paid off with a 37‑14 win over Barberton in Paul Brown Tiger Stadium.
Switching to what Tiger coach Mike Currence called a "4-stack" or "over-shifted 5" defense. Massillon didn't allow Barberton a first down through first half, then came up with the big play at the right time in the second half to thwart a Magic rally.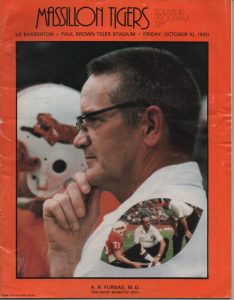 "Massillon made some major adjustments defensively that helped them." Magic coach Rudy Sharkey said, "They were in a "4‑4" most of the time, and we weren't really prepared for that."
Whatever kind of defense it was, Sharkey said his team made it look good because of numerous offensive mistakes.
"We continue to give away the ball every time we're on the football field Sharkey said, "Of course, you have to give credit to Massillon, they're tough. But I've never seen a team that gives so many games away." he explained.
"In the first half, we had receivers open all over the field, but they either missed the ball or the quarterback Brian Breitenstein) overthrew them
"I just get so damn frustrated with us giving the ball away and not executing." Sharkey said.
"I think our defense played a great first halt," Currence said. "I really felt we upset their tempo and kept them off balance.
"We intercepted them three times and that was a factor." Currence pointed out. "It was a great morale booster for us."
Mike Spicer had the first interception, and it set up the Tigers' first score. Paul Turner, intercepted a pass in the second quarter which Massillon failed to capitalize on, but the Tigers allowed Barberton only 23 total first‑half yards en route to a 21-0 lead.
Barberton rallied, cutting tile lead to 24-14 and appeared ready to get back in the game when Joe Peto recovered a Mike Jones fumble at the Tiger 18 yard line with just over eight minutes to play in the game.
Two plays later, however, junior linebacker Tim Manion picked off a Breitenstein pass at the nine yard line and almost returned it all the way, getting caught from behind at the 33. Six plays later the Tigers added a touchdown to quell the Magic threat.
"Tim Manion has a nose for the ball," Currence said.
Massillon opened the scoring by capitalizing on Spicer's interception. They drove 27 yards in six plays with quarterback Dave Eberhart going over from the one with 8:13 showing on the first-quarter clock. Eberhart added the point after for a 7‑0 lead.
The Tigers then drove 56 yards in 12 plays with halfback Mike Jones making a nice catch on a five yard scoring pass from Eberhart. Eberhart booted the point after for a 14‑0 lead with :42 left in the first quarter.
Eberhart missed a 35‑yard field goal try in the second period, but scored on another one yard sneak with 1:25 left in the half. He added the PAT kick for a 21-0 lead.
The TD was set up by a 14-yard point return by Jeff Spicer to the Barberton 38. The Tigers took 10 plays to score with Eberhart hitting halfback Robert Oliver with 17-yard pass on third-and-15 to the Magic 21. Jones also had a fine 10-yard run to the one to set up Eberhart's scoring run.
When the Tiger offensive attack bogged down in the third quarter. Barberton responded with a 21-yard TD run by fullback John Jones. Massillon was penalized on the ensuing conversion kick, and Barberton elected to go for two from a yard and a half out. But Mike Loretto nailed Jones short of the goal line, and Massillon led 21-6 with 3:31 left in the third quarter.
The Tigers finally got a drive going, and moved from their own 36 to the Magic 25, where a third-down incompletion brought up a fourth-and-seven.
Sophomore Jun Bushe come on to try a 41‑yard field goal, and his line-drive kick was good, making it 24-6 with 11:19 to play. The kick seemed to bring the Tiger bench to life as players ran out on the field to congratulate Bushe, who was making his first appearance in a varsity game.
Barberton hung tough, however, and drove 55 yards in nine plays with Marty Potter hauling in a seven-yard TD toss from Breitenstein with 8:31 to play. Breitenstein then passed to tight end John Trew for the conversion and the Magics trailed 24-14.
The ensuing kickoff sailed into the end zone, and the Tigers took over on the 20. Jones was hit hard and fumbled, with Peto recovering at the 18.
Manion and middle guard Jeff Grove nailed Jones for a two-yard loss, and then Manion picked off Breitenstein's throw on the next play.
"We had a man wide open and he threw an interception," Sharkey lamented. "That's was the big giveaway there."
Manion returned the hall to the Barberton 33 and the Tigers scored six plays later when halfback Dave Huth ran three yards to paydirt. Eberhart's kick was good and the Tigers had a safe 31‑14 lead with 3:12 to play.
Barberton took the ensuing kickoff and got a first down on a Breitenstein pass, but then gave up the ball on four straight incompletions from the Tiger 47.
Four plays later, George Roknich dashed 37 yards for the Tigers' final TD with only :46 left in the game.
The win brings Massillon's record to 6‑0‑1 and extends the Tigers' regular‑season unbeaten string to 29 games Barberton falls to 3‑3‑1.
"Massillon has a fine football team, Sharkey said. "You can't take anything away from them. They can score on anybody. and their defensive adjustments helped them tonight. But I don't know if it will be enough to help them go all the way or not."
Currence isn't worrying about that right now. The game he's concerned about is next Saturday's visit to Niles, which has a surprising 3-2‑1 record under former Tiger assistant coach Frank Thomas. The Red Dragons will host Warren Howland tonight.
TIGER GRIDSTICK
MASS OPP
First downs rushing 14 4
First down passing 3 3
First downs by penalty 1 1
Total first downs 18 8
Yards gained rushing 263 80
Yards lost rushing 11 13
Net yards gained rushing 252 67
Net yards gained passing 57 96
Total yards gained 309 163
Passes attempted 15 27
Passes completed 4 8
Passes intercepted by 3 0
Yardage on passes intercepted 78 0
Times kicked off 7 3
Kickoff average 46.4 52.7
Kickoff return yardage 29 81
Punts 4 6
Punting average 36.3 37.2
Punt return yardage 10 23
Punts blocked 0 0
Fumbles 3 0
Fumbles lost 1 1
Penalties 7 6
Yards penalized 64 41
Touchdowns rushing 4 1
Touchdowns passing 1 1
Touchdowns by interception 0 0
Miscellaneous touchdowns 0 0
Total number of plays 73 54
Total time of possession 28:06 18:54
Attendance 10,706
BARBERTON 0 0 6 8 – 14
MASSILLON 14 7 0 16 – 37
MASS – Dave Eberhart 1-yard run (Eberhart kick)
MASS – Mike Jones 5-yard pass from Eberhart (Eberhart kick)
MASS – Eberhart 1-yard run (Eberhart kick)
BARB – John Jones 21-yard run (run failed)
MASS – Jim Bushe 41-yard FG
BARB – Marty Potter 7-yard pass from Brian Breitenstein John Trew pass from Breitenstein)
MASS – Dave Huth 3-yard run (Eberhart kick)
MASS – George Roknich 37-yard run (kick failed)