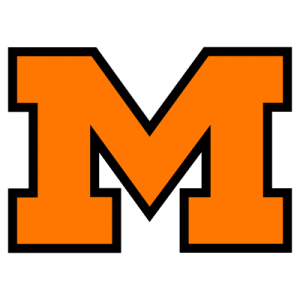 Panthers delighted with 7‑7 deadlock
Harding ties Tigers on last‑second TD
By DENNY HIGHBEN
Independent Sports Writer
Football fans and teams aren't usually happy with a tie, but a lot of people left Warren Harding's Mollenkopf Stadium Friday night downright happy.
In fact, the Warren coaching staff was deliriously happy with the 7‑7 tie the Panthers came up with against the Tigers.
So were most of the Warren fans.
With just 14 seconds showing on the clock, Panther split end Gary Hughley crossed the goal line, The football was still chilled from streaking 33 yards through the frosty air of a late September night,
What happened next gave Massillon fans reason to heave a sigh of relief, if not smile with Joy.
Panther quarterback Stan O'Day, who had just connected with Hughley for the TD after passing his team out of a hole, lined up to kick the extra point. Warren was going for the tie instead of the win.
But Massillon jumped offsides, and the ball was moved half the distance ‑ just one‑and‑a‑half yards away from victory.
It seemed like everyone in the galaxy took a deep breath at that moment
Would they try for two"
"I promised myself five years ago that if I was ever in that situation I would kick," a sweating, smiling Bob Wolfe said after it was all over.
"But when Massillon got that penalty, I almost changed my mind."
Wolfe, Warren's first‑year coach, didn't change his mind and O'Day's kick sailed through the uprights to knot the score.
"I was surprised he didn't go for it," Tiger coach Mike Currence said afterwards.
Currence was relieved, like every other Massillonian, that Wolfe didn't. But his frustration over the course of the game was obvious as he talked in the lockerroom.
We lost so many scoring opportunities I couldn't believe it," he said.
In the Warren lockerroom, which was as noisy as Massillon's was quiet, Wolfe agreed.
"They did a job on us, they outplayed us offensively.
Our defense bent a lot but it didn't break.
"Against a team with offensive stats like Massillon has, a tie is just like a win," lie said.
Especially when you tie the score with just 14 seconds left.
As for scoring opportunities, Massillon had 'em but couldn't use 'em.
The only time the Tigers capitalized on good field position was in the third period, when they started at Warren's 43. That drive almost stalled too, but quarterback Dave Eberhart hit a key pass to Mike Reese and then avoided an awesome Panther rush to scramble for a first down at the 18. An incompletion and penalty later, however, Massillon faced a third‑and‑17 situation at the 25.
Eberhart made a beautiful play‑action fake, rolled to his right and tossed a bulls‑eye strike to Jeff Elliot who crossed the goal line with 2:48 left in the third quarter, Eberhart kicked the extra point and made it 7‑0.
The game started like the Tiger offense would roll, but that quickly changed.
On the third play after receiving the kickoff, Eberhart flipped a textbook screen pass to Bob James. James, a defensive tackle who was returned to his old position of fullback to add some beef to the backfield, rumbled downfield to turn the play into a 54‑yard gain before he was dragged down at Warren's five.
Before the Tigers could run a play, they were penalized five yards for delay of game. But in two running plays, halfback Mike Jones had the ball on Warren's one. The proud Panther defense, which had not given up a touchdown in four games, stiffened and tackled James for a yard loss on third down and held Jones for no gain on fourth down.
The Tiger defense, minus two starters, stopped Warren on the Panthers first possession ‑ and every possession afterwards with that frustrating single exception, Junior William Askew started at tackle in place of James and junior Bob Yoder started at linebacker in place of Tim Manion, who missed practice all week because of illness.
Massillon's defense and Warren's offense gave the Tigers the ball inside the Panther 40 five times in the first half. but Massillon couldn't score.
"We still have too many breakdowns," Currence said. "it wouldn't be so bad if we hadn't got past midfield most of the night, but we did. We should have won "
The Tigers recovered four fumbles and intercepted a pass, all but one of the turnovers coming in the first half. One of the fumbles came on a muffed pitch out by fullback Wait Campbell, and the others were courtesy of the hard‑hitting Tiger D. Linebacker John Mayles and Askew were on the spot to get the ball on the first fumble, then Mayles recovered the second one after Campbell was gang‑tackled going through the middle.
The interception came in the second quarter when middle guard Jeff Grove hit O'Day as he tried to pass and Askew picked off the ball. Near the end of the half Massillon halfback Dave Huth fumbled at Warren's 23 and the Panthers got the ball, but two plays later Campbell fumbled again and Yoder recovered. The Tigers drove downfield as time ticked away, but at the Warren five a mishandled snap resulted in a pile up that wasn't cleared away until a scant few seconds remained.
Eberhart managed to get a snap as the last second disappeared but his scrambling pass near the goal line fell incomplete.
The Panther defense kept the pressure on Eberhart all night and he finished the night hitting on just 11of 28 of passes, for 178 yards and a TD.
"They were quick," Currence noted. "They stayed with their basic defense but it wouldn't have mattered what they did because they are good up front. They are quick and their reaction to the ball is good."
The Tigers got the ball four times in the second half before Warren scored, and maintained possession for huge hunks of time and yardage ‑ but could still only score once. The Panthers had just 15 offensive plays in the second half ‑ until the dramatic march with 2:48 left that started at their own 16.
The Tigers stalled at Warren's 10 on their first possession of the second half, scored on the next possession, and then drove out of trouble from their 13 and 15 on the next two.
O'Day proved he could throw under pressure in that final drive, hitting seven of 14 attempts, including two fourth‑down passes that were caught by junior end Darnell Robertson. The Tiger defense sacked O'Day once during the drive and came close several other times, but the Warren line kept the Tigers off his back when necessary.
After the score, George Roknich took the kickoff at his 17 and ran it out to the 37. With nine seconds left, Eberhart managed to get two passes off but both were incomplete.
"It's ironic," Wolfe said after the game. "I thought a lot about a situation like that all week.
"I was in that situation in previous coaching jobs, and five times I went for the win instead of the tie, I was zero‑for‑five. Now I'm one‑for‑six.
"At our Touchdown Club this week, some of the fans asked if, in this kind of situation, I would go for two or kick. When I said I would kick, about half of them booed," Wolfe concluded with a grin.
Those fans weren't booing Friday night.
TIGER GRIDSTICK
MASS OPP
First downs rushing 5 5
First downs passing 8 4
First downs by penalty 2 1
Total first downs 20 10
Yards gained rushing 119 174
Yards lost rushing 25 29
Net yards gained rushing 94 145
Net yards gained passing 204 57
Total yards gained 298 202
Passes attempted 31 17
Passes completed 12 7
Passes intercepted by 1 0
Yardage on passes intercepted 0 0
Times kicked off 2 2
Kickoff average 46.5 34.5
Kickoff return yardage 44 37
Punts 5 6
Punting average 27.6 27.8
Punt return yardage 19 17
Punts blocked 0 0
Fumbles 2 5
Fumbles lost 1 4
Penalties 7 4
Yards penalized 52 40
Touchdowns rushing 0 0
Touchdowns passing 1 1
Touchdowns by interception 0 0
Miscellaneous touchdowns 0 0
Total number of plays 67 51
Total time of possession 26 14 21:46
Attendance
MASSILLON 0 0 7 0 ‑ 7
HARDING 0 0 0 7 ‑ 7
MASS ‑ Jeff Elliott 25‑yard pass from Dave Eberhart (Eberhart kick)
WH – Gary Hughley 33 pass from Stan O'Day (O'Day kick)