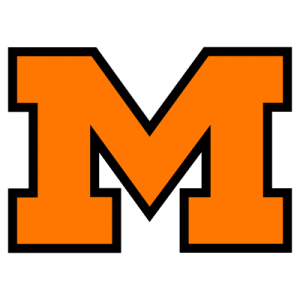 Two quick TDs pave way to 30-13 win
Tigers strike early to defeat Panthers
BY ROLLIE DREUSSI
Independent Sports Editor
By the time Greg Grimsley knew what hit him, Mike Jones was beading for the end zone.
And by the time Mike Loretto knew what he had in his hands, the Massillon Tigers were off to the races.
It was another one of those season opening games for the Perry Panthers as the Tigers took advantage of the breaks to score a 30‑13 win before 16,333 fans on a hot and humid night in Paul Brown Tiger Stadium.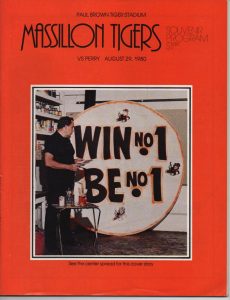 Not that the game wasn't close, mind you, but its pretty hard to battle back when you spot the opposing learn two touchdowns in the first three minutes of the game.
The Panthers – who always come into Tiger Stadium hitting everybody in sight ‑ battled their way back into the game, but the Tigers always came up with the plays they needed to stay ahead.
The Tigers took the opening kickoff, and on the first play faked the hall to Grimsley. The big senior fullback is a transfer from Perry and his former teammates racked him up hard at the line.
But the bail went to Jones on a trap, and one block and a move later he was scampering 64 yards for the first of his two touchdowns. Dave Eberhart's extra point kick gave Massillon a 7‑0 lead before all the fans were in their seats.
The Panthers kept their cool, however, and started driving from their own 35 after the ensuing kickoff. They churned out a first down before the drive bogged down and they faced a third‑and‑eight on the Massillon 48.
Quarterback Dave Fach lobbed a screen pass into the right flat, but threw it too high, and another Perry transfer ‑ Loretto raced in from his defensive back position, jumped up and tipped the hall away from a crowd of Perry players and found it in his arms when he came down. He raced 48 yards untouched for a touchdown with 9:05 left in the first quarter and the Tigers led 13‑0.
"We worked on that play," Tiger coach Mike Currence said of Jones' TD scamper, "We knew they'd be keying on Grimsley, so we faked it to him and went to Jonesy."
Perry coach Joe Demaree had another explanation.
"We expected them to do exactly what they did. But they knocked down our monster back and our safety fell down (as Jones cut back to the inside after bursting through the line)."
Neither coach could explain Loretto's interception.
"Those crazy bounces and tips are going in happen, but you don't expect them back to back," was all Demaree could say.
While those two plays determined the course of the game, the Panthers took advantage of a Massillon let down in the second quarter to put themselves back in striking distance.
Following a 31‑yard field goal by Eberhart just before the end of the first quarter, the Panthers got their act together.
They opened the second period with a 64‑yard, 11-play drive climaxed by a three‑yard touchdown run by Monty Wise with 6:51 left to go in the half. Ed Bartholomew's kick made it 16‑7, and it took a third‑down sack by the Tigers on Perry's next possession to allow the Tigers to hold that lead until halftime.
"We got the two big plays and of course at that point we started falling apart and making mistakes," Currence said.
"Perry's come of age," he said. "They just came down the field and controlled the ball on us in the second quarter. Anybody who play them this year is going have to outscore them," he added.
Currence was pleased with the win, of course, but be was not too happy with all the mistakes the Tigers made.
Demaree, of course was disappointed, but was proud of the way his charges battled back out of the hole.
"We stayed with our game plan," he said, noting the Panthers didn't panic after the two quick scores.
"We were in that game. They have a good football team and so do we. The key is we did not get one break. But don't take anything away from Massillon. It was just a remarkable game. Both teams were really hitting.
"I felt when we took the ball down the field and scored, we knew what they were doing and did our job."
Asked if he thought it would have been a different game if his team could have mustered a score in the third period. Demaree said: "There's no doubt in my mind."
Neither team scored in the third period as the Tiger defense stopped the Panthers twice, before the offense started a 64-yard, 14‑play drive that carried into the fourth quarter and ended when Jones scampered the last 11 yards for a touchdown ‑ leaping over a Perry player at the seven yard line on his way to the end zone. Eberhart's kick gave the Tigers a 23‑6 lead.
Perry bounced back by going 70 yards in seven plays and Doug Wagner's two‑yard run made it 23‑13 with 5:31 to go in the game. A run for the extra points failed, and Demaree saw that as the final turning point.
"Even if we could have got the two points on the extra points run, it would have been a different ball game, because we would have only been a touchdown behind (eight points)."
But linebacker John Mayles stopped McKinley Lancaster with a hard hit, and with 45 seconds left in the game substitute quarterback Rick Spielman hit Jeff Elliott with a 14-yard touchdown pass on fourth down to seal the verdict.
Despite the Tigers' mistakes ‑ they were penalized nine times for 85 yards ‑ Currence liked what he saw of the team's running game.
"I thought we could control it on them by running the ball." he said, and that's what the tigers did in the second half, They finished with 217 yards on the ground, with Jones leading all rushers with 111 yards on 14 carries. Grimsley added 58 yards on eight carries and junior Robert Oliver had 36 yards on five carries.
Eberhart hit some key passes for the Tigers, and finished with 8 of 10 for 78 yards and one interception.
Perry's Fach had a rough night, completing 4 of 16 for 34 yards. On the ground, Wagner picked up 42 yards on nine carries, Lancaster had 31 yards on six carries and Wise had 35 yards on seven carries.
Wise had to go both ways (playing halfback on offense and defense) because returning starter Dan Douglas injured his foot at practice Thursday. Wise also had to leave the game with leg cramps.
The Tigers will host Cleveland John F. Kennedy Friday while Perry opens its Federal League campaign the same night in Louisville.
MASS. OPP.
First downs‑rushing 12 7
First downs passing 6 1
First downs penalties 2 2
Total first downs. 20 12
Yards gained rushing 246 133
Yards lost rushing 29 9
Net Yds. gained rushing 217 124
Net yds. gained passing 99 34
Total yards gained 316 158
Passes attempted, 13 16
Passes completed 8 4
Passes intercepted by 1 1
Ydg. on passes intercepted 48 5
Times kicked off 6 3
Kickoff average(ydg.) 43.7 42.3
FINAL STATISTICS
Attendance
Kickoff returns (yds.) 55 83
Times punted 2 5
Punt average (yds.) 41.0 36.2
Punt returns (yds.) 0 2.9
Had punts blocked 0 0
Fumbles 2 2
Lost fumbled Fall 1 0
Penalties 9 4
Yards penalized 85 60
Touchdowns rushing 2 2
Touchdowns passing 1 0
Touchdowns by interception 1 0
Miscellaneous touchdowns 0 0
Total number of Plays 54 46
Total time
of possession 26:01 21:59
PERRY 0 7 0 6 ‑ 13
MASSILLON 16 0 0 14 – 30
(kick fail);
MASS ‑ Eberhart 31 FG hot;
PERRY ‑ Monty Wise 3 run (Ed Bartholomew kick);
MASS ‑ Jones 11 run Everhart kick);
PERRY ‑ Doug Wagner 2 run (run fail);
MASS ‑ Jeff Elliott 14 pass from Rick Spielman (Greg Radtka kick).
ATTENDANCE 16,333
Massillon's Tigers
Devour Panthers by 30-13
MASSILLON ‑ Perry Coach Joe Demaree knew all along that his squad would have to be the ones making the big breaks if the Panthers were to upset Massillon in the annual season opener for both teams Friday night at Paul Brown‑Tiger Stadium.
The only break the Panthers made, however, was in their own backbone as they handed Massillon two long touchdowns in the first three minutes of the game to key a 30‑13 win by the Tigers before a crowd of 16,333.
The Tigers opened the game by exploiting fullback Greg Grimsley, one of two Tiger starters that recently transferred from Perry. Massillon Coach Mike Currence sent Grimsley up the middle on the very first play from scrimmage and the 215‑pounder was rudely met by an angry group of former teammates.
The only problem, for Perry that is, was that senior halfback Mike Jones was the one with the ball. Jones, who gained 257 yards in limited duty last year, hit the outside hole and faked his way past safety Danny Lloyd en route to a 64‑yard touchdown run.
Perry, to its credit, appeared unshaken by its sudden misfortune and quickly drove to midfield after taking the ensuing kickoff.
This time it was another former Perry starter, Mike Loretto, who did the dirty deed on his former mates.
Perry had set up a screen to the weak side with quarterback Dave Fach rolling to his right. When Fach wheeled to throw across field to intended receiver Monty Wise the diminutive passer (5-foot-7, 150 pounds) was fronted by one of the Tigers' massive linemen.
Fach was forced to float the ball 25 yards and Loretto timed it perfectly as the defensive back stepped in front of Wise and took the interception 48 yards untouched to give Massillon a 13‑0 lead with only 2:55 gone.
"Those two plays really made the game." commented Currence, whose team returned only one starter (center Doug Eberhart from last year's 10‑1 squad that qualified for the state playoffs.
"On the first play we knew that Perry was going to be keying on Greg like hell so I called a play that used him as a decoy. Sure enough, they were all over him and Mike Jones was able to break a great run.
"Overall, though, I wasn't pleased with our performance, especially the numerous mental mistakes we made that were very costly. Heck if you take away the long run and the interception ‑you've got a helluva ball game."
Even with the two big plays going against them, the Panthers were able in threaten Massillon as the Perry defense stiffened and limited the Tigers to 80 yards for the remainder of the first half.
Immediately after a 31-yard field goal by Dave Eberhart with 25 seconds left in the first quarter, Fach led the Panthers on a 64-yard drive that was culminated by a two‑yard run by Wise to cut the margin to 16‑7.
It remained a nine‑point advantage until the Tigers' all‑senior backfield decided to lock things up in the fourth quarter.
While Grimsley and Jones were hurting the Panthers inside and outside, respectively, on the ground. Dave Eberhart was picking apart an injury riddled secondary to pieces in the air.
Jones, who rushed for a game high 111 yards on 14 attempts, capped a 75- yard drive with an 11‑yard run on counter play with 8:10 left and after the Panthers scored with 5:31 left, Eberhart led a march that clinched the game.
The 6‑foot, 190‑pounder, who hit all seven of his second‑half attempts, completed four straight aerials to key a 59‑yard drive that gave the Tigers a 17-point edge and killed any further comeback hopes entertained by Perry.
"We knew when we came here that we would have to make the big breaks and if you take away those two quick touchdowns you've got an entirely difference game," said a disappointed Demaree, whose Panthers' seven game winning streak was halted.
"Although they might have felt we would be keying on Grimsley, we weren't. They have such a well-balanced club to key on any one player would be foolish. We knew that Jones was an awesome runner and that their quarterback was very good.
"Still, I was very pleased with our team in the respect that we didn't give up. Most teams would have folded after spotting a team like Massillon a two‑touchdown lead."
Although Massillon was held to 18 total yards in the second quarter, the Tigers outgained Perry 211-120 on the ground and 101‑.34 in the air for the game. Eberhart was the key to the Tigers' aerial attack as he hit on nine of 11 for 87 yards before being relieved by junior Chuck Spielman on the final two plays of their last drive.