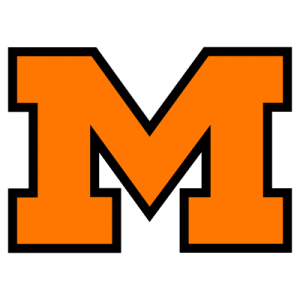 Tigers shut down Big Red 'slowdown'
By ROLLIE DREUSSI
Independent Sports Editor
Jeff Beitel ad Brent Offenbecher accounted for all four Massillon touchdowns as the Tigers overcame a tortoise‑like Steubenville offense and downed the Big Red 27‑0 Friday night at Paul Brown Tiger Stadium.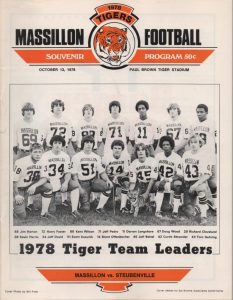 It was the Tigers' third straight All‑American Conference win and raised their overall record to 6‑0 while the Big Red fell to 2‑4 (1‑2), Beitel scored touchdowns in the first and third quarters and Offenbecher scored a TD in the second period and passed to Marty Guzzetta for a score in the final quarter.
Beitel gained 102 yards on 14 carries and Offenbecher completed 11 of 15 passes for 114 yards.
"They controlled the ball on us," Tiger head coach Mike Currence said after the game. The Big Red had the ball for 27:24 while the Tigers had it for 20:36.
"But they were taking so much time on every play that I got nervous. I couldn't believe what the count was on, he (Big Red quarterback Craig Klein) had a long cadence," Currence explained.
"I wasn't pleased with not having the ball, I felt like they were keeping our offense on the sideline and that's what they wanted to do," he added.
The Big Red managed six first down in the first half and that allowed them to maintain possessions of 5:10, 4:08 and 6:23 despite penetrating no farther than the 49-yard line.
Meanwhile, the Tigers scored the first time they had the ball and added their second TD just before the half on only their third Possession of the game.
Despite the Big Red's ability to control the ball, Currence couldn't fault his defense, which recorded its second straight shutout.
"When the defense had to do it they did it," he said.
The Tiger defense allowed nine first downs ‑ all rushing ‑ and while they gave a up 133 yards on the ground, they held the Big Red to zero yards passing on four attempts and Darren Longshore intercepted one a those.
Longshore's interception came on the second play of the fourth quarter. It was also the second play of the Big Red's shotgun formation which saw Roger Robinson in at quarterback.
Neither team lost a turn a fumble, but the Tigers allowed the Big Red into their territory for only one play, and that was called back by a penalty.
Steubenville coach Jerry Harris was not displeased with his team's performance.
"It was just a matter of Massillon playing a better game," he said. "Considering the athletic ability of our kids, I thought we played a good game.
"And Massillon is very impressive. The only way you're going to beat Massillon is for Offenbecher and his receivers to have a bad night. But it's not just Offenbecher, he gets good protection from his offensive line.
"And they're a well coached team. I've seen bigger teams this year that won't do as well as Massillon. I'm impressed," Harris repeated, "but we're pleased with or kids."
"They took some thinks away from us," Currence elaborated. "They took the throw cut away but they gave us the out. It was just a matter of us taking down the defensive end of executing. He was hoping we wouldn't be able to do that."
Unfortunately for the Big Red, the Tigers did manage to execute that play. Offenbecher's 11 pass completions were also spread around to five receivers. Curtis Strawder caught four passes for 52 yards, Guzzetta caught three for 23, Ron Wright hauled in two for 18, Jeff Beitel caught one for six and his brother Bill had one for 15.
Beitel, Offenbecher key 6th straight win
Steubenville took the opening kickoff, picked up two first downs rushing and punted.
Starting at their own 28 yard line, the Tigers drove 72 yards in seven plays with Jeff Beitel breaking a trap play up the middle for 20 yards and the score. He made a nice cut to the left after breaking through the line and scampered into the end zone untouched. Once there, however, a Big Red player was called for a late hit and the 15‑yard penalty was assessed on the following kickoff, putting the Big Red in the hole.
Ron Wright's kick had given the Tigers a 7‑0 lead and Mike Hodgson's kickoff (from Steubenville's 45) was a knuckleball that was downed by the Big Red at their own eight.
They managed one first down and punted to the Tiger 44.
After a first down, Offenbecher was sacked for an eight‑yard loss. The Tigers then tried a shotgun of their own, with Offenbecher hitting Jeff Beitel with a six-yard pass on third down. It wasn't enough for the first down, however, and the Tigers punted.
Steubenville drove from its own eight out to the 49, and Tom Gardner's punt on fourth down squirted off the side of his foot and went out of bounds at the Tiger 42 with only 3:25 left in the half.
Offenbecher hit Wright for 10 yards and a first down, Strawder for eight and Beitel rushed 17 yards for a first down at the Big Red 23.
A pass to Strawder netted 11 yards. Offenbecher kept right for four and Jeff Beitel was stopped for a one‑yard gain.
On third and five at the seven, Offenbecher hit Guzzetta at the one yard line. He sneaked over on the next play for a score with 45 second left in the half. Wright's kick gave the Tigers a 14‑0 halftime lead.
The Tigers took the kickoff to open the second half and drove to the Steubenville three yard line where they lost the ball on downs.
Following a Steubenville punt, the Tigers drove 56 yards in seven plays with Jeff Beitel sweeping right end for the last seven yards. He dove over Big Red defender Dale Taylor at the goal line and landed in the end zone. Wright's kick was good and the Tigers led 21‑0 with 1:04 to go in the third period.
Following Longshore's interception ‑ his fourth of the season ‑ the Tigers took over at the Steubenville 33 and drove to paydirt in eight plays.
Offenbecher hit Guzzetta with a six‑yard pass on a down and out pattern in the right corner of the end zone with 7:41 to go in the game. Guzzetta made nice diving catch of the third down pass. Wright's kick was blocked and Massillon ended the night with 27 points as Currence went to his bench for the final minutes.
The Tigers totaled 18 first downs, and despite not being able to control the ball they ran 53 plays to 47 for Steubenville.
The Tigers will host Jackson next Friday at 8 P.M. in Tiger Stadium and Steubenville will entertain Columbus Eastmoor.
Mass. Opp.
First downs – rushing 11 9
First downs – passing 6 0
First downs – penalties 1 0
Total first downs 18 9
Yards gained rushing 179 159
Yards lost rushing 12 26
Net yards gained rushng 167 133
Net yards gained passing 117 0
Total yards gained 284 133
Passes attempted 12 4
Passes completed 12 0
Passes intercepted by 1 1
Yards on passes intercepted 0 2
Times kicked off 5 1
Kickoff average (yards) 45.0 40.0
Kickoff returns (yards) 19 53
Times punted 1 5
Punting average (yards) 46.0 24.6
Punt returns (yards) 8 0
Had punts blocked 0 0
Fumbles 1 1
Lost fumbled ball 0 0
Penalties 3 8
Yards penalized 35 90
Touchdowns rushing 3 0
Touchdowns passing 1 0
Touchdowns by interception 0 0
Miscellaneous touchdowns 0 0
Total number of plays 53 47
Total time of possession 20:36 27:24
Attendance: 10,281
Steubenville 0 0 0 0 0
Massillon 7 7 7 6 27
M ‑ Jeff Beitel 20 run (Run Wright kick);
M ‑ Brent Of Offenbecher 1 run (Wright kick);
M ‑ J. Beitel 7 run (Wright kick);
M ‑ Marty Guzzetta 6 pass from Offenbecher (kick blocked).