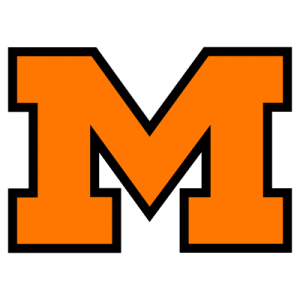 Gahanna reigns over Tigers 10-0
By CHUCK HESS, JR.
Independent Sports Editor
Take it from Neal Billman, now is not the time to desert the Tigers and rookie head coach Mike Currence.
"Massillon has some fine young players," the coach of the Gahanna Lincoln Lions said after Friday night's 10-0 victory over Washington High School before 9,109 at rainy Paul Brown Tigers Stadium.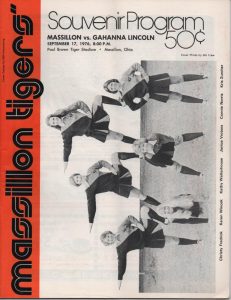 "IT'S A terrible thing to come into a new job and try to whip a team into a winner in the first year," he said. "I had to do it at Ghanna and was 3-6. The people stayed with me and they ought to stay with this young man. He's a proven coach."
If somebody would only turn off the spigots and give Massillon's new run and shoot offense a chance, the Tiger faithful, Currence and the team would be in a lot better shape.
Currence stuck to control football Friday night. Also running out of the single slot and double wing alignments, the Tigers moved the ball well but again had fumbles at the wrong time. They recovered six of their 10 miscues, losing one less than they did against Middletown.
The Orange and Black picked up 267 net yards to Gahanna Lincoln's 134 and 14 first downs to the Lions' three but the Tigers' lost the ball at the Gahanna 20, eight, three, 29, 15 and six yard lines.
First and second quarter Bret Traylor handoffs to Rich Cleveland went awry. Traylor lost the ball in the third stanza when he sprinted out to pass and was hit a good whack.
THE TIGERS ran out of downs on the 20 in the first quarter.
Defensive back Kent Parrill intercepted Traylor's second quarter pass at the 15-yard line. Marc Longshore's fourth quarter aerial to Greg Carpenter from the six went incomplete even though Greg made a valiant diving try for it.
The Tigers had gotten close in via a Longshore to Sam George 41-yard effort. Cleveland's 16 and 23-yard runs got them down deep in the first and second quarters. Carpenter's
30-yard run also put them in scoring position in the first quarter.
By letting Lions off the hot spot so many times the WHS team was bound to get hurt. It happened in the third quarter.
JUNIOR tailback Tim O'Cain, a 10-flat 100 runner, broke through the center, cut to the right sideline and was gone for 49 yards for a touchdown on what Billman called an isolation play and Currence termed a counter. Monster back Anthony Grizzard and end Dave Engler almost stopped him about midway in his run.
Parrill kicked his conversion with the clock reading 0:37.
The Lions' final score came when Parrill intercepted a pass in the fourth quarter on the Tigers' 19. Three plays later, with 1:25 left, Parrill booted a 28-yard field goal and Massillon was shut out for the first time in 46 years in its first two games. It was also the first double loss at the beginning of a season since then.
Ghanna is 2-0.
"I saw some improvement tonight but what a way to lose," Currence said. "You beat somebody to death the whole game and they beat you on the long one."
Currence is quite perplexed about the Tigers' ball handling problem.
"I WISH you would tell me what to do about it," he said. "I don't know what to do. I don't know why we're having all the mistakes we're having. I do know the elements had something to do with it. I haven't played on dry land yet. Whenever I get a chance to play on dry land I'll have something to compare."
Currence pointed out that with Gahanna's three yards and a cloud of dust wing-T offense they were not about to make mistakes.
"They're a good team," he said. "That one cloud was a big one."
Then Currence cautioned, "Nobody had better come to town and think the Tigers' morale is going to be down. I haven't been here long but I have a feeling these kids will be tougher next week than they were this week. I think we did a pretty decent job."
BILLMAN WAS happy that Gahanna never gave up.
"We've been that type of team through our tradition," he said. "We've always played it nothing to nothing and have never concerned ourselves with the elements. We won a championship lat year in the rain."
Billman said the Lions did some great blocking on the touchdown play. Left tackle Tim Stropki and fullback Vic Reed had the key hits, according to their coach.
"The Tigers are a very courageous and well coached team," he said. "We had to make some middle adjustments at half time."
Billman praised right linebacker Glenn Bradford for playing great football.
Here are the top net rushing yardages:
Massillon
– Cleveland, 111 in 18 carries;
– Carpenter, nine in 56. Cleveland lost only one yard; Carpenter, none.
Gahanna
– O'Cain 55 in 11;
– Reed 33 in 11.
GAHANNA – 10
Ends – Loper, Dempsey, Baugh.
Tackles – Stropki, DeCamp.
Guards – Martin, Hicks, Roney, Jones.
Center – Marriott.
Quarterback – Toelier.
Halfbacks – O'Cain, Carter.
Fullback – Reed.
Linebackers – Williams, Bradford, Rogers.
Defensive halfbacks – Hall, Hensley, Parrill.
MASSILLON – 0
Ends – George, Chovan, Pringle.
Tackles – Laase, Tournay, Daniels, Dennison.
Guards – Hauser, Lauber.
Center – Ransey.
Quarterbacks – Traylor, Longshore.
Halfbacks – Harper, Carpenter, Grove.
Fullbacks – Shafrath, Cleveland.
Defensive ends – Engler, Sweterlitsch.
Middle guard – Dorsey.
Linebackers – Walterhouse, Border.
Defensive halfbacks – Jones, Grizzard, Letcavits, Henderson, Lash.
Punter – Westover.
SCORING SUMMARY
G – Tim O'Cain, 49 run (Kent Parrill kick); Parrill, 28 field goal.
OFFICIALS
Referee – Frank Buhas.
Umpire – James Keefer.
Head Linesman – Charles Hill.
Field Judge – John Mickley.
Back Judge – Ron Giacomo.
ATTENDANCE – 9,109.
GRIDSTICK
Mass. GL.
First downs rushing 11 1
First downs passing 2 1
First downs penalties 1 1
Total first downs 14 3
Yards gained rushing 240 137
Yards lost rushing 21 15
Net yards gained rushing 219 122
Net yards gained passing 48 12
Total yards gained 267 134
Passes 4-12 1-5
Passes intercepted by 0 3
Yardage on passes Intercepted 0 21
Kickoff average (yards) 1-54.0 3-41.6
Kickoff returns (yards) 60 21
Punts 2-32.0 1-38.1
Punt returns (yards) 20 9
Had punts blocked 0 0
Fumbles 4-10 1-2
Penalties 4-50 3-35
Touchdowns rushing 0 1
Total number of plays 60 43
Total time of possession 29:03 18:57