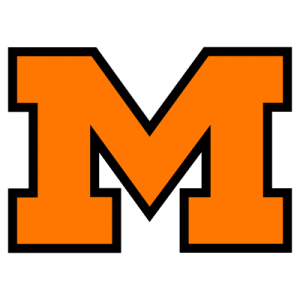 Harmon and company romp 37-0
Tigers make Steubenville see "Red'
By DENNY HIGHBEN
Independent Sports Writer
Bill Harmon and Company, also known around these parts as the Massillon Tigers, crushed the Steubenville Big Red Friday night, 37-0.
Harmon's effort in Big Red's Harding Stadium put him over his rushing and scoring totals for the 1974 season, with four games yet to be played this year.
THE POWERFUL, fullback, who runs like something from the Cenoziac, carried the ball 22 times Friday, gaining a whopping 224 yards and scored 20 points. That put this season's totals at 809 yards and 66 points. In 1974 Bill gained 789 yards and scored 54 points.
"Our team has come of age," Massillon Coach Chuck Shuff said after the game, referring to the consistent improvement the Tigers have made since a bad start put a couple of dents in Tigertown's title hopes. "We worked hard in practice all week . . . we haven't quit working and it's paying off. The blocking has improved quite a bit," Shuff added.
The truth of that last statement was evident every time Harmon, Tom Grizzard and the other Massillon backs got their hands on the ball. In earlier games Harmon had to drag a few defenders right from the line of scrimmage for short gains. Friday night the Big Red defense hardly put a pad on Harmon until he got past the line and then it took a lot more to stop him, resulting in his better than 10-yard average per carry.
Steubenville's head coach, Bill Bohren, had nothing but praise for Massillon after the game. "There wasn't a phase of the game we could control," he said and referring to Tiger talent and strength added, "That's the most material I've seen on one football team since I've been coaching."
If Massillon's that good, I'd hate to see Upper Arlington's team. It must be awesome," Bohren said. (Upper Arlington beat the Tigers 8-7 in the third game of the season).
STEUBENVILLE, now 3-3 overall and 0-2 in the All-American Conference, only came close to scoring once in the ball game and that was when Massillon's defense was loaded with reserves. It was late in the fourth period and Big Red had a first down at Massillon's four-yard line, but a pitch out from quarterback Gary Williams to running back Billy Ware missed its destination and Junior Mike Ramsey recovered for the Tigers.
Massillon scored with 8:50 left in the first period when Bill Harmon capped a 67-yard nine-play drive with a 15-yard burst through the line for a TD. Keith Harmon added the extra point, making it 7-0.
Keith Harmon's kickoff was to Big Red's six, Ware bobbled the catch and was downed at the four-yard line. Steubenville then took most of the remaining time in the first quarter to gain 25 yards before punting.
Massillon got the ball on its own 26 and runs by Harmon, Tom Grizzard and a pass from Todd Keller to Mark Matie got the ball to the Big Red three-yard line in eight plays. Harmon took a pitch out on the next play and swept around the right side of the line for another TD. Bill ran right through the heart of Steubenville's defense for the conversion and the score was 15-0 with 10:57 left in the second quarter.
Steubenville's next drive went nine yards and was aided by a five-yard penalty against Massillon for being offside.
After the punt Massillon started another scoring drive, from its 36. Junior tailback Pete Killins got the ball on first down, but failed to gain any yardage and Harmon gained six on the next play. Bill then went through the middle of the line on third-and-four, ran over a couple tacklers and was finally collared on the Steubenville 20.
HARMON RAN the ball one more time, getting the ball to the 14 and Tom Grizzard took over. Grizzard carried the ball three times, to the five, the one and over the goal with 4:55 left in the half. Keith Harmon kicked the extra point and the tally was 22-0.
Steubenville made two first downs on the following series, but the drive came to a crackling halt when Big Red slotback Larry Jones took a pitch from Williams and attempted to run around the left side. Jones was hit with such force by Tom Grizzard, playing linebacker, that the ball flew out of his arms and rolled out of bounds. Jones spent the next few moments on his back until he was able to stand up and walk off the field.
Big Red punted and Killins caught the ball at Massillon's 27, got behind a wall of blockers and ran to Steubenville's 15 before being tripped up. Two plays later Killins went over the goal line from five yards out, Keller passed to end Bill Bammerlin for the conversion and Massillon led 30-0.
Derrick Dorsey received the kick off for Steubenville to start the second half and ran from his nine all the way to the Tiger 28. Steubenville lost two yards on the next play and then lost the ball on downs and the Tigers started their final scoring drive from the 30.
Massillon faced a third-and-six on Steubenville's 44, when Harmon ran over the Big Red defense for 29 yards (and went over the 200-yard mark). A few plays later Harmon scored from the six-yard line and brother Keith kicked Massillon's final point, making the score 37-0 with 6:12 left in the third quarter.
SHUFF HAD been sending in reserve players since the second quarter and after the last score the reserves did most of the work. Harmon did not see action after the final touchdown.
"I was pleased with the way our reserves moved the ball against Steubenville's first-string defense," Shuff said. After the Steubenville fumble Massillon drove to its 37 before punting and Big Red lost its last chance to score when Tiger defensive back Ron Hykes intercepted a Williams pass at the Massillon 22.
Steubenville's other AAC defeat was a 20-0 loss to Warren Harding, a game in which Big Red lost the ball 12 times on turnovers. When asked to compare Warren and Massillon, Bohren said without hesitation, "Massillon should cram the ball right down Warren's throat."
MASSILLON 7 23 7 0 37
STEUBENVILLE 0 0 0 0 0
SCORING SUMMARY
M – B. Harmon, 15 run (K. Harmon kick); M – B. Harmon, 3 run (B. Harmon
Run); M – T. Grizzard, 1 run (K. Harmon kick); M – Killins, 5 run (Bammerlin
Pass from Keller); M – B. Harmon, 6 run (K. Harmon kick).
MASSILLON – 37
Ends – Arner, Conley, Chovan, Butterfield, Eberhardt, Matie, M. Jones, Moon, Bammerlin, Laase.
Tackles – Mark Lauber, Mike Lauber, Genet, Drobney, Toles, Baughman, Dennison, Tourney.
Guards – Brand, Ricker, King, Schumacher, Christoff, Bettilyon, Ramsey, Hauser.
Centers – Mitchel, Nagle, Englehart.
Quarterbacks – Smith, Traylor, Keller, Hykes.
Running backs – Stewart, Warthen, V. Jones, Dave Bylene, Harper, B. Harmon, K. Harmon, T. Grizzard, A. Grizzard, Killins, Haas, Ellis, Rogers, Grove, Dorsey, Szasz.
STEUBENVILLE – 0
Linemen – Linn, Mavromatis, Barrett, Fahey, Hardwick, Littlejohn, Solomon, Zatta, Mosley, Denson, Nixon, Boles, Medich, Curt Klein, James, Fleishour, Edwards.
Backs – Williams, Talamine, Hicks, Jones, Dorsey, Byrom, Ware, Ford, Cook, Hedmond, Dameron, Welling, Traylor, Humienny, Cary Klein.
ATTENDANCE – 7,190.
GRIDSTICK
Mass. Steub.
First downs-rushing 16 8
First downs-passing 1 1
First downs-penalties 0 0
Total first downs 17 9
Yards gained rushing 302 166
Yards lost rushing 1 23
Net yards gained rushing 301 143
Net yards gained passing 16 33
Total yards gained 317 176
Passes attempted 4 14
Passes completed 1 3
Passes intercepted by 1 1
Yardage on passes intercepted 0 0
Times kicked off 6 1
Kickoff average (yards) 50.5 46.0
Kickoff returns (yards) 19 104
Times punted 2 5
Punt average (yards) 33.0 37.2
Punt returns (yards) 63 0
Had punts blocked 0 0
Fumbles 0 4
Lost fumbled ball 0 1
Penalties 3 8
Yards penalized 25 70
Touchdowns rushing 5 0
Touchdowns passing 0 0
Touchdowns by interception 0 0
Miscellaneous touchdowns 0 0
Total number of plays 46 51
Total time of possession 20:53 27:07